Did Kelly Clarkson Play An Integral Role In Taylor Swift's Taylor's Version Phenomenon?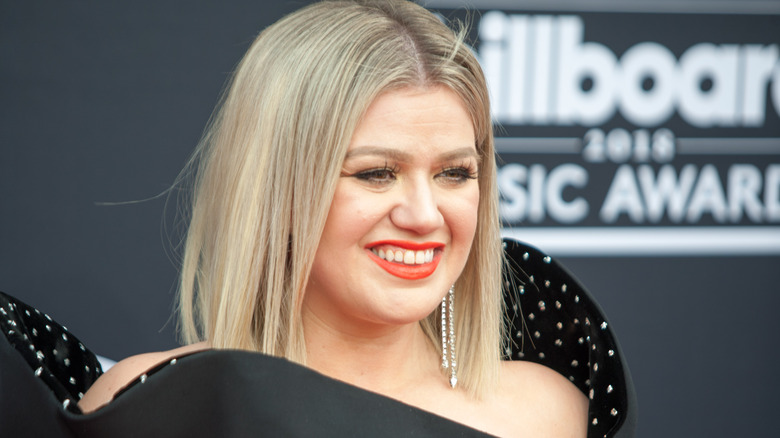 Jamie Lamor Thompson/Shutterstock
It was the tweet that started it all. Kelly Clarkson took to Twitter in 2019 to support her friend and colleague in the music industry, Taylor Swift, after Scooter Braun purchased her former label and song masters for $300 million. The tweet offered Swift "a thought," advising her to re-record the songs she didn't own in a new, updated way, and then later re-release them. Clarkson's tweet wasn't political so much as it was encouraging, advising Swift to create a new incentive for fans to support her music. Clarkson even commented that, if Taylor did capitalize on the situation, she would "buy all of the new versions just to prove a point." Swift's re-releases have since been titled "Taylor's Versions." Her earliest album, "Fearless", was re-debuted in April 2021, followed by "Red" the same year. Her second album, "Speak Now," was re-released in 2023.
Clarkson has since defended her tweet and stated that she played no role in the creation of "Taylor's Version." She also claims that her advice to Swift was purely coincidental and that she did not intend to take ownership of Swift's decision to re-record. Clarkson wants zero credit for the albums entirely, saying that all she did was offer business advice from one songwriter to another — nothing more.
Denying credibility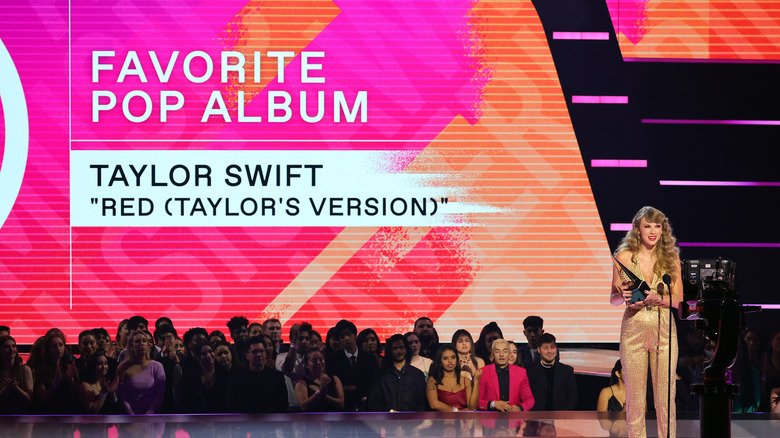 Matt Winkelmeyer/Getty Images
Kelly Clarkson cites Taylor Swift's genius for the turn of events, telling Andy Cohen on SiriusXM Radio that the idea to re-record would have come to her eventually. "Maybe she already had it before I even tweeted it," Clarkson had said. However, despite Clarkson's seemingly good intentions behind the tweet, it is also presumed that she's denying credit due to the negative backlash the tweet received, especially from high-ranking music moguls. 
Scooter Braun is one of those industry tycoons. Though his comments about the tweet were few, his actions spoke louder than his lack of words, according to Clarkson. This was evident in a chance encounter the two had together, which Clarkson claims was extremely awkward, though brief. "I think Scooter took offense to it," she told Cohen regarding the tweet. "I think he reached out, at the time, to my management." Again, it wasn't what Braun did or said that raised a red flag. Instead, for Clarkson, the fact that he didn't mention the tweet or album to her directly, and instead went over her head to speak with her management, which was suspicious in itself. 
It was Taylor's choice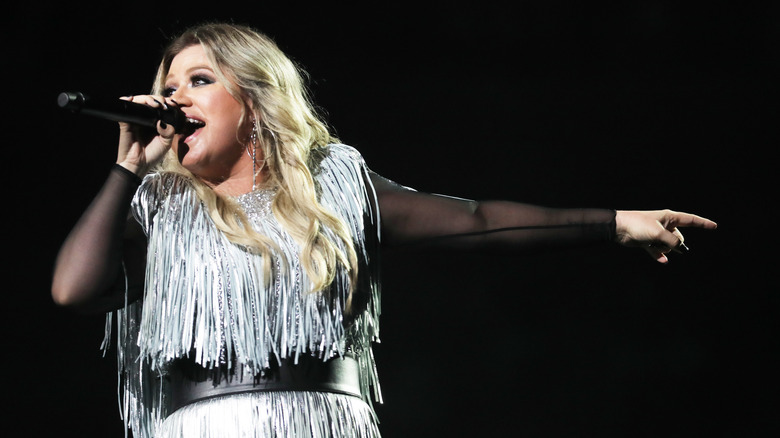 Leonard Zhukovsky/Shutterstock
In addition to denying her role in the birth of "Taylor's Versions," Kelly Clarkson also states that it was never clear to her who had the rights to what songs. After all, it's common knowledge that each of the Taylor Swift eras consisted of her real-life experiences inspiring her lyrics. Whether it was an enchanting encounter or a past relationship regret, Swift crafted songs that were both personal and meaningful to her. It was this vulnerability that made Clarkson reach out via tweet and encourage Swift to take action. However, according to Clarkson, how Swift responded to the situation was entirely up to her.
Clarkson also relayed her definition of opportunity by stressing how important it is to have someone rooting for you in your corner and encouraging you to take a leap of faith, whether or not the outcome rules in your favor. "If you have the opportunity and you choose to not pay that much money, that's one thing, but to not have the opportunity to own something really important to you is another." Even if Swift did get inspired by Clarkson's tweet, the "Since You Been Gone" singer didn't mean to become entangled with "Taylor's Version," but merely suggest to Swift that she use the bleakness of her situation for good.