Details About Tony Bennett's Military Career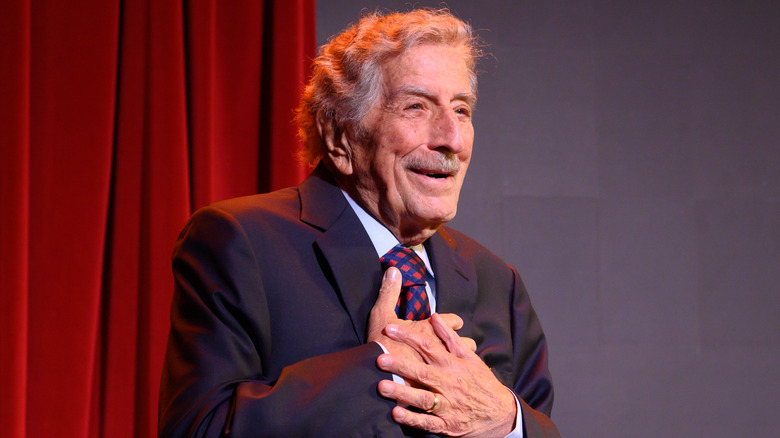 Noam Galai/Getty Images
Aside from a select few like Adam Driver and Rob Riggle, American celebrities serving in the military is almost unheard of in the 21st century. However, it used to be more common due to military drafts and large scale wars throughout the 20th century. Perhaps the most famous face to get drafted was Elvis Presley, who reported for duty in 1958 even after releasing hit songs. Before Presley, World War II saw a handful of already famous faces like Jimmy Stewart and future famous faces like "Golden Girls" stars Betty White and Bea Arthur.
Anthony Dominick Benedetto — better known as Tony Bennett — was another soon-to be star who served in the military before embarking on a career in showbusiness. At just 18 years old, Bennett was drafted in 1944. Though World War II ended in 1945, Bennett still spent time serving overseas in France and Germany. The experiences he underwent were harrowing, as they are for millions of people affected by war.
Tony Bennett called his World War II experiences 'horrifying'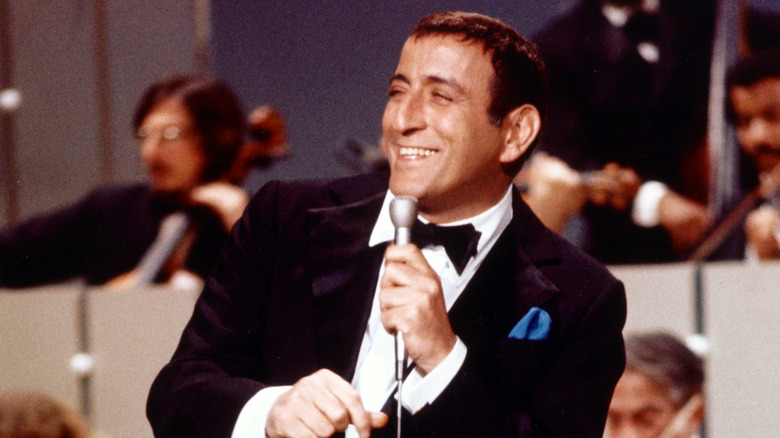 Silver Screen Collection/Getty Images
Tony Bennett went to serve in Le Havre, France during the Battle of the Bulge. Famed General George Patton helped instruct the troops that included Bennett, who had no combat or weapon experience. In Bennett's autobiography "The Good Life," he described this time as "a front-row seat in hell." Further in the book, he discusses witnessing "dead soldiers, dead horses and big craters in the ground where bombs had exploded" and explained that war is "more horrifying" than any fictional horror film like "Dracula" or "Godzilla." In a rare moment of peace, Bennett got to see multi-hyphenate entertainer Bob Hope at one of Hope's many performances which he put on for military servicepeople all over the world. Hope would later become integral in Bennett's showbusiness career.
Before Bennett returned home from the army, he was part of a troop that helped liberate prisoners of the Kaufering Concentration Camp in Germany. Needless to say, the "horrifying" sights continued as the troops arrived to see hundreds already deceased. Throughout these dark times, Bennett's passion for music persisted.
Tony Bennett became a pacifist after World War II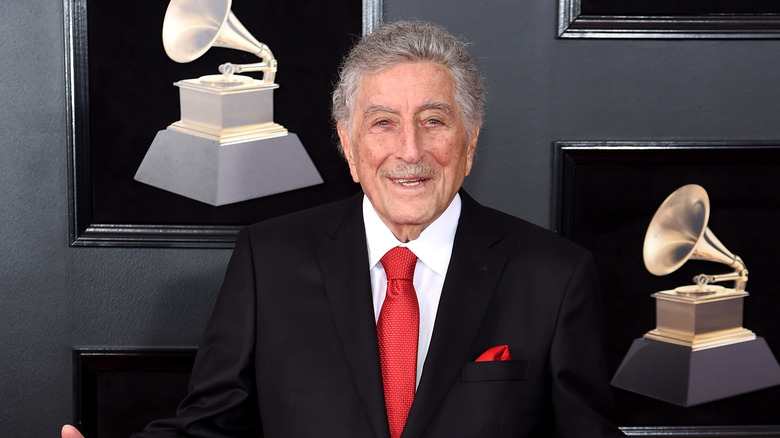 Jamie Mccarthy/Getty Images
While stationed in Germany, Tony Bennett performed in bands with other military servicemen. He eventually called himself Joe Bari for these performances. This was to hide his identity and continue performing after a captain demoted Bennett from corporal to private, which he did because he found out that Bennett had dinner with a Black friend named Frank Smith. The U.S. military was not desegregated until after Bennett was discharged. In "The Good Life," Bennett called the consequences of his dinner with Smith "unbelievable."
Bennett's demotion was short-lived, but it did not affect his service too much as he was honorably discharged not long after. He soon began performing in New York City in 1946. Bennett again crossed paths with Bob Hope three years later. Hope suggested he lose the Joe Bari stage name and instead shorten his legal name from Anthony Benedetto to Tony Bennett. Hope also invited Bennett to sing with him. This opportunity fueled a six-decade career from nightclubs to MTV — and 19 Grammys along the way. However, Bennett never forgot his experiences in the military, remaining a pacifist and civil rights activist for the rest of his life.