Melania Trump Claimed She Was Too Busy To Know A Riot Was Taking Place On January 6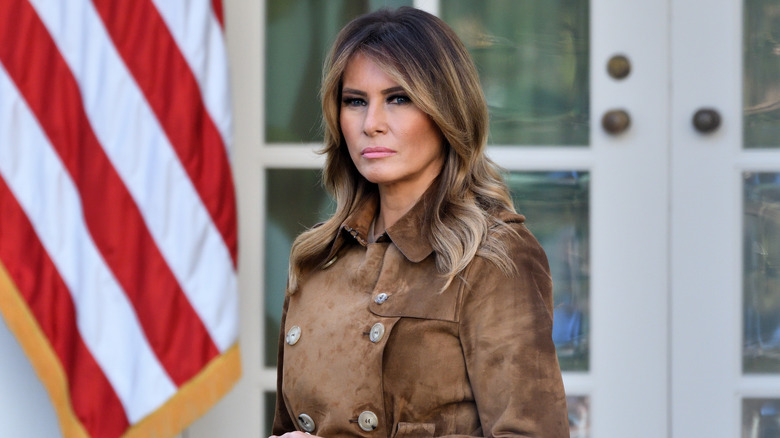 Evan El-Amin/Shutterstock
America's First Ladies are tasked with a job they didn't apply for, yet they're expected to perform it to perfection. They also have to remain a calm and professional presence at all times, even in the midst of national and personal crises. Think of Eleanor Roosevelt's activism during World War II, or Laura Bush trying to reassure the nation on 9/11, though she was terrified for her husband and daughters. Hillary Clinton endured one of the most embarrassing presidential scandals in history with dignity — and found the grace to forgive and move on. 
Then, there was the insurrection of the Capitol building on January 6, 2021. Not only was this a horrifying day for the country, but also one that involved the president himself. Donald Trump is currently being indicted on charges he attempted to overturn the 2020 election results, and though he is not charged with actually inciting the riot, he did allegedly encourage a crowd of supporters to protest the certification of Joe Biden. Yet, while the pumped-up mob was roaming the halls and members of Congress were evacuating in fear, then-first lady Melania Trump was nowhere to be seen. Nor did she issue a statement to the public at any point during or immediately following the attack. Melania's silence didn't go unnoticed, but it wasn't until months later that she offered an explanation. At the time, she claimed, she had been kept in the dark about the whole affair.
Did Melania actually refuse to speak out about the Capitol riot?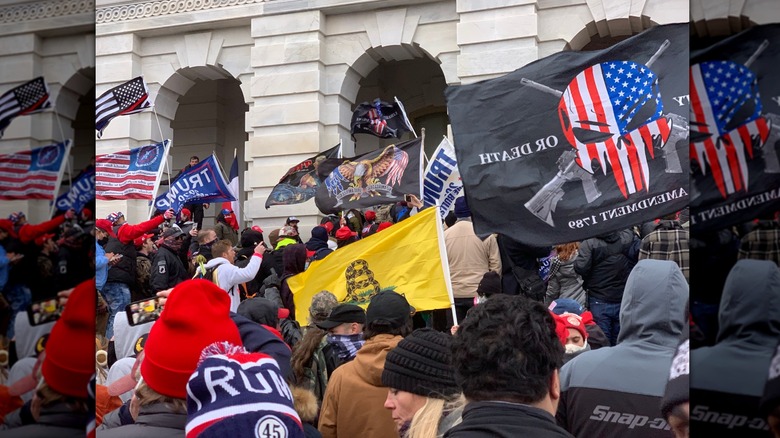 Sebastian Portillo/Shutterstock
As Congress prepared to certify the results of the presidential election, then-President Donald Trump held a rally for his followers on the National Mall, claiming election fraud and urging the crowd to make their voices heard. They did more than just shouting and flag-waving; they swarmed the Capitol, attacking law enforcement officers and breaching barriers.  Yet Trump took more than two hours to urge the crowd to disperse — and even then, he sympathized with them, repeating the claim of a stolen election and saying, "We love you, you're very special."
As the riot surged on, then-chief of staff Mark Meadows was swamped with texts from media hosts, Congresspersons, and even first son Donald Trump Jr., urging Meadows to have Trump step in. Then an even bigger authority was allegedly asked to intercede: Stephanie Grisham, the chief of staff for then-first lady Melania Trump, has claimed she sent a text to a recipient identified only as "MT": "Do you want to tweet that peaceful protests are the right of every American, but there is no place for lawlessness & violence?" The reply: "No." Grisham shared the text when she testified before the January 6 congressional committee in June 2022, but had previously referenced it in her 2021 book, "I'll Take Your Questions Now: What I Saw at the Trump White House."
It seemed shocking that the First Lady would disregard a national crisis, but Melania tells a much different story. 
Melania Trump claims she was never alerted about the Capitol riot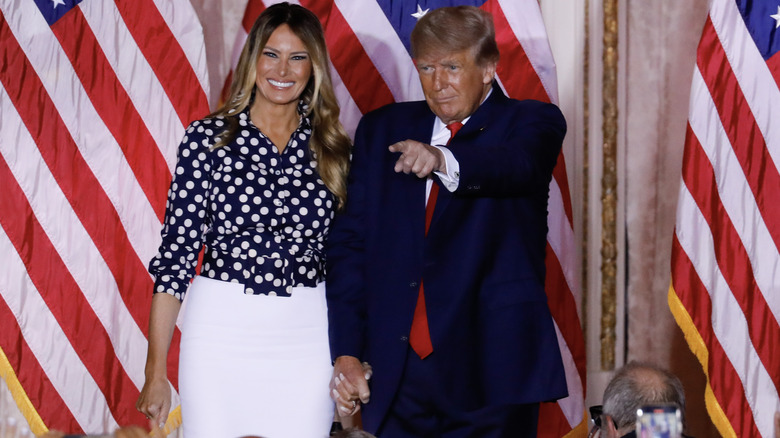 Bloomberg/Getty Images
In July 2022 — more than a year and a half after the Capitol insurrection — Melania Trump finally went public with an official statement explaining her silence on that fateful day. It was lack of information, not lack of concern, that kept her from speaking out, she said. At the time, Melania had been at the White House, supervising photographers who were taking archival pictures of the furnishings. "This is a very significant undertaking and requires great care, attention to detail, and concentration — both in the planning and execution," she stated. 
The fault, the former First Lady declared, lay with her chief of staff. Without directly denying she was the "MT" of Stephanie Grisham's text, Melania said Grisham had "abandoned her post" on January 6 and so had "failed to provide insight and information" on the riot. Had she known what was going on just down the road, "naturally, I would have immediately denounced the violence that occurred at the Capitol Building." It wasn't the first time Grisham had allegedly slacked on her White House duties, Melania added, and she claims now her former advisor was trying to smear her in "a last-ditch attempt to resuscitate her ruined career and reputation." 
If Donald Trump returns to the White House in 2024, expect his wife to continue distancing herself from any trouble that occurs in his administration. Melania has maintained her silence on her husband's indictments, which Grisham has said is typical of her: "She is saying in her mind [...] 'This is his issue, he can deal with it.'"