The Unique Way Hallmark's Lacey Chabert Announced Her Pregnancy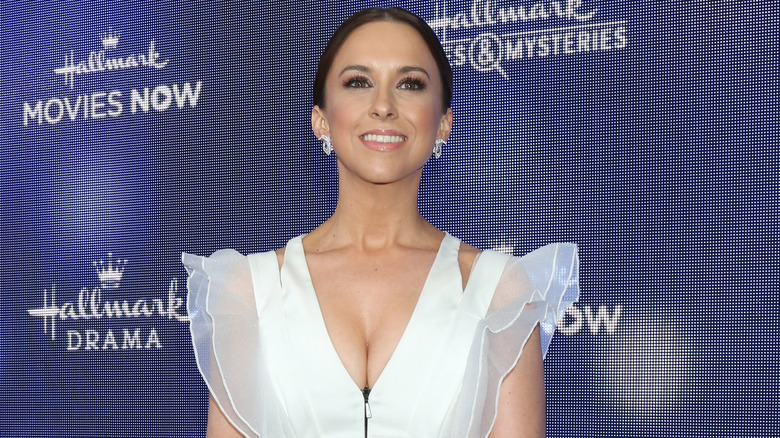 Kathy Hutchins/Shutterstock
Celebrities announcing their pregnancies have become much-anticipated events in the world of the entertainment industry. From heartwarming social media posts to exclusive interviews with popular magazines, these announcements are often met with excitement and joy from fans and the media alike. The public has seen some of the grandest and most stunning pregnancy reveals through the years, like donning the red carpet with a baby bump like Sarah Snook, or when Keke Palmer revealed her pregnancy during her "Saturday Night Live" monologue. These are definitely noteworthy moments but when it comes to sharing the news in the most unique and cutest way possible, Hallmark's Lacey Chabert could surely make the list.
"The Wedding Veil" star delighted her fans and followers when she came up with a creative and exciting way to announce her pregnancy. She announced that she was expecting her first child with Dave Nehdar through a Twitter post in 2016, where she shared a picture of her dog wearing a shirt that said, "My mom is having a baby & all I get is this silly shirt."
She was not alone in her pregnancy journey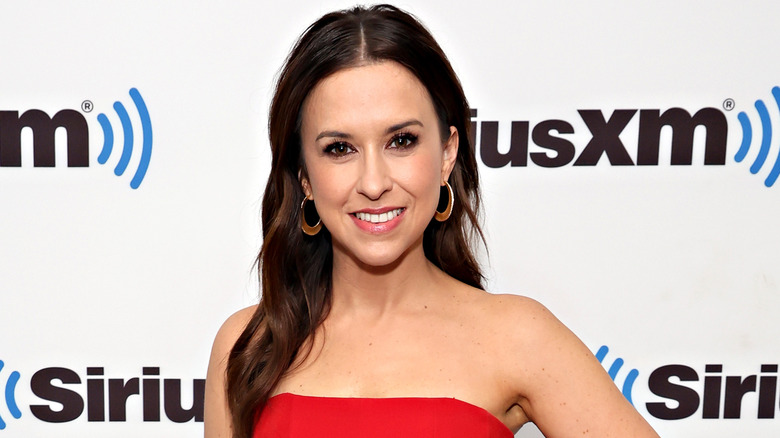 Cindy Ord/Getty Images
As Lacey Chabert shared her news, she also couldn't contain her excitement. Along with the posted picture of her dog, she wrote, "Kitty doesn't seem as excited as we are about this . . . I'm pregnant!!!! My husband and I are thrilled & so thankful ❤️"
The actor enjoyed every bit of her pregnancy but it became more special as she went through the journey with her friends Ashley Jones, Ali Fedotowsky, and Amy Davidson. Of course, people going through the same thing will understand how exactly you're feeling and Chabert was grateful that she had friends who were pregnant around the same time. She told People, "To be able to turn to my friends and ask for advice has been really, really nice." In addition to her pregnant friends, she also received tons of advice from other people. While she's thankful for these tips and pieces of advice, she was well aware that some of them wouldn't apply to her, noting that, "You have to take some of it with a grain of salt and just figure out what's best for you." 
The "Mean Girls" star gave birth in September 2016 and named her Julia Mimi Bella. Sharing her joy upon the arrival of her child, she said in a separate interview with People, "They laid Julia on my chest in the delivery room and my heart completely melted. She was just so peaceful."
Sweet mother-daughter moments
Despite being active on social media and frequently sharing things about her work, Lacey Chabert maintained a high level of privacy surrounding her personal life. She got married to her longtime boyfriend, David Nehdar, in 2013, and they welcomed their daughter, Julia Mimi Bella Nehdar, in 2016. As David is not part of the entertainment industry, Chabert was mindful of keeping their relationship out of the public eye. Although she has occasionally shared glimpses of her daughter in some posts on her Instagram, she now opted to show only the back of Julia's head as she has grown older. Still, the sweetness of the mother-daughter moments had the fans melting. 
There's no place like home for the Hallmark star, and spending quality time with her little girl and family is a priority for Chabert. Even though she is considered one of the biggest stars of Hallmark, Julia has never stayed away from her mother despite the actor's busy schedule. When she was in Canada to film "Winter in Vail," Chabert had her daughter with her in Calgary. Chabert posted their picture on Facebook and wrote, "Thankful beyond measure for all of the love in my life. I hope you all had a wonderful day." 
The mother and daughter also had adorable moments dressed up in matching outfits. The cherished moment of the lovely pair was posted on Chabert's Instagram with a caption, "Julia and I are wearing our matching dresses in Meadow Plaid."