Harry And Meghan's New Netflix Adaptation Sounds Eerily Similar To Their Real-Life Experiences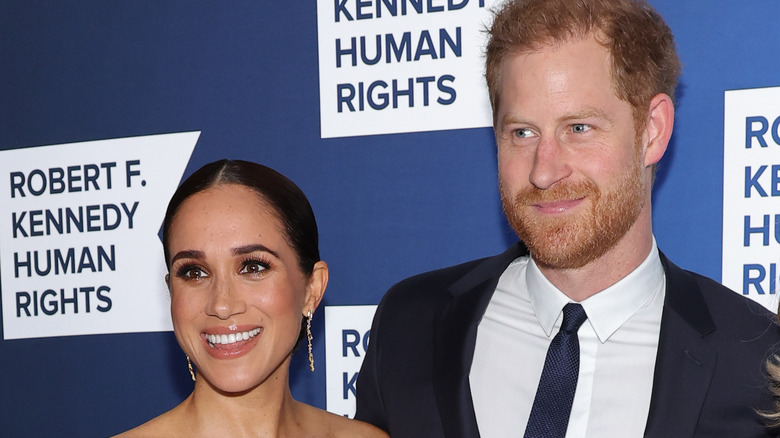 Mike Coppola/Getty Images
Prince Harry and Meghan Markle, Duke and Duchess of Sussex, have learned the hard way about truth and consequences. The "truth" part came when they criticized the royal family and the British tabloids in interviews, in their Netflix docuseries, and in the prince's book, "Spare." The "consequences": a freeze-out from King Charles III and William, Prince of Wales, plus tension during the royal occasions Harry was obligated to attend. Now that the king's coronation is over, it appears the Sussexes are officially personae non grata. They were left off the guest list for the king's first Trooping the Colour parade, as well as the planned anniversary memorial for Queen Elizabeth II at Balmoral. William and Catherine, Princess of Wales, paid no tribute to Meghan on her August 4 birthday, nor did they give shout-outs to their nephew and niece, Archie and Lilibet. (That may not be an actual snub, however. Hello! explains that the palace doesn't usually give social media greetings to non-working royals.)
Whether they've been chastened by the palace's reaction, or whether they've simply finished speaking their minds, Harry and Meghan are turning their attention to new ventures. According to Deadline and other outlets, the next project in their multimillion-dollar Netflix deal is a film adaptation of the bestseller "Meet Me at the Lake" by Canadian author Carley Fortune. The novel has been described in reviews as being "THE quintessential book of summer," all about "sexy romance and second chances." However, Harry and Meghan may have been drawn to it for reasons other than mere escapism reading.
Harry and Meghan may personally relate to 'Meet Me at the Lake'
An instant bestseller, Carley Fortune's "Meet Me at the Lake" follows Fern Brookbanks, a woman reluctantly tasked with taking over her late mother's lakeside resort. Into her life strolls Will Baxter, with whom she spent just one life-changing day some years earlier. "I once thought he might be my soulmate. I once thought he and I would be here together under very different circumstances," Fern muses. Can the two find that connection again? (Is there really any doubt?)
An unnamed source has told The U.S. Sun, "The themes of the book really gripped the couple," and the tabloid points out some interesting similarities between the novel and the Sussexes' real lives. For instance, Fern inherits the vacation spot after her mother dies in a car crash — an eerie echo of Princess Diana's tragic death. Fern's parents were divorced, just as Meghan Markle and Prince Harry's were. Will has struggled with postpartum-related mental issues, much as Meghan did after Archie's birth. Will and Fern's wardrobe choices are similar to the casual-wear styles we've seen on the royals. Even Fern's last name is almost identical to that of Jack Brooksbank, husband of Harry's cousin Princess Eugenie.
Fans who devoured the novel will be curious to see how the Netflix version compares, but the more interesting question is whether Harry and Meghan's move away from tell-alls will someday lead to a happily-ever-after with the royal family.