Meet The Real-Life Couple Who Inspired Iconic Romcom The Vow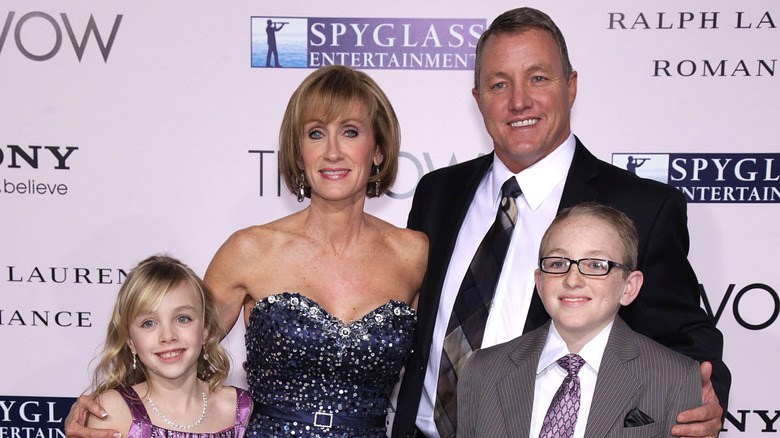 DFree/Shutterstock
Life imitates art, which is true for the 2012 rom-com "The Vow." The film is loosely based on the real-life romance of Kim and Krickitt Carpenter, who experienced a life-threatening car accident shortly after getting married. Similar to the couple's experience, "The Vow" is about Paige (Rachel McAdams) and Leo (Channing Tatum), who also suffers a car crash early on in their marriage. Brain trauma from the accident makes Paige lose not just memories of the couple's wedding, but all recollections of their past life together, including their first meet-cute encounter. 
This synopsis is almost identical to Kim and Krickitt's journey, with Krickitt's own loss of cognitive memories acting as the basis for Paige's character. However, the irony of the film's connection may shock you, as it ends in a twist. According to The Express Tribune, though the couple in "The Vow" has a Hollywood scripted happily ever after, Kim and Krickitt experienced a harsher reality, filing for divorce after 25 years of marriage due to the one thing that can make or break a happy marriage, infidelity.
Let there be sparks
Kim and Krickitt Carpenter met, of all places, on the phone. Kim was a university baseball coach, and was participating in a faculty meeting via phone call when he noticed an unusual name on a sportswear catalog. He later called the corresponding number attached to the name, and met Krickitt, who was a sales representative in California at the time.
A source from Reader's Digest Canada states that Kim questioned her, asking if her name really was Krickitt. She parried Kim's curiosity with a question of her own, asking, "And you're from Las Vegas, but not Nevada?" Their relationship took off after that question, from learning about each other's passions (such as Krickitt's gymnastic abilities and love of athletics) to lifelong goals, conversations quickly progressed into flights across the country to meet in person. In fact, in just two weeks of meeting each other face to face for the first time, Kim met Krickitt's family. He then asked for their permission to wed Krickitt later that year, and after receiving their blessing, flew back to California and asked Krickitt for her hand in marriage. The two married on September 18, 1993, marking the beginning of the two falling in love.
From the accident to now
Krickitt and Kim Carpenter moved in with each other after returning home from their honeymoon. However, just 10 weeks after adjusting to married life, they were in a life-threatening car crash. Krickitt suffered so much brain damage from the incident that she fell into a three-week coma, and when she woke up, she didn't remember anything that happened before the accident, which included meeting and marrying Kim.
Krickitt persevered, working with speech and physical therapists to regain control of her mind and body. Gradually over time, a few memories did trickle back to Krickitt, but she still couldn't remember who Kim was. This made Kim determined to rehabilitate his bride and help jog her memory. Thankfully, Krickitt grew to love Kim again, and on May 25, 1996, they renewed their wedding vows.
Though the couple's fight to honor their love is what inspired "The Vow," unfortunately infidelity was a factor in the couple splitting after 25 years of marriage. "It was shocking to me because we were so committed to each other and the vow," Krickitt told Inside Edition. Still, despite their unhappy ending, she doesn't regret re-marrying Kim. Instead, she is grateful for her children, and the chance to make lifelong memories with them.