What We Know About Young And The Restless' Bryton James And Brytni Sarpy's Real-Life Relationship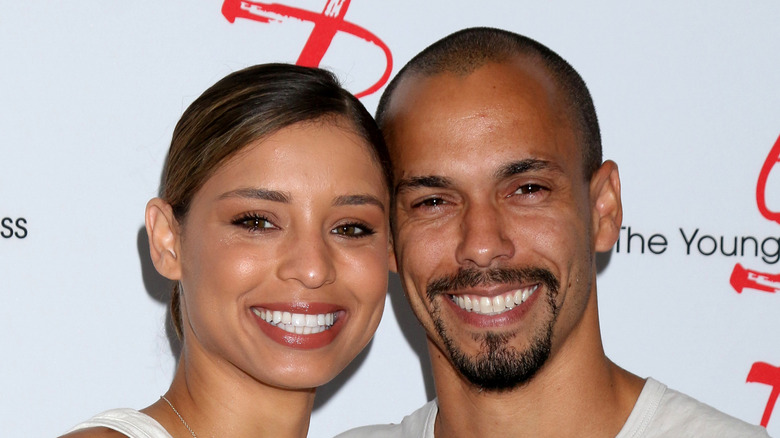 Kathy Hutchins/Shutterstock
There is hardly a more popular or more convincing couple from "The Young and the Restless" than Devon Hamilton (Bryton James) and Elena Dawson (Brytni Sarpy). Even though the two have had some major ups and downs during their time on the soap, that has not stopped fans from rooting for them to stay together. In fact, the love for the couple hasn't just stayed on the screen.
Brytni Sarpy debuted on "The Young and the Restless" in 2019 when Elena first came to Genoa City. Prior to her start on the soap, fans might have recognized her from her time portraying Valerie on "General Hospital." Elena and Devon were attracted to each other from the start, but they had a hard time connecting in the beginning due to Devon's grief over his late wife. Despite Elena's misdeeds and the karma she endured, they grew closer, and gained a very supportive fan base. However, the romance didn't only stay between the characters. James and Sarpy took their relationship from the screen to real life.
Sarpy and James sparked dating rumors on social media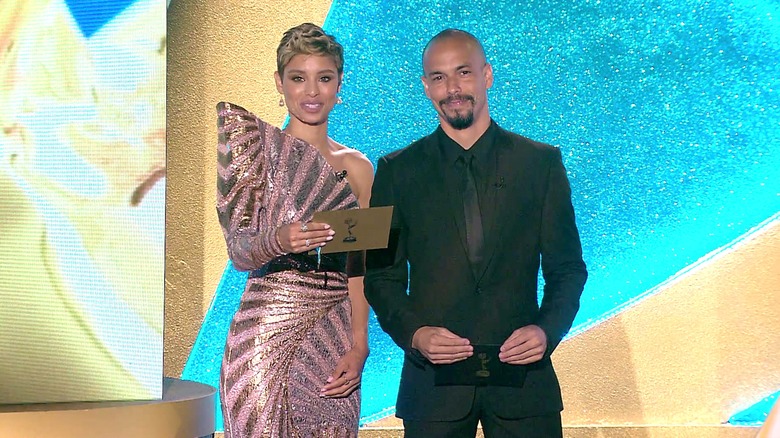 Daytime Emmy Awards 2021/Getty Images
It was a joint trip to Japan for Brytni Sarpy's birthday that had fans first speculating about whether or not the pair were dating. Bryton James and Sarpy raved about each other on social media, with Sarpy declaring that the trip had been her greatest birthday celebration ever. The pair posted their couple's costume for Halloween, again sending fans into a tailspin with rumors of their off-screen relationship.
Sarpy and James revealed that they had been dating for a year in private before going public with their relationship in May 2020 (via TV Season Spoilers). Much to fans' delight, as they had been rooting for the actors to couple up in real life, James and Sarpy seemed very happy with each other. They even inadvertently revealed that they had moved in together right before the COVID-19 pandemic hit in a virtual interview with the rest of the "Young and the Restless" cast.
Happily ever after?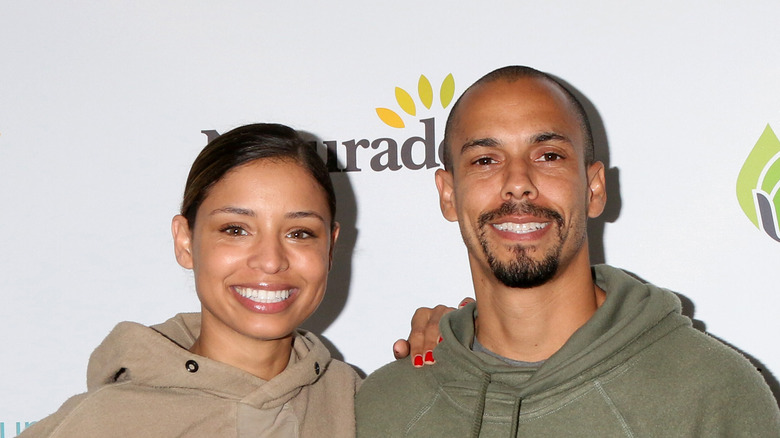 Kathy Hutchins/Shutterstock
Bryton James was nominated for Outstanding Supporting Actor in a Drama Series in 2021, and Brytni Sarpy's pride was evident on the red carpet. Per Daytime Confidential, when asked if they help each other cut together their reels for submission, Sarpy responded, "Oh, yeah. It's our reel; we submitted the same material. So I'm so proud of him and it was not a surprise at all. He did the work. I've never had a better scene partner. He's so deserving and I think he's going to take it."
Even though the couple has been undeniably strong for the duration of their relationship, rumors started swirling again in 2023 that James and Sarpy had broken up. Neither actor has posted any new pictures with their significant other or been seen in public with the other. The last photo on James' Instagram of the two together is from March 2020. James and Sarpy have not commented on the status of their relationship, but fans are hoping that all will turn out well for the on-screen and off-screen couple.