Why Chip And Joanna Gaines Temporarily Split Early In Their Romance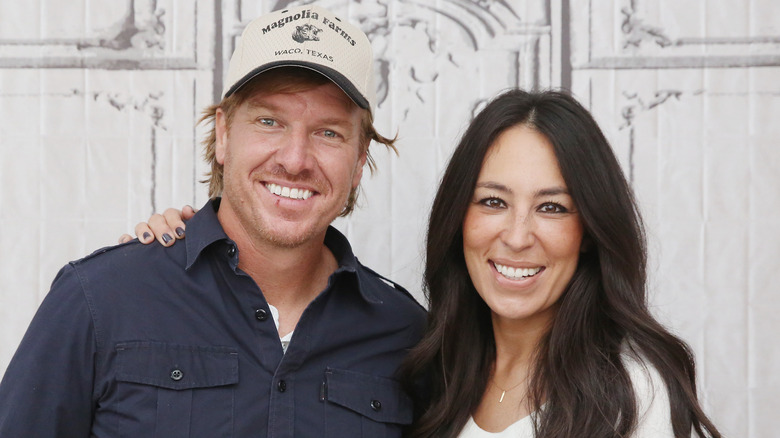 Mireya Acierto/Getty Images
He's known for tearing down walls, corny jokes, and ever-changing facial hair. She's a pro when it comes to design, impeccable style, and playing the straight woman. Together, Chip and Joanna Gaines are the power couple who skyrocketed HGTV's viewer ratings with their home renovation show "Fixer Upper." The series aired for five seasons, from 2013-2018, and was the network's crown jewel. 
The dynamic duo has remained in the spotlight since then, most significantly with their Magnolia brand which encompasses a wide range of items, including a television network, cooking shows and cookbooks, an app, and even a curated shopping mall in Waco, TX, where the couple resides. They also sponsor local events and have their own working farm. 
Not only do the Gaineses have a successful entrepreneurial spirit, but they also have what seems to be a fairytale romance, with fans eager to soak up their playful banter and true-love vibes. In fact, it's hard to imagine Chip without Joanna and vice-versa, but for a brief moment in time, that's exactly what happened. The two took a step back from their coupledom just months before they got engaged when Chip said those three little words.
Chip said I love you, Joanna said thank you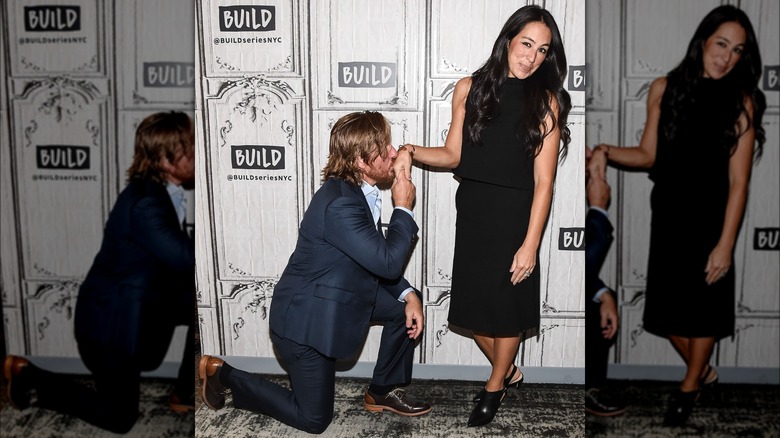 Daniel Zuchnik/Getty Images
In 2002, Chip Gaines laid everything on the line and told his then-girlfriend Joanna he loved her. "And then I said thank you," she confessed to Us Weekly. The "Fixer Upper: Welcome Home" star was a little shaken at her response. "I was like, 'I am so freaking sick of this,' and I grabbed my basketball and I walked home like a 4-year-old," Chip recalls.
Joanna admits she wasn't entirely sure of the relationship and was cautious about returning those three little words. They both decided a break was in order so everyone could sort out their feelings. "We took a week off to just be like, 'Is this for us? Is this not?'" Joanna revealed to People. It turned out to be a short week, with the couple meeting up for dinner only a few days later. They were married in May 2003. 
It wasn't the first time the couple had a break in their relationship. After going on their first date, it took three months before they had a second one. It seems Chip had a bet with a friend that Joanna would call first — and she believed in the more traditional idea that the guy should do the dialing. Chip finally busted the bet, rang her up, and the two had their second date that same night, with many more following.
Chip and Joanna have been married for more than two decades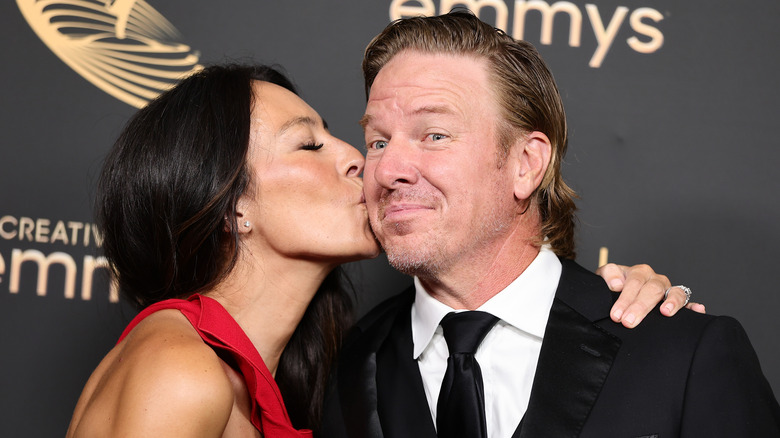 Matt Winkelmeyer/Getty Images
Chip and Joanna Gaines celebrated their 20th wedding anniversary in May 2023, and Chip didn't let the occasion pass without writing an Instagram love letter to his wife. "20 years with the most incredible, most powerful, most beautiful woman I've ever known. You've given me the most beautiful life and I'm so grateful to God for you Joanna Gaines," he wrote. Joanna's celebratory post was short but sweet: "What a wonderful 20 years. Happy Anniversary Chip Gaines." 
Chip has become accustomed to his wife's more reserved demeanor. Joanna once told I Am Second, "He always jokes I'm the guy in the relationship because when he wants to talk and dig, I don't want to talk. I just want to eat my fries." She also acknowledged his positive influence. "If I didn't have Chip Gaines in my life, I'd still be dreaming in my head but not acting out any of that, not living it out."
On the Magnolia website, Chip penned a blog post that talked about the couple's dynamic, and how he learned to put his big personality on the side to make room for the love of his life. "Jo still prefers to fly under the radar, and I'm still the life of most parties. That much hasn't changed. But when I can clear her path, so to speak, and help her get to a place where she feels confident and capable to get after whatever it may be, I get to watch her change the world."