Why Kody Brown Partially Blames Janelle For His Failed Romance With Meri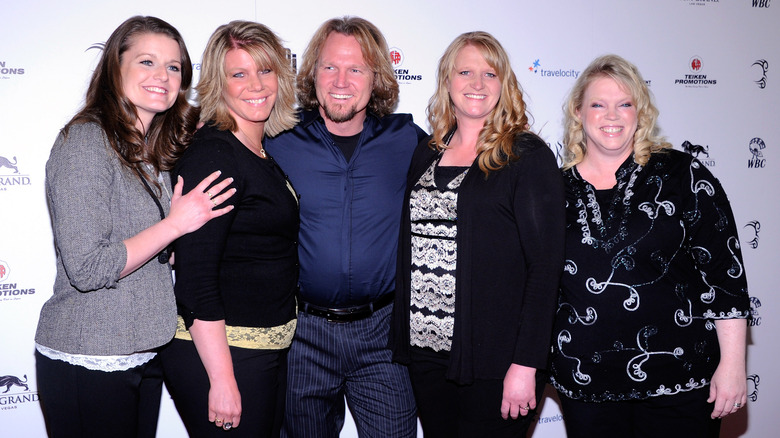 Ethan Miller/Getty Images
It seems that Kody Brown, the polygamist star of TLC's "Sister Wives," had a rocky time with his first wife, Meri Brown, from the very get-go. The couple met in 1989 and married just six months later, in April 1990. In the tell-all special for Season 17 of the hit show, the patriarch admitted their problems started early on. "I married Meri, and it was a hard relationship from the very beginning," Kody stated (via OK! magazine). 
Five years after tying the knot, the pair welcomed their only child, Leon Brown. However, a couple of years prior, they welcomed a second wife into their family too. Janelle Brown spiritually married Kody in 1993, and the couple had six children during their time together, while Meri was sadly left struggling with the inability to conceive again. 
Even though this timeline doesn't seem odd at first, Kody shared how Janelle was sort of a decoy for the problems he was having with Meri. In fact, in 1994, the joint family welcomed another wife into their union, Christine Brown. This, according to Kody, saved the "Sister Wives" family, but his first wife doesn't agree.
Kody thinks Meri was jealous of Janelle in the beginning
When Janelle Brown joined the polygamist Brown family, she was almost instantly met with a dose of hostility from her sister wife, Meri Brown. In her one-on-one interview with the host, Sukanya Krishnan, Janelle revealed that the family already had their fair share of trouble when she came along, fighting over the smallest things like folding clothes and cooking, as Today reported. 
"I'd never met anybody who was super direct like [Meri], and I was like, 'Whoa!' It was almost offensive to me," she shared. However, Kody Brown saw this as a way to distance himself from the problems he was having with his first wife. "It was like Janelle was a blessing of dilution. [Our marriage] diluted this relationship I had with Meri," the reality star argued, but he also admitted he was making the situation worse by "bringing more people into a problem."
The "Sister Wives" star explained that the trio initially lived in Meri's house and that Meri was jealous of Janelle. Some time after Kody's third wife, Christine Brown, joined them, Janelle decided she'd had enough of the family's strained dynamic. Kody partially took the blame, acknowledging that he wasn't supportive enough of Janelle as she felt excluded by her sister wives (via OK! magazine). While she ultimately did return, their problems were far from resolved.
He also blamed Christine for not getting back with Meri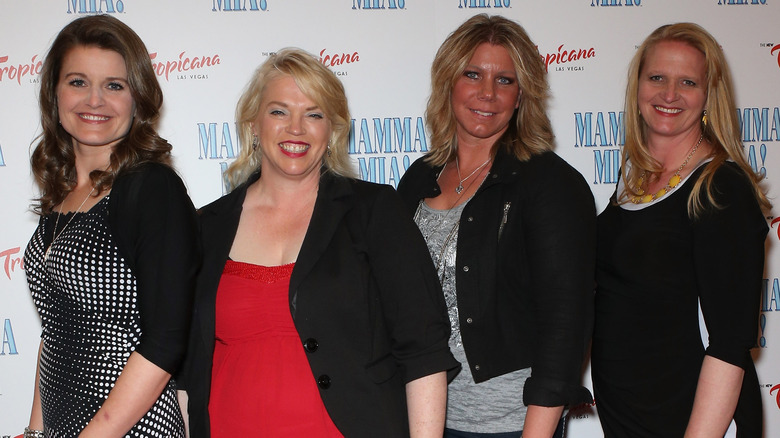 Gabe Ginsberg/Getty Images
When Christine Brown married Kody Brown, in 1994, the controversial polygamist got yet another way out of the mess he was in. "You came into our lives. You did us a favor," he told Christine during an episode of "Sister Wives" that explored their breakup (via Us Weekly). As Kody thanked his ex-wife for saving the family, Meri Brown took offense at his comment. "When Janelle came into the family, I was jealous. I was young. I was not yet fully mature. [Kody's] like, 'Oh, let's get Christine to come and save the day.' That stings," Meri said during her solo interview. 
However, she wasn't really the victim. In the Brown family's co-written memoir, "Becoming Sister Wives," Janelle revealed just how brutal Meri was towards her in those early days, per Cheat Sheet. From mocking a pregnant Janelle when she cried to excluding her from activities with Kody, Meri didn't do a great job of hiding her insecurities.
Christine managed to patch things up between the trio at the time, but ultimately also got blamed for Kody and Meri's problems. During his tell-all sit-down, Kody stated that Christine was the one to talk him out of getting back together with his first wife, which she denied, per People. As the Brown family drama continues to unfold, Kody, who is currently left with only one wife, is seemingly pointing fingers at everyone but himself.