Meet Angela Bassett's 2 Kids, Bronwyn And Slater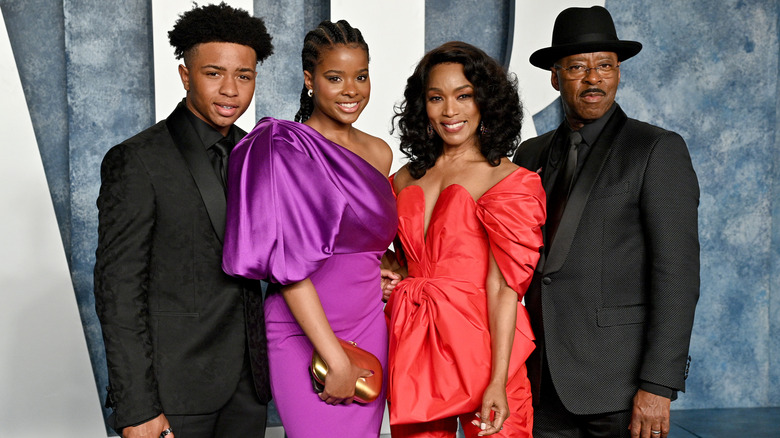 Lionel Hahn/Getty Images
 Angela Bassett and Courtney B. Vance have been married since 1997, welcoming their twins Bronwyn and Slater Vance in 2006. However, their journey to parenthood was not an easy one. Bassett opened up on the Oprah Winfrey Show about their difficulties with in vitro fertilization. "I wanted it, but I couldn't hold onto it so that I was devastated when it didn't happen," she told Oprah. I had to remain hopeful and resilient and, 'Okay, let's do it again.'"
Courtney has a feeling that twins were in the cards. He told Oprah he had a dream about twins several years before, even though they weren't sure how to conceive at that point. His prediction came true as, eventually, they turned to surrogacy. The "Law & Order" alum told Oprah that raising their children is something that's helped their relationship — an addition to their secrets to a happy marriage.
Almost 20 years later, the twins have grown up and their comments show they are in awe of their parents' talent. After the "Wakanda Forever" star's 2023 Oscars loss, both Slater and Bronwyn shared Instagram posts in support of their mother. "What an honor to be among such a talented group of people for the night. All my love and support for my beautiful mother," Slater's heartfelt post reads. "Her success as an actress, woman, and artist cannot be undone, nor dismissed because of a piece of metal. She is the most talented actress and mother I know and I know the world knows it."
Bronwyn and Slater have an unbreakable bond
While most twins have an unspoken connection, Angela Bassett shared that her children weren't always that way. When they were younger, the two used to argue and put their paws on each other. But ultimately, the two are as thick as thieves. "She's big heart — she loves her brother — and he protects her in school," Bassett told Access Hollywood (via People). "If she's having some trouble he's right in there for her, 'Don't you talk back to my sister!'"
The twins also show love to each other on social media. In a series of pictures shared on Instagram, Bronwyn shouts out her brother: "we ain't siblings then I can't relate." Slater also enjoys summers with his sister, sharing an Instagram post saying that they are taking over summer camp side-by-side.
Bassett shared that of the two of them, Bronywn is definitely the boss, despite being the younger twin. Committed to keeping her brother in line, Bronwyn would mimic her mom whenever Bassett disciplined her son, the actor told Vulture. "I'm just speaking from my experience, but my daughter, from the time she was a little one, was always sort of looking to me for the example of what to do and how to be ... She was my little copycat!" Bassett said.
Slater is a budding music artist
While their parents are accomplished actors, Slater and Bronwyn Vance have been encouraged to pursue music. Angela Bassett previously said that she supports her children's musical interests, from musicianship to singing. "They both play the piano and rap and play guitar," Bassett told E! during the 2021 Golden Globe Awards (per People). "So they have a little musical interest that I drill into them, that I insist upon!" 
In fact, Slater is already a budding artist. In 2021, he released his first album titled "Journey 2 Forever." His sister Bronwyn is actually featured on a song, "Growing Up." In 2022, Slater followed this up with an EP titled "Holehearted." On an Instagram post showing he reached more than 10,000 monthly listeners, Slater said, "I'm so grateful to you all for helping us get to this milestone. It's been an amazing journey and I look forward to all that is to come."
Of these accomplishments, Courtney B. Vance had to give his praise. "Folks, he's done it again," the proud father wrote in an Instagram post. "A big congratulations to my son @slater.vance and his producer @wcab1_music for their second major production, Holehearted." His third project, "yours sincerely," was released in early 2023.