What Reese Witherspoon's Relationship With Her Son Deacon Is Like
Reese Witherspoon is a Hollywood veteran with more than 30 years of experience in the industry. From acting to producing, the multi-talented blonde has been a part of many successful projects. She's a beloved '90s legend who's starred in some of the most iconic movies of the era, like "Legally Blonde" and "Election." Her recent accomplishments include "The Morning Show" and "Big Little Lies," both TV series she produced and starred in. Witherspoon won an Oscar for her performance as June Carter in "Walk The Line," a movie about the life of country singer Johnny Cash.
According to Forbes, Witherspoon is the richest female actor in the world, with an estimated net worth of $440 million. She amassed the fortune by selling her media company, Hello Sunshine, of which she still owns 18%. However, her career and business ventures aren't her main priorities at all times. Witherspoon is a devoted mother of three — Ava, Deacon, and Tennessee, with whom she shares a special relationship. As Deacon Phillippe, the actor's second child and oldest son pursues his dream of being a musician, mom is right behind him every step of the way.
Witherspoon supports her son's career choices
Reese Witherspoon shares her two children, Ava and Deacon Phillippe, with her ex-husband, actor Ryan Phillippe. The pair welcomed Deacon in 2003, which makes him the middle child between his older sister and younger stepbrother. Despite his parents breaking up three years after he was born and officially divorcing when Deacon was only five, he remained a priority for both of them as they agreed to co-parent.
Today, Deacon's relationship with his famous mom is more than great, as the two share a strong bond. Witherspoon often shares her son's accomplishments on her Instagram account, boasting how proud she is of him. Other than virtual support, the Hollywood star is physically present while Deacon makes his way through the music industry.
When Deacon, an inspiring producer, had his first performance, Witherspoon was there to support him, according to Just Jared. Other than venturing into music, Deacon has dabbled in acting too, scoring his first role in "Never Have I Ever," a Netflix TV show, at only 18 years old. His mom is not the only proud parent. Hi dad Ryan Phillippe also takes every chance he gets to praise Deacon. When asked about his son's music in an interview with Entertainment Tonight, Phillippe said, "It's incredible. I'm so excited for people to hear [it]; it's really good stuff. I'm super proud."
The actor is a strict parent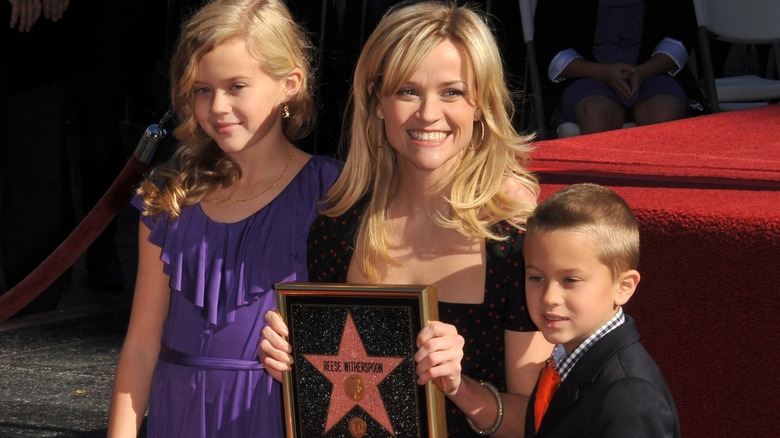 Featureflash Photo Agency/Shutterstock
Reese Witherspoon's close relationship with her adult children, Ava and Deacon Phillippe, comes as no surprise, as the actor is a great mother. According to a source close to the family, Witherspoon is a devoted parent who's always honest with her children. "[Witherspoon's children] feel comfortable talking to her about anything. She's equally involved in all of their lives," the insider revealed to Us Weekly.
Despite supporting her children's desires and career paths, Witherspoon made sure they weren't too coddled when they were younger. When speaking to Business Insider, the multi-talented entrepreneur detailed an instance when her daughter cried after she was the only one to not score at a basketball game, telling her, "'Aves, maybe you're bad at basketball.'"
Even though some might say Witherspoon's parenting techniques are harsh, she's still a mom and has the softest spot for her children. "I melt around my kids. I'm much more squishy, soft, and lovey with a caramel center," the actor shared in a conversation with InStyle.