The Real Meaning Behind Rihanna's Smash Hit Song Umbrella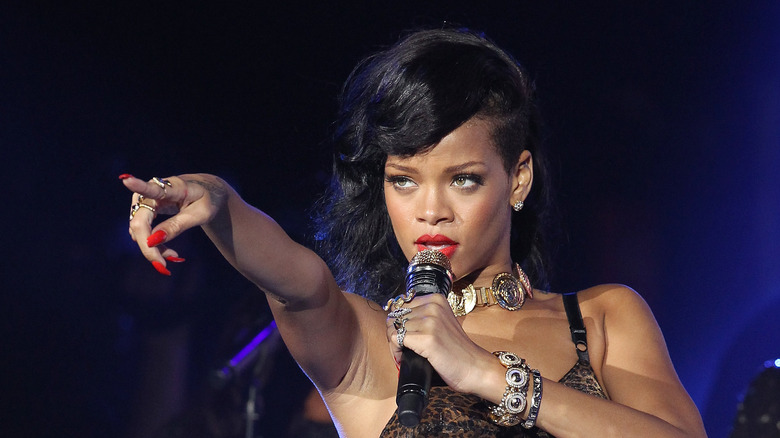 landmarkmedia/Shutterstock
Rihanna is a music icon, successful beauty empress, and self-made billionaire. But before these accomplishments, the young singer from Barbados first came to our attention thanks to one powerful song: "Umbrella." The 2007 hit served as Rihanna's lead single for her album "Good Girl Gone Bad," which would go on to become one of her highest-selling albums. "Umbrella" spent seven weeks at number one on the Billboard Hot 100 Chart in 2007, making the song and its sizzling music video certified stars in her discography.
The song was also accompanied by a feature from hip-hop maverick Jay-Z, who discovered Rihanna several years before. Rihanna and Jay-Z's relationship is that of a mentor-mentee, as the rapper signed a then-16-year-old Rihanna to Def Jam Records in 2005. In the following years, the "Run This Town" lyricist would help Rihanna build up her repertoire in the music industry.
By the time they collaborated on "Umbrella," just two years after her move from Barbados, the songstress won her first Grammy for Best Rap/Sung Collaboration. Their 2008 win would be the duo's first, but not last, collaborative Grammy Award. The song was co-written by Jay-Z, Christopher "Tricky" Stewart, and Terius "The-Dream" Nash, who maintains that the smash hit changed the trajectory of Rihanna's career (via Rolling Stone).
Rihanna fought for the chance to record Umbrella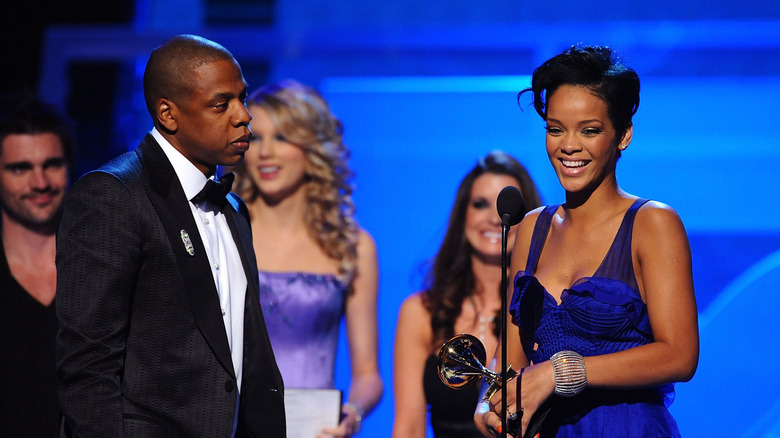 Michael Caulfield/Getty Images
"Umbrella" was originally meant to be sung by Britney Spears or Mary J. Blige, who both turned the song down (per Revolt). Eventually, it landed in Rihanna's lap, and she saw the song's immense potential. "The first time I heard 'Umbrella,' I just knew how much I loved the song," Rihanna said on "The Ellen Show." "Eventually, I just went up to one of the managers and was like, 'This song is mine ... I'm gonna fight you if I don't have this song.'"
"Umbrella" starts with Jay-Z's catchy rhymes, as he makes allusions to material goods such as diamonds and expensive cars: "No clouds in my stones, Let it rain, I hydroplane in the bank / Coming down with the Dow Jones ... We fly higher than weather, in G5's or better." However, this wealth isn't an end-all-be-all for Rihanna. She warns that having a loyal partner is more important than finding happiness in material things.
"Baby, 'cause in the dark, you can't see shiny cars / And that's when you need me there," Rihanna sings in the second verse. She continues later: "These fancy things / Will never come in between / You're part of my entity / Here for infinity." The Savage X Fenty founder maintains this mantra in her real life, telling the The New York Times: "The world can really make you believe that the wrong things are priority, and it makes you really miss the core of life, what it means to be alive."
Umbrella is a metaphor for security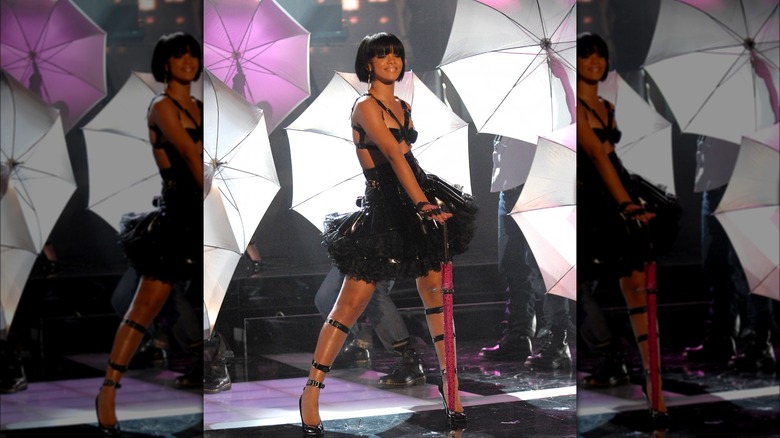 Kevin Mazur/Getty Images
According to co-writer Terius "The-Dream" Nash, "Umbrella" originally came to him as a metaphor for God's unconditional protection. This loyalty is reflected in the chorus: "When the sun shines, we shine together / Told you I'll be here forever / Said 'I'll always be your friend' / Took an oath, I'ma stick it out 'til the end."
The catchy hook apparently came to Nash by accident, as he recorded the song demo in just one take. "I'm like, 'Oh, my God, what is that beat?' Then Tricky starts putting some chords over it, and immediately the word popped into my head: umbrella," the lyricist told Blender. "I ran over to the vocal booth and started singing ... The first verse was written in 60 seconds."
It was also Rihanna's vocally powerful bridge that made the song a smash hit: "You can run into my arms / It's okay, don't be alarmed / Come into me / There's no distance in between our love / So gonna let the rain pour / I'll be all you need and more." Of Rihanna's popular "ella-ella-ay-ay-ay" line, Nash explained to Genius: "I would sing those lines repetitively myself to actually fill [vocal reverb] in. Just a silly thing that just turned into, 'Oh yeah, I probably should do that all the time.'"