What Happened To Laid Brand Pheromone Infused Hair Care After Shark Tank?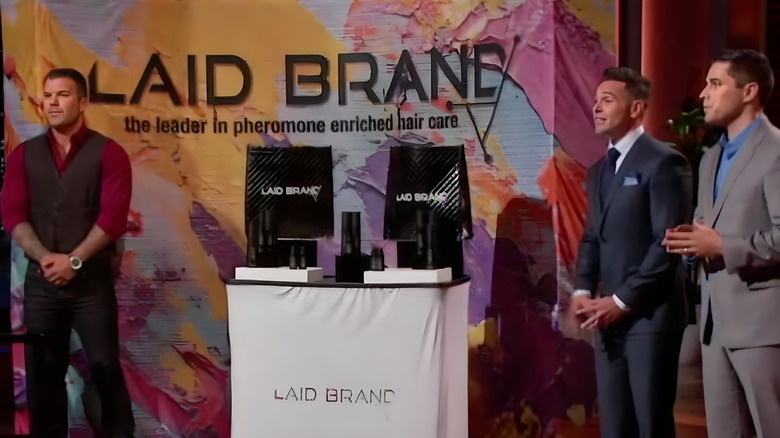 ABC
We may receive a commission on purchases made from links.
There are hacks to get longer and thicker hair, such as cutting split ends regularly and using hair serum. But is it possible that your hair can be used to attract other people? Or, more accurately, can your hair care products do that for you? Adam Rauch and Derek Shaw, two of the founders of Laid Brand, headed to "Shark Tank" operating under the belief that yes, your hair care products can have that kind of power with the added benefit of pheromones.
The duo asked the sharks for a $30,000 investment, offering 30% equity in exchange. At the mention of their special hormonal ingredient, shark Mark Cuban immediately looked skeptical. Similar to pheromones perfume, the Laid Brand products are meant to make women more attractive to the men around them. The pheromones in the Laid Brand products are also supposed to help with confidence and make your hair look fantastic. Rauch and Shaw explained that their products are free of parabens and sulfates, and are cruelty-free.
The sharks needed clarification on a few important details
A model with Laid Brand product in her hair passed out three samples of the company's products to the sharks. Shark Robert Herjavec thought the company's name was questionable and that women may not want to be associated with something called Laid Brand. There was also a little confusion about who the products were for, with many of the sharks assuming they were for men and not women.
Adam Rauch started with one hair product for men in 2010, but when he joined forces with Derek Shaw, Nicholas Corbin, and celebrity hairstylist David L. Hensley Jr. in 2012, they founded Laid Brand and expanded the business to make products for men and women. However, based on a press release on PR Web around the time of their "Shark Tank" appearance, Laid Brand seemed to be focusing solely on women's products.
Something else that confused the sharks about Laid Brand was that they had not made any sales in the past three months. Shaw and Rauch did a test run selling their products in one salon and with e-commerce and made $27,000 in six months, but they had to make adjustments to the products before setting up with additional salons and continuing to sell.
None of the sharks were enticed by pheromones to make a deal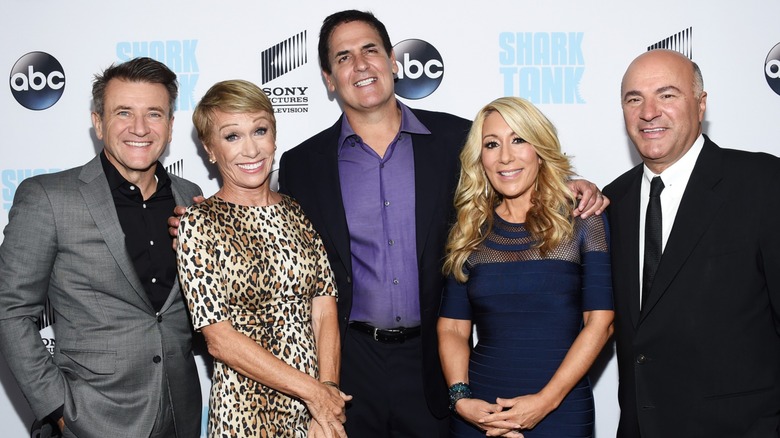 Amanda Edwards/Getty
Shark Mark Cuban was unimpressed, feeling that using pheromones was not unique, despite Adam Rauch's opinion that it was unique to hair care. Lori Greiner asked about market research, and Derek Shaw explained how many people love pheromone beauty products, especially in Europe. Robert Herjavec dropped out at that point, citing how that proved pheromone products were not special enough. Kevin O'Leary was next out, praising their margins but feeling that the competition with other hair and beauty products was too great. Greiner followed suit, agreeing that there would be too much competition. She also could not smell the product when she sprayed it.
Cuban thought that Laid Brand could be successful, even if it never became a household name, but he did not think the $30,000 investment could do much for them and dropped out. Barbara Corcoran was last out, complimenting their earnestness but hesitant about pheromone products in general. Laid Brand unfortunately did not make the list of most successful "Shark Tank" products, because Rauch and Shaw swam out of "Shark Tank" with no deal.
Laid Brand's last post on their Instagram page was in November 2018, and the company lasted until December 2018, according to the Shark Tank Recap website. Some of the Laid Brand products are still visible on Amazon but are listed as "Currently unavailable." According to LinkedIn, Shaw currently works in consulting and Rauch is a sales manager.