How Ainsley Earhardt Once Hinted At Her Romance With Sean Hannity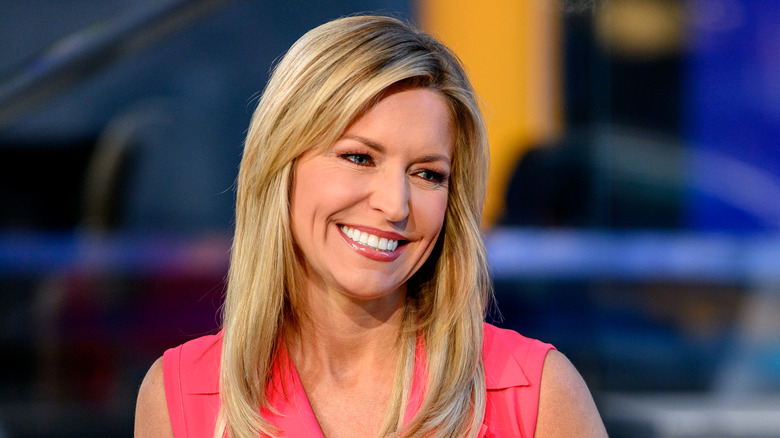 Roy Rochlin/Getty Images
Who would have thought that out of all the television celebrities, it would be news anchors making headlines with their behind-the-scenes love affairs? Thankfully, not all of them are as scandalous as others, like Fox News regulars Ainsley Earhardt and Sean Hannity. The pair first sparked dating rumors in 2019 that were confirmed in 2023 courtesy of the Daily Mail after both of them had separated from their former spouses.
In the interim, Earhardt coyly hinted that the rumors were true. Back in 2021, both Fox stars were on their regularly scheduled program when one of their colleagues, Brian Kilmeade, tried to force Hannity's hand. Whether knowingly or unknowingly, Kilmeade attempted to confirm or deny the couple's dating rumors by asking Hannity if he had a favorite out of the three "Fox & Friends" anchors.
Earhardt swooped in with a sly smile and told Kilmeade, "Yes, he does." Hannity wouldn't be bested, though. Not letting his boyish grin get the best of him during the surprise moment, he laughed it off and said it was "for sure" one of two hosts, either Steve Doocy or Earhardt, to which the set erupted in laughter.
Now, Earhardt and Hannity are out in the open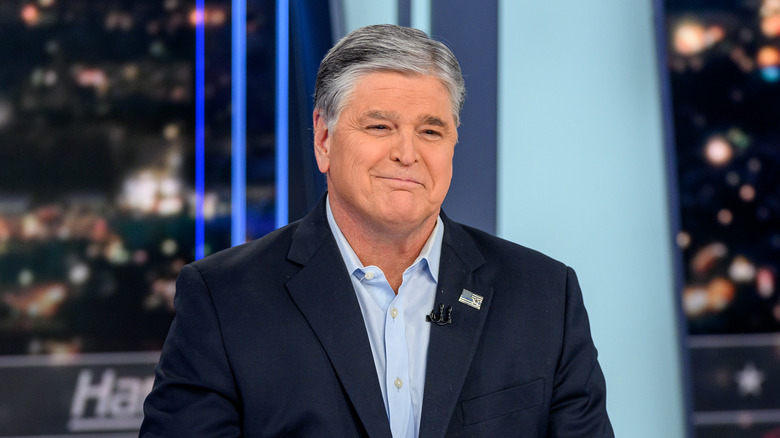 Roy Rochlin/Getty Images
Fortunately, the pair can breathe a sigh of relief now that they are officially a couple. Ainsley Earhardt and Sean Hannity have quite a bit in common; they're both conservative Fox News hosts and were at one time Donald Trump supporters. Additionally, they both once refused to admit they were an item.
After some intimate-looking photos surfaced in 2020, Earhardt told Business Insider that she wasn't "dating anyone," while Hannity's rep told the publication, "I do not discuss my personal life in public." Fast forward three years, and both television hosts are singing a different tune. They were spotted out and about together, looking very couple-like and not caring who saw them. They also had Earhardt's young daughter with them, illustrating that she is involved with Hannity enough to welcome him into her family fold.
A source close to the news anchors told The Daily Mail that the longtime friends-turned-lovers are "are extremely happy together and have been for a while. It's not a surprise to anyone who knows them, but they're very private people and prefer to keep their personal life private and lowkey."
A convoluted timeline
Now that everyone knows Ainsley Earhardt is Sean Hannity's girlfriend, some fans are working backwards to figure out their dating timeline. In 2019, speculation started to swirl that Hannity and his fellow host Earhardt were involved — especially when the pair arrived at an event together, disembarking from the same helicopter. The only problem was that Hannity wasn't divorced from his wife, Jill Rhodes, at the time. Or, was he?
Hannity and Rhodes announced in 2020 that they were no longer together but then dropped a bombshell when they confirmed they had actually split more than a year ago. Many surmised that Rhodes and Hannity didn't want to make a big deal out of their divorce, and a public confirmation was necessary if Hannity wanted to avoid rumors of a cheating scandal. Speaking of an affair, Earhardt filed papers to divorce her husband, Will Proctor, in 2018 after rumors of adultery rocked their marriage. Proctor denied the claims, but ultimately Earhardt couldn't move past them.
So, at the time when the Fox hosts were seen showing up to an event together, and later when Earhardt hinted that she was Hannity's favorite, it seems like both of them were clear of their marriages and free to date other people. The "First Couple of Fox" did a much better job keeping things on the up and up compared to other news hosts (ahem, "Good Morning America" crew).