Why Troye Sivan Is So Afraid Of Hurting Taylor Swift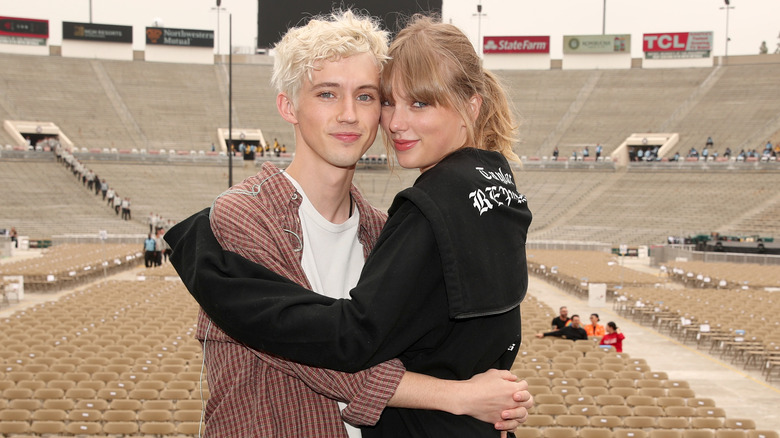 Christopher Polk/tas18/Getty Images
Although Troye Sivan gained popularity for his role in "The Idol," he's been around for quite some time. The Aussie pop star started as a YouTuber and went on to become an actor and singer-songwriter. While Sivan appeared in several films prior to heading to the small screen, he got his big Hollywood break with "Three Months," and the film featured several references to Taylor Swift, a close friend and inspiration of his. 
Their friendship started when Sivan released his first EP, "Wild," in 2015, and Swift tweeted her support, saying, "GO @troyesivan WILD IS STUNNING AND AWESOME, (YES CAPS LOCK IS NECESSARY HERE.) #EPgoals." So, imagine his joy when he finally got to meet her. Speaking to InStyle, Sivan shared that he had seen Swift around town but hadn't managed to pluck up the courage to strike up a conversation. But her tweet gave him the confidence he needed. 
The singer revealed, "I met her at the GLAAD Awards and thanked her. She said that everything had felt really authentic and genuine so far, and that's something I strive for. If anything, I took that as a push to keep going." Over the years, Sivan has gushed about Swift's songwriting ability and expressed his desire to write a song with her multiple times. Given his tremendous love and admiration for Swift, it's unsurprising that he wanted to ensure she was okay with all the references and jokes in "Three Months," so he reached out to give her a heads up in advance.
He respects Taylor Swift too much to hurt her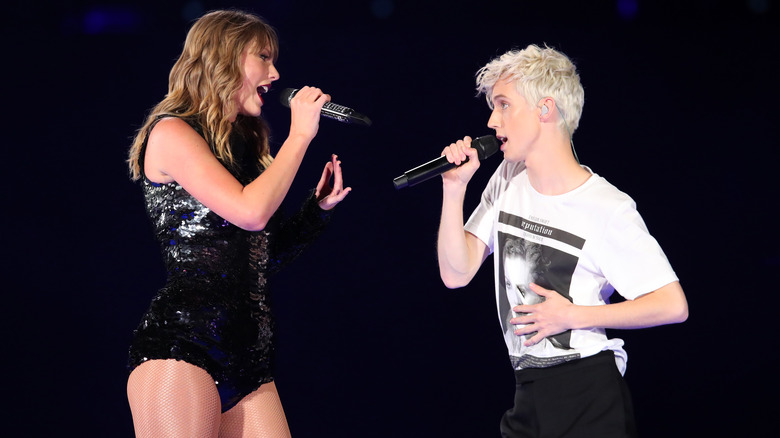 Christopher Polk/tas18/Getty Images
In "Three Months," Estha, played by Viveik Kalra, convinces Caleb, played by Troye Sivan, to listen to Taylor Swift, and eventually, Caleb becomes a fan, too. And when the two are fighting, Caleb angrily says, "F*** you for making me like Taylor Swift." Caleb even makes up a Swiftian song title, "This Is What I Get for Riding Bareback." And although all these references were in good fun, Sivan wanted to get Swift's thoughts on them. 
While speaking to The Daily Telegraph Australia, Sivan revealed, "I actually texted her because I didn't want to piss her off or anything like that." He added, "So I texted her when I first read the script and I was like, 'By the way, I am doing this movie and there's this' and she, like, loved it and laughed and so it was all good." Sivan also informed Pride that Jared Frieder, the director of the flick, is a massive fan of Swift, who got the once-in-a-lifetime opportunity to meet the singer after writing her a letter. 
The actor added that he wrote two Swift-inspired songs in character as Caleb for the film. Sivan might've chosen to practice extra caution after Swift called out the hit Netflix show, "Ginny and Georgia," for featuring the line, "You go through men faster than Taylor Swift," as an age-old sexist jab about her complex dating history. Several celebs took Swift's side after the controversial joke, and the show received immense backlash.
They are incredibly supportive of each other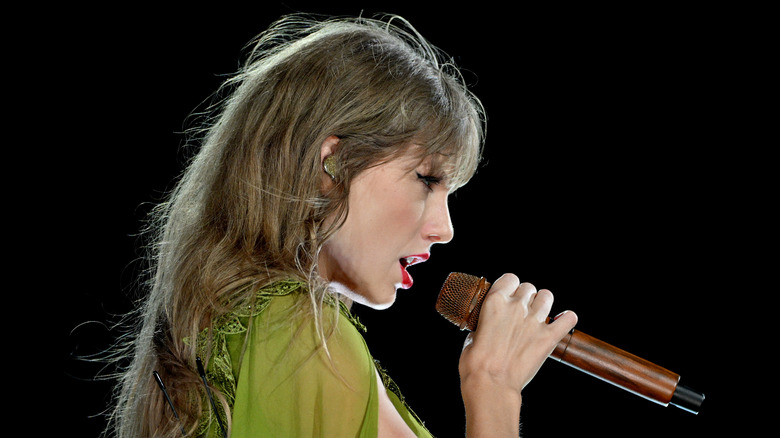 Fernando Leon/tas23/Getty Images
In an Instagram Q&A session (via Twitter), Troye Sivan revealed that Taylor Swift was one of the first people to hear his sophomore album, "Bloom." Sivan told his followers, "She sent me some of the nicest texts I'd ever received." The "Shake It Off" singer also got Sivan onstage for her Reputation Stadium Tour in Pasadena to perform "My My My!" for tens of thousands of fans. He wasn't accustomed to playing for such huge crowds, so it was a daunting experience for Sivan.
When he appeared on "The Late Show with Stephen Colbert," the singer-songwriter joked about how he wanted to watch Swift's show without paying for it, so he reached out, and she agreed to let him come for free in exchange for a duet performance. Sivan recalled that he almost fainted when he saw the never-ending crowd, and looking at Swift only made him more nervous. In the iconic pop star's pre-show Instagram Story, she gushed, "[Sivan] is somebody I'm so obsessed with. I'm like a super fan," (via YouTube). 
During the show itself, Swift enthused that he was "destined to be legendary." In 2023, Sivan attended Swift's star-studded Grammys afterparty and shared a snap from the night on Instagram. During a "Watch What Happens Live" appearance, the "Rush" singer confirmed the biggest misconception about Swift. "I have had nothing but unbelievably positive interactions with her," Sivan said. "She's extraordinarily generous and giving and sweet and talented, and I just have infinite respect for her."