The Stunning Transformation Of Jena Malone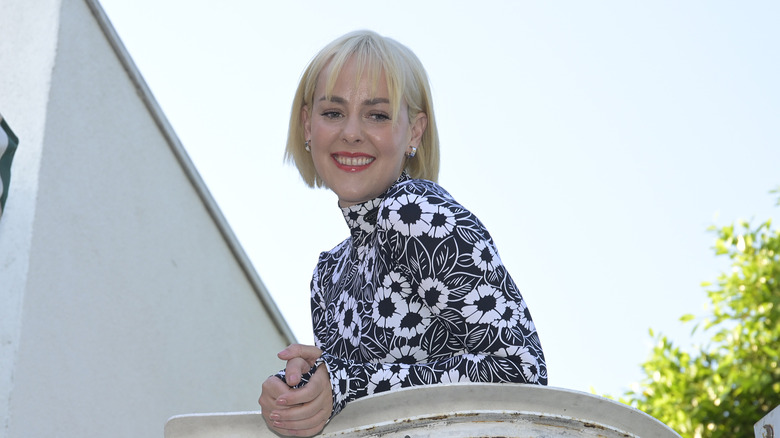 Michael Tullberg/Getty Images
Although she's a multitalented star, you probably know Jena Malone best for her acting roles in films like "Donnie Darko," "Sucker Punch," or "The Hunger Games." After spending nearly three decades in the spotlight as a child star who transformed into a stunning multimedia artist, Malone has evolved drastically. She seems to bounce between big Hollywood blockbusters and unique, independent projects frequently, making her a versatile actor, musician, poet, photographer, and comedian worth keeping tabs on because you never know what she's cooking up next.
From her remarkably humble beginnings, Malone has gone on to young stardom, monumental adult success, and a career beyond the film industry. But because she has defined herself over the course of many years, the stunning transformation of Jena Malone didn't happen overnight. She hasn't stopped or even slowed down yet, so here are some of the major milestones that stand out in her journey, as well as what has made her such an inspirational figure who's been surprisingly unsung thus far.
Jena Malone's father wasn't around during her childhood
Debbie Malone had been working as a cashier at a casino owned by Edward Berge's parents, and he had been a general manager at the time of their affair. She became pregnant with Jena Malone, but because he was already married with kids, Edward decided not to be a part of his daughter's life when she was born in November 1984. As he told Daily Mail, "[Debbie] found out she was pregnant almost straight away and told me. It was a bit of a shock and, naturally, wasn't very good for my marriage. My wife got pregnant around that time too ... I was a bit of a scoundrel but I'm grateful for what happened because Debbie and I ended up with a beautiful daughter."
Malone's father took her on a couple of trips in her younger years, but mounting debts got to Berge, and he fled in 1990. Despite her father's absence, Malone was still raised by two loving parents. As she told The Daily Beast, it was Debbie and her girlfriend who brought her up. "They were lovers. I had two moms, and it was awesome. Double the pleasure! The more love you have as a child, the better," she said. Malone reconnected with her father when she was 15 and according to Berge, they have a much better relationship now.
She grew up impoverished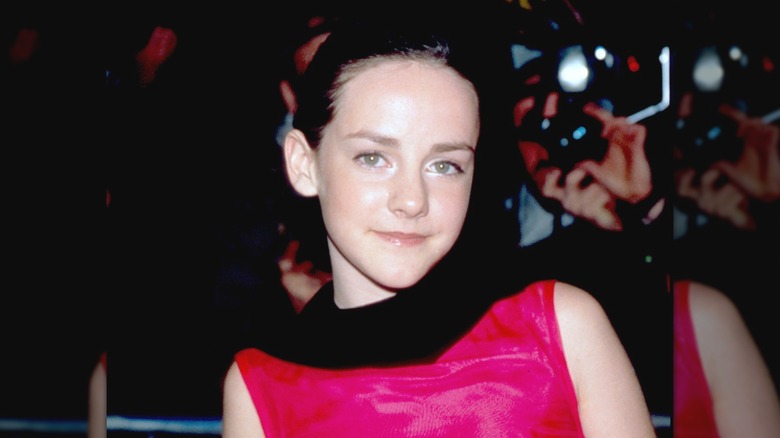 Evan Agostini/Getty Images
Jena Malone may be doing just fine for herself now, but her upbringing was a drastically different experience. Her moms struggled with money, and as a result, Malone had lived in 27 different places by the age of 9. "We were just so poor. We'd hop out of apartments, lose jobs, find a cheaper place, get kicked out, live in cars, and live in hotels. It was glorious," she told The Daily Beast.
Growing up impoverished is generally a negative experience given its burdensome lack of security. However, Malone still found ways to appreciate her unique childhood, noting that it braced her for her future career. "I don't think it was a tough childhood. I actually found it quite pleasurable, and it prepared me for this strange, gypsy lifestyle of an actor. ... It makes you believe that security is built within instead of four concrete walls that you call a home," she added.
Jena Malone landed her first role at age 10
By the age of 5, Jena Malone knew she wanted to become an actor. Her first appearance in front of the camera was for Michael Jackson's 1995 "Childhood" music video, followed by a one-off role on "Chicago Hope." But everything changed when Malone landed "Bastard Out of Carolina," a harrowing and controversial film in which she played a young girl who deals with physical and sexual abuse. She later told ContactMusic.com, "One of the first scripts I ever read was 'Bastard Out of Carolina,' and it made such an impact on me as a 10-year-old young girl. I'm still processing how it impacted me. It was such a beautiful story, it was such a powerful story, and it was such an important story."
Her first role was incredibly mature, but it suited her. Even from a young age, Malone preferred storytelling and art over basic moneymaking gigs, finding commercial auditions to be "dehumanizing," as she told Looper in 2020. "I didn't want to sit in a space and pretend to like cereal. I was like, 'I want to [embody] and tell a story where it's going to make you feel something.'" Following her breakout role, for which she received her first award nomination, Malone continued build up her filmography (and with very little interruption) for the next 28 years and counting.
She enjoyed being a child star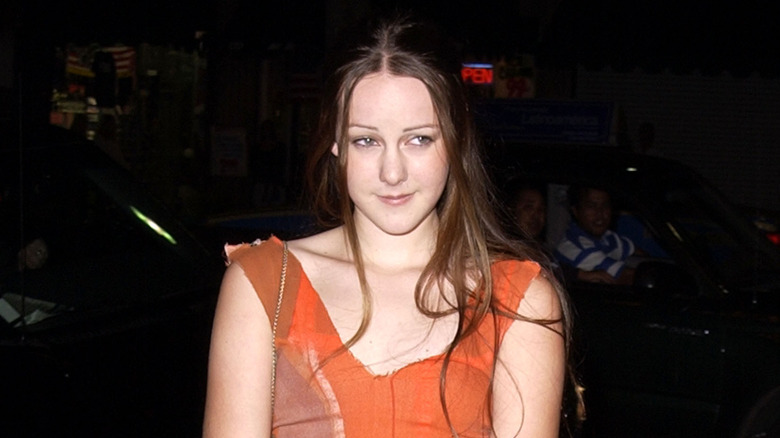 Steve Granitz/Getty Images
There have been countless tragedies in the lives of child stars, with many either struggling to breaking out beyond their adolescent image as they get older, or quitting Hollywood altogether. However, Jena Malone has seamlessly transitioned, and this may be partly due to the fact that she actually enjoyed being a child star. She told Yahoo Entertainment in 2022 that she started getting recognized at the age of 12 after her role in 1998's "Stepmom," saying, "I'm glad that I experienced [fame] when I was tiny, because then I got to have a bigger conversation with it. It didn't throw me off."
Malone later told IndieWire that growing up on sets taught her a lot. "Being able to be in a type of apprenticeship where my voice was heard, validated, respected. ... I was brought to the table. I was maybe 10 and everyone else was older, but my voice was still as interesting and valid. ... I was still a kid, but it was really beautiful to have a voice and be respected," she explained. Given her unique upbringing, it's no wonder that Malone was able to recognize her ability to make an impact, even at such a young age.
Jena Malone became emancipated from her mother at 15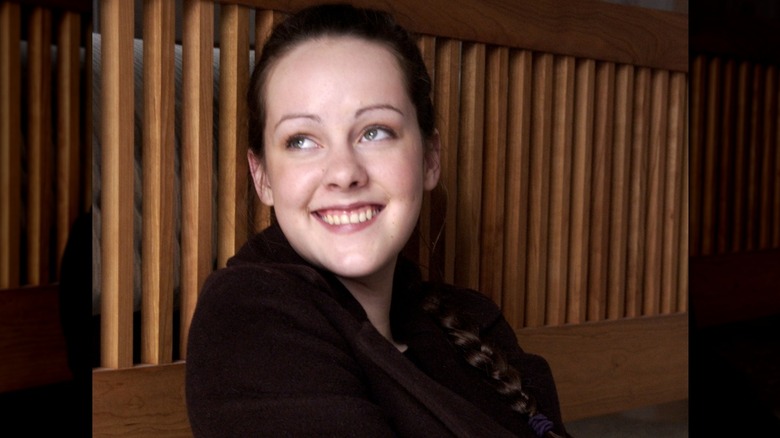 J. Vespa/Getty Images
As much as she may have enjoyed her childhood, Jena Malone filed for emancipation from her mother at the age of 14. In the 1999 lawsuit, she accused Debbie Malone of burning through $1 million of her daughter's hard-earned money. While the case was pending, Malone was able to have her bank accounts frozen so her mother couldn't dip into her funds anymore.
By the time she turned 15, the emancipation was granted and the young actor left her family home to live with a couple of roommates. In a 2001 interview with People, Malone said, "When I first moved out on my own, it was weird. If I wanted to eat, I had to cook. I could stay up as late as I wanted, but after a few nights of staying up until dawn, you realize you need sleep. You eventually grow up." Not only did she want to regain control of her finances, but she also wanted more autonomy over her career. She and her mother have since worked on their relationship, and one thing Malone says she's learned about the entire ordeal is that "money and family didn't mix."
Jena Malone has played many complex roles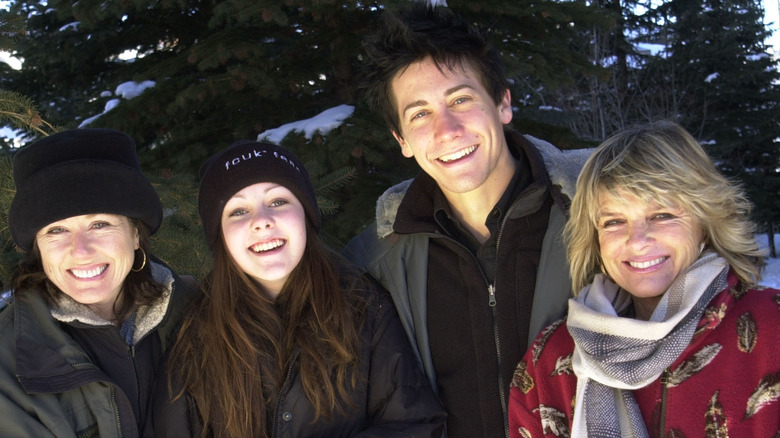 Randall Michelson Archive/Getty Images
Jena Malone has never shied away from complex or difficult roles when it comes to her work. From playing troubled high schooler Gretchen Ross opposite Jake Gyllenhaal in "Donnie Darko" to the pregnant Christian teen in the comedy "Saved!," her early roles varied widely, but she's often leaned into independent projects. As Malone joked to IndieWire in February 2023, "Maybe I sold my soul to the independent film devil, and I've been moderately sacrificing my blood every new moon or something. That would be really wild."
Of course, Malone has worked on Hollywood blockbusters as well, including "The Hunger Games" and "Batman v Superman: Dawn of Justice"; however, her affinity for quirky and strange roles can't be ignored. Malone was also in "The Neon Demon" and "Nocturnal Animals," and in 2022, she starred in "Adopting Audrey," which explored the concept of adult adoption.
Continuing her conversation with IndieWire, Malone explained her rationale behind the roles she chooses. "I'm stubborn and I know what I like. I've never needed a career. I've never needed to achieve this thing next, then what you do you do next, that never felt linear. I feel like my linear focus is just, like, I love exploration. When that exploration is exciting, I'm so down to give it everything," she said.
She took a year off from Hollywood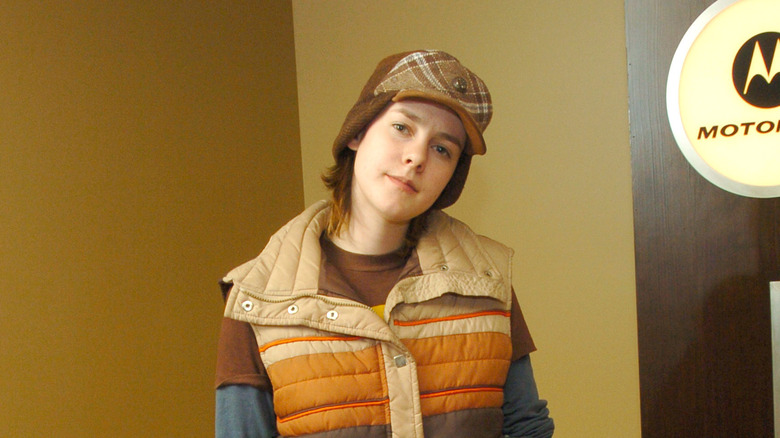 Dimitrios Kambouris/Getty Images
After filming "Saved!" Jena Malone decided she needed to take a break from Hollywood to pursue other goals. In an interview with Movie Marker, she explained that she quit acting to "learn how to be a human in my own way," and began studying photography at a small community college in Tahoe. Malone's time in the mountain town was spent immersed in an entirely different world from the one she had been living in previously, with residents living paycheck to paycheck and traveling the world.
Speaking with The Independent, Malone described the experience as "enlivening," saying she had wanted a year all to herself. "I shaved my head, didn't shower, shoveled snow, went to college, and got dirty," she reminisced. As it turns out, her move to Tahoe was more than an exploration of youthful self-discovery. "I really think the least wise thing you can do as an actor is just keep working because the most important work I do, I don't get paid for. That's all the watching and listening and learning and the quiet moments ... Anything truthful about being a human you won't find as a celebrity," Malone pointed out.
Jena Malone started a band in 2008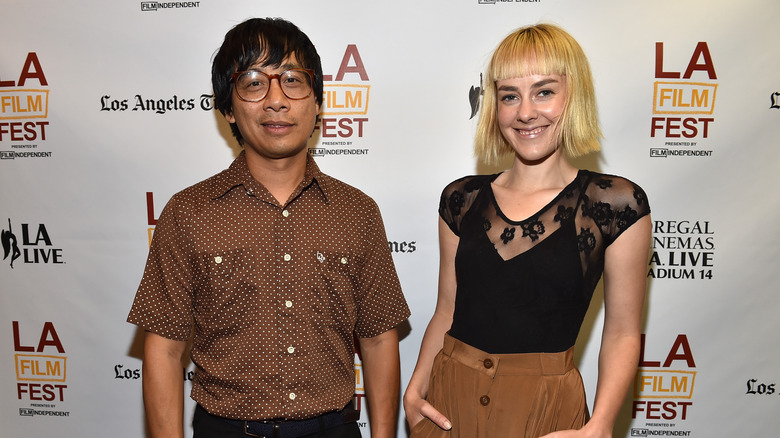 Alberto E. Rodriguez/Getty Images
Jena Malone seems to be always busy, and 2008 was a particularly eventful year for her. A horror movie she starred in, "The Ruins," was released, she appeared on an episode of "Law & Order," and she started a band. The actor explained to Nowness that music had always been a part of her life, saying, "My mom was a singer and she would sing to me all the time. I think that's how I learned. I used to wander through the forest and build forts and just be alone with my imagination for hours when I must have only been 6 or 7, singing to myself the whole time."
Malone met music producer and multi-instrumentalist Lem Jay Ignacio at a party. The two hit it off and began making music together, performing a few times before forming their musical duo, The Shoe. Their debut album, "I'm Okay," was released in 2014.
Jena Malone took part in a photographic exhibit for charity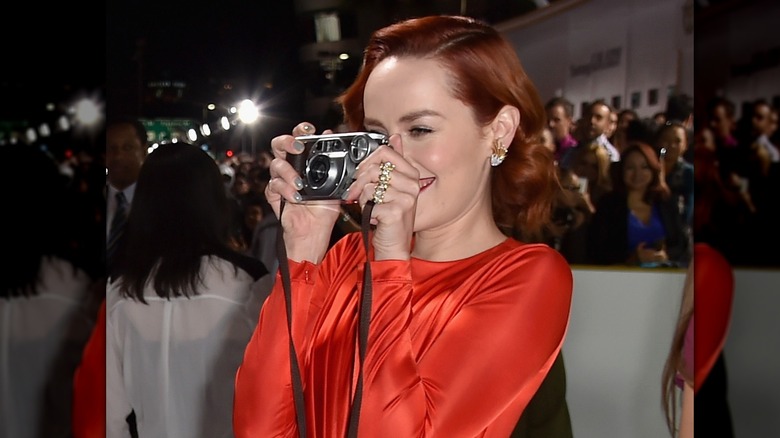 Kevin Winter/Getty Images
Jena Malone is a celebrity who clearly has some amazing hidden talents, showcasing her artistry in film, music, and photography. In 2014, after she finished touring with The Shoe, she decided to travel to Myanmar by herself and snap some photos. Malone visited temples, captured beautiful landscapes, and worked with Girl Determined, an organization that aims to help girls who may be in poverty or at risk of HIV, trafficking, neglect, and abuse. She met with some of the girls through the program and took several more incredible snaps.
Malone told LA Weekly at the time, "I was capturing things that happened above and beyond and I knew that was something I wanted to share." When she returned from her trip, Malone and a friend put together an exhibition at LA's Mama Gallery, titled "The Holy Other." The November 2014 show featured 39 of her prints shot on 35-millimeter film and benefited Girl Determined, lending Malone's photographic skills in service of a charitable cause.
Her son was born in 2016
In May 2016, Jena Malone debuted her newborn son to the world via Instagram, captioning the post, "The best weekend of our lives!!! What an incredible blessing to be chosen by this amazing, kind, gentle and beautiful soul to be his parents. Humbled and in complete awe that we get to experience the most ancient and transcendent love that exists." Malone had her uniquely named son, Ode Mountain DeLorenzo Malone, with her then-boyfriend Ethan DeLorenzo. The pair got engaged three months later but never married, splitting up in 2019.
In 2021, Malone spoke with The Bare Magazine about parenthood, saying, "Balance is not the right way to think of mothering. In my opinion. I feel like it's a constant state of exhausted and overwhelmed. I think you just get better at those muscles. So overwhelmed starts feeling energetic and good." The actor also mentioned that she's trying to raise Ode with societal awareness, adding that being a mother is the most "artistic, demanding, rewarding creative endeavor" that she does.
Jena Malone came out as pansexual in 2022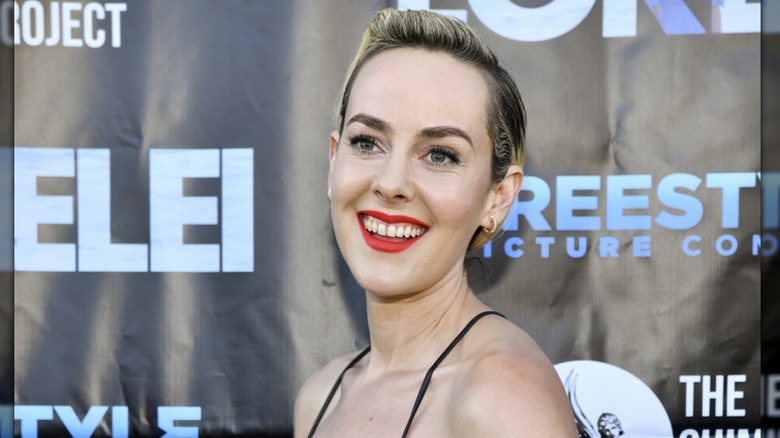 Rodin Eckenroth/Getty Images
In August 2022, Jena Malone bravely shared an aspect of her personal life with her 369,000 Instagram followers. She began her post's caption by describing how she always felt like a "heterosexual man in a woman's body." Malone went on to say that she wasn't doing herself or her story justice by limiting herself to these feelings and that she's learning a new way to tell her story. In her post, she continued, "[I'm] finding words that feel more right to explore in my telling. Pansexuality. Sapiosexuality. Polyamory. A fuller spectrum of understanding that my story is demanding of me."
Not longer afterward, Malone spoke with The Hollywood Reporter about coming out as pansexual. "It felt so nice. I've been thinking about it for a while. The sexual journey is so beautiful," she said. Later, Malone admitted to feeling "a little bit late to the game," but that, "It's a part of humanity now to have all these ceremonies of exclamation around coming out and renouncing [an identity] and celebrating that space for yourself. It's a really sweet, human experience." Malone says that her family has been extremely supportive of her and that, as she was raised by two moms, has a queer sister, and a heterosexual father, she gets to experience "the whole spectrum."
She revealed that she'd been sexually assaulted while filming The Hunger Games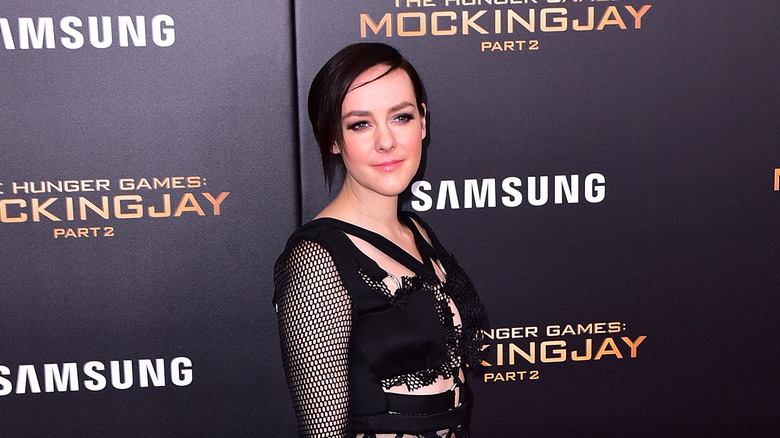 James Devaney/Getty Images
Six months after Jena Malone came out on Instagram as pansexual, she shared another deeply personal post with her followers. The actor posted a photo of herself standing in a wheat field in France, the sun basking down on her, and she captioned it with a trigger warning. She went on to describe that the picture had been taken immediately after wrapping "The Hunger Games: Mockingjay — Part 2," and it had been a very trying time for her.
"Even tho this time in Paris was extremely hard for me, was going thru a bad break up and also was sexually assaulted by someone I had worked with, I was so full of gratitude for this project, the people I became close with and this amazing part I got to play," Malone said. She went on to say that she's grappling with the healing process and making peace with her assaulter, whom she doesn't name. Malone later commented on the post that she would not name the assailant due to the "cancel-like culture that has been created." An outpouring of support and love filled the comment section, including from her co-star Willow Shields, who plays Primrose in the series.
Jena Malone performed stand-up for the first time in 2023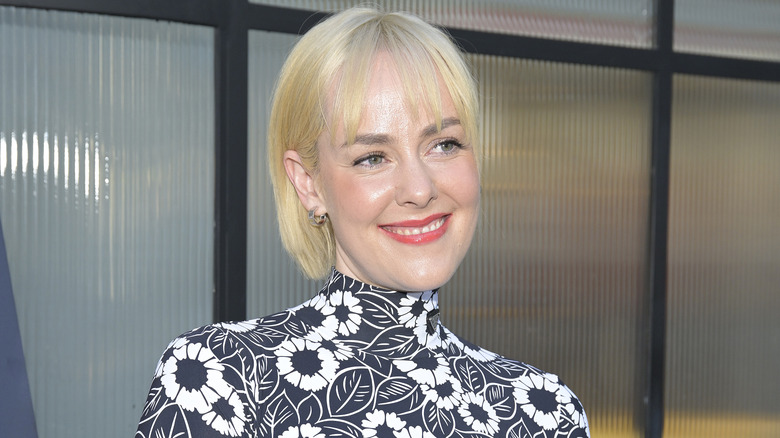 Michael Tullberg/Getty Images
Always on the hunt for a new project and way to express herself, the "Donnie Darko" star shared her latest feat with her Twitter followers in July 2023. "I've been in bucket list mode and stand up comedy has been my number one fear for a good long time. I wasn't gonna tell any one yet. But here I go 730pm at the federal bar in north Hollywood tonight. My first real show," her post read, just 38 minutes before showtime.
Fans rallied behind the actor, with comments of "good luck" and "you'll do great" filling the comment section of her post. Malone didn't post her routine, nor did she update her followers on how it went, but given her natural stage presence and long-standing career, it's hard to doubt that she excelled. Perhaps this will be the multitalented star's latest calling, but only time will tell.