Signs Jared Kushner And Ivanka Trump Are Headed Back To The Political Scene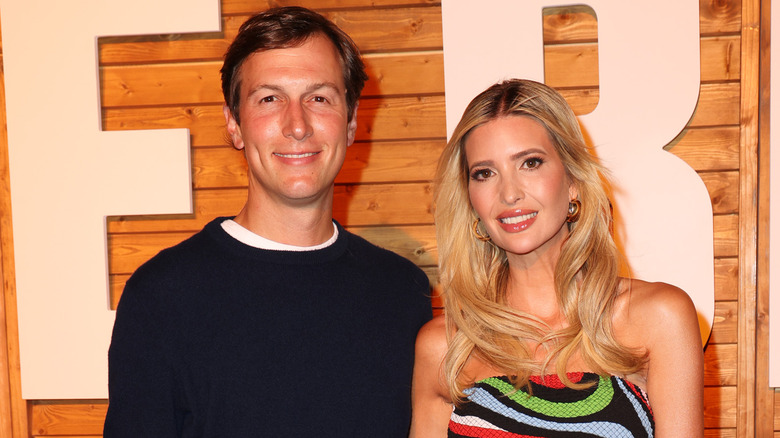 Alexander Tamargo/Getty Images
When Donald Trump announced that he was running for president a third time in November 2022, he did it from Mar-a-Lago, his private club in Florida that he referred to as the "Winter White House" when he was president. His speech lasted over an hour, and the crowd included his wife Melania Trump, Barron Trump, and Jared Kushner. Notably absent was Kushner's wife, Ivanka Trump. That seems to continue the trend of Ivanka distancing herself from her dad since he left the White House. But are there perhaps signs that she, and Kushner, might be heading back into the political scene?
While Ivanka wasn't next to her husband at her father's Mar-a-Lago 2024 presidential announcement, she was there with him and her father for a screening of "The Sound of Freedom" at the Trump golf club in Bedminster, New Jersey in July 2023 in a signal of her public support of her father. And behind the scenes, the couple has also been making appearances at Trump campaign meetings, which could be a sign that the two are ready to get back into politics.
Jared Kushner and Ivanka Trump have stopped by campaign meetings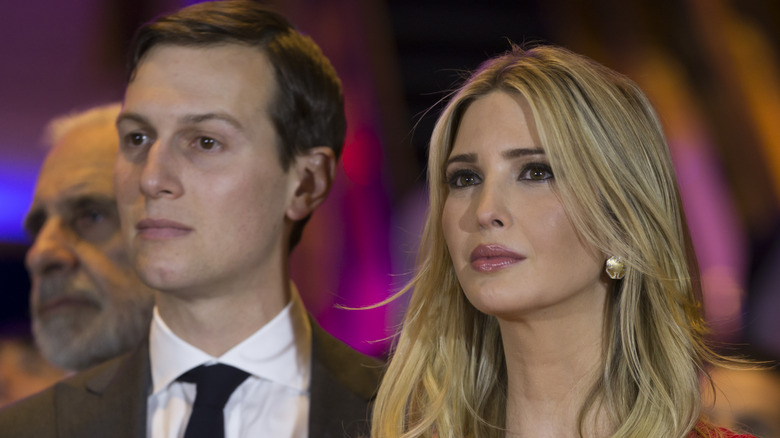 lev radin/Shutterstock
With Donald Trump's poll numbers currently ranking him as the most likely Republican presidential candidate, Ivanka Trump and Jared Kushner might be ready to get back into politics. One Trump presidential campaign strategist told Vanity Fair that Ivanka and Jared have "made it clear they're supportive [of Donald Trump's campaign]. They pop into meetings to say hi." And while that could just be them being friendly and encouraging of Donald's campaign, it could also be seen as a signal that Ivanka and Kushner are thinking about moving back into their political positions.
Even if they don't help with the campaign, if Donald wins the Republican presidential nomination and then goes on to win the 2024 presidential election, Ivanka and Jared might want to get back to working at the White House. The two were official White House employees while Donald was in office. Ivanka worked on issues of "education and economic empowerment of women and their families," according to the Trump White House Archives. And Kushner was involved in a large variety of projects, including Middle East peace, the US-Mexico border wall, and the Covid-19 response, per Vox.
Ivanka Trump has publicly said she won't be involved in the 2024 campaign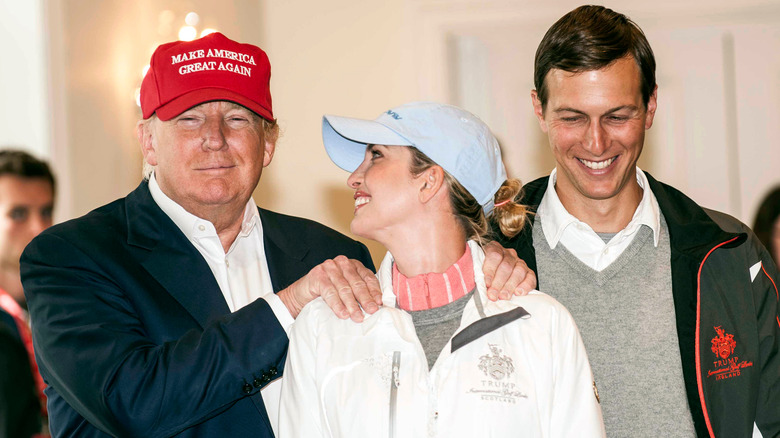 Christian David Cooksey/Shutterstock
If Jared Kushner and Ivanka Trump are in fact planning to get back into politics with Donald Trump's 2024 presidential bid, they haven't made any public announcements confirming that. Someone close to Kushner told Vanity Fair that, "Jared thinks the team running the campaign is doing a terrific job and has zero intention to get involved. He is laser-focused on his family and on growing his business."
Ivanka, for her part, has publicly said that she wouldn't be joining her father in his 2024 campaign or in the White House should he win. She told Fox News Digital that instead, "I am choosing to prioritize my young children and the private life we are creating as a family. I do not plan to be involved in politics."
Donald said Ivanka and Kushner won't take on roles in his potential White House return. He posted on Truth Social in December 2022, "I never asked Jared or Ivanka to be part of the 2024 Campaign for President and, in fact, specifically asked them not to do it — too mean and nasty with the Fake & Corrupt News and having to deal with some absolutely horrendous SleazeBags in the world of politics, and beyond."