Meet Law & Order Star Sam Waterston's 4 Children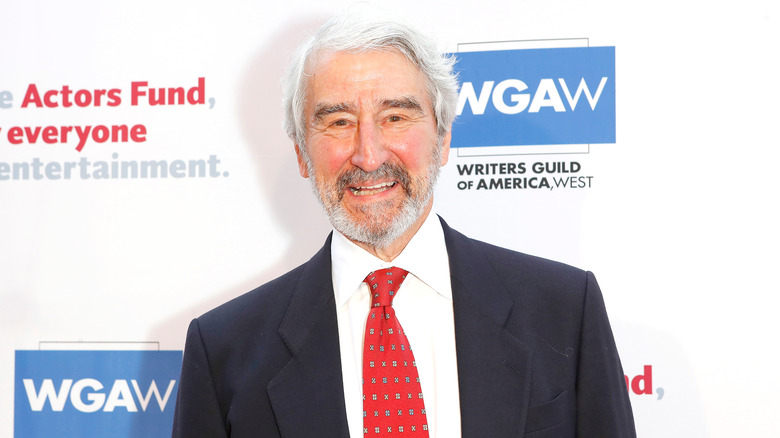 Joe Seer/Shutterstock
District Attorney Jack McCoy hardly needs any introduction, spearheading New York's fictional courtroom for 16 seasons in the original series of "Law & Order." Equally as iconic is actor Sam Waterston, who portrays him. Perhaps the most recognizable face from the show's lengthy history, Waterston has been acting for almost six decades, which includes his years on "Law and Order" and the 2021 reboot. However, Waterston's time on the show was initially supposed to be short. 
In fact, he was only supposed to appear in one season. Luckily, his portrayal resonated so much that Waterston soon became a fixture of the hit drama. While fans of "Law and Order" have become familiar with Waterston's alter ego over the years, they might be less knowledgeable about the man behind the icon. For instance, Waterston has four children. 
His eldest son, James, is from his first marriage, while his other three children (Elisabeth, Katherine, and Graham) are from his second marriage. Their father frequently let them be on set with him during their childhood. Perhaps this exposure to the entertainment world is what inspired all four siblings to pursue a career in Hollywood.
Like father, like son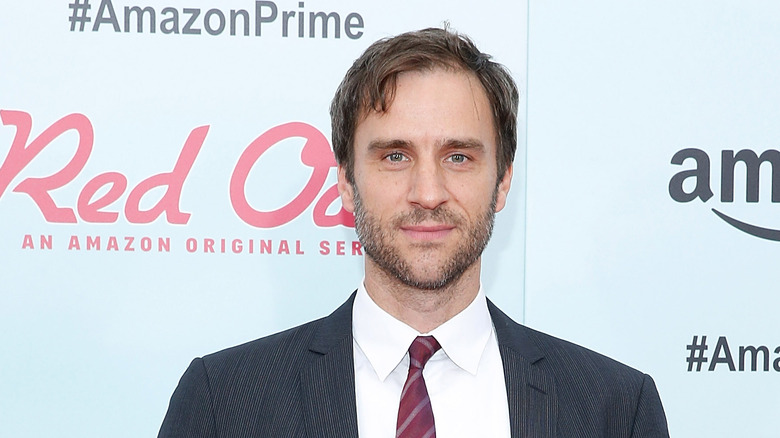 John Lamparski/Getty Images
Sam Waterston's eldest son, James Waterston, started as a stage actor, just like his father. He studied theater in college, training at Yale University and also co-founding a theater company called Malaparte, alongside fellow classmates and future A-list actor Ethan Hawke. James shifted to movies after graduating college. He appeared in blockbuster films like "Dead Poets Society" with Robin Williams, and also on TV shows like "ER," "Six Feet Under," "The Good Wife," and "The Blacklist." 
James returned to his stage roots, performing in plays in New York and Chicago. Some of his credits include "An Enemy Of The People" on Broadway and "Chinglish" at The Goodman Theater. Again, in a pattern of like father, like son, James has also appeared in the "Law and Order" multiverse, though not in the original series. James instead starred in both "Law and Order SVU" and "Law and Order: Criminal Intent."
Together in the courtoom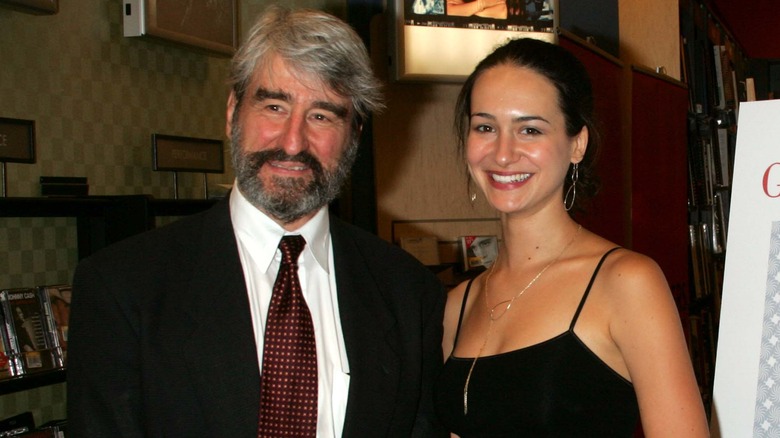 Jim Spellman/Getty Images
Sam Waterston's eldest daughter, Elisabeth Waterston, also acted in "Law and Order" alongside her father, appearing in both the original and reboot series. Her role in the original was actually one of Elisabeth's first acting credits. Since then, she's been in a handful of film and television shows like "The Prince and Me," "Please Be Normal," "The Blacklist," and the "Gossip Girl" reboot.
Like her father, Elisabeth continues to dive into the procedural world of trial law. The season finale of the "Law and Order" reboot, which aired in May 2023, marked Sam's 400th episode of the long-standing TV phenomenon. The special occasion instantly became even more memorable when Elisabeth was cast to portray the defense lawyer that goes head to head with Jack in a battle of politics. In an ironic twist, her character, Rebecca, also happens to be Jack's biological daughter on the show.
A different kind of relationsip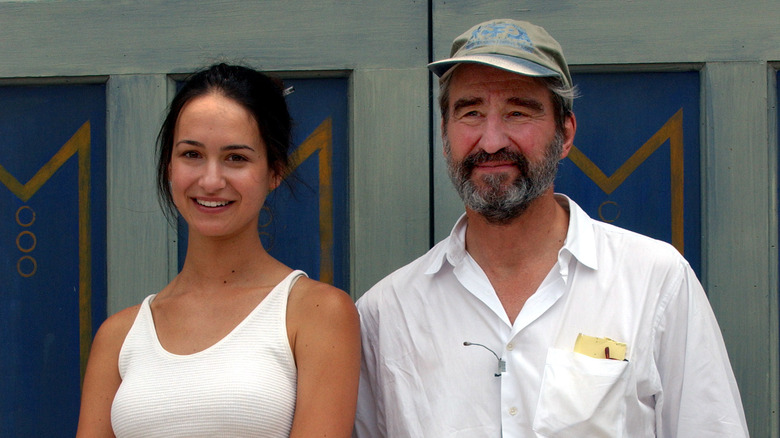 Debra L Rothenberg/Getty Images
Being a recurring character in a hit TV show, let alone one that spans decades, is an impressive milestone for any actor. For Sam Waterston, though this is a considerable achievement (one resulting in three Emmy nominations), it doesn't compare to the feeling of performing with his daughter on camera. While Jack and Rebecca McCoy are estranged in the "Law and Order" season 22 finale, they try to rekindle their relationship throughout the episode. 
However, due to a difference of opinions and debate tactics, the two ended right where they left off: At odds with each other. Luckily, their relationship contrasts Sam's real-life relationship with his eldest daughter. When asked about the experience working with Elisabeth Waterston, Sam described her as an actor who possesses an endless supply of wit and emotional depth. "There isn't anything more fun than acting with them," he said about working with his children, per TV Insider.
A famous face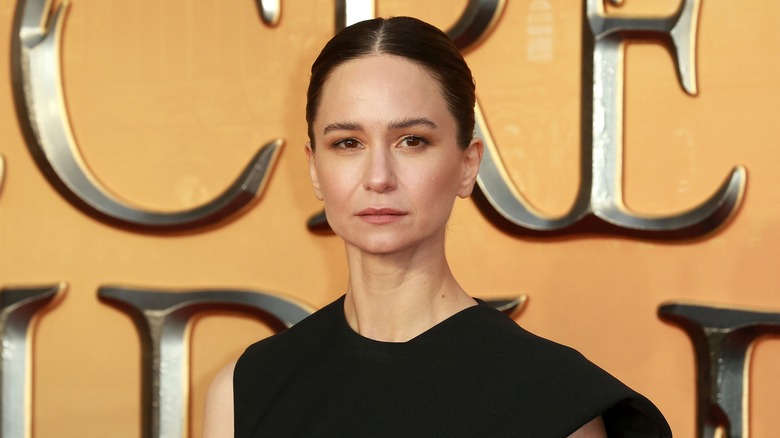 Fred Duval/Shutterstock
Sam Waterston's second daughter, Katherine Waterston, is perhaps the most recognizable name amongst her siblings. She attended the Tisch School of The Arts at NYU for college and began her film career in 2007's "Michael Clayton," opposite George Clooney. Afterward, she successfully joined Hollywood proper after appearing in "Inherent Vice," alongside a star-studded roster of actors, including Joaquin Phoenix, Owen Wilson, and Josh Brolin. 
Katherine has since starred in franchise films like "Fantastic Beasts" and "Alien: Covenant." She also played a leading role in the critically acclaimed biopic, "Steve Jobs." Katherine remains publicly close to her father, too. She was spotted supporting Sam at his induction ceremony for the Hollywood Walk of Fame in 2010. 
The actor also told Today that finding out her parent was famous greatly impacted her experience as a second-generation actor, by affecting the way she sees herself, how hard she works, and how grateful she is. "My earliest memories are of seeing him stimulated by his work and really happy," Katherine said. "I know that was a huge influence on me."
The filmmaker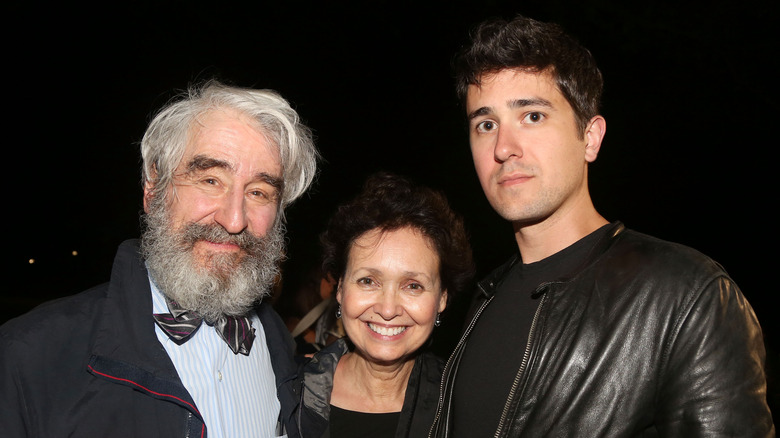 Sam Waterston's youngest child, Graham Waterston, may not be an actor himself, but he does work in the industry as a production assistant, producer, writer, and director. Like his sister Katherine, he attended NYU's Tisch School of the Arts for film. He subsequently produced a short film called "And It Was Good," in which Graham recruited the help of not only his famous father but also his brother James and sister Elisabeth to act in the film. 
Elsewhere, Graham also worked behind the scenes on movies like "I Now Pronounce You Chuck And Larry" and "Blackbird." Graham's IMDb has no further credits listed after his short film. However, he also works extensively as a content creator, making videos for media genres like stage acting, musicals, and variety productions, according to his Brooklyn Film Festival bio. He has also worked for recognizable clients like Anthony Rapp and Less the Band.