The Young And The Restless Relationship Timeline: Sally And Adam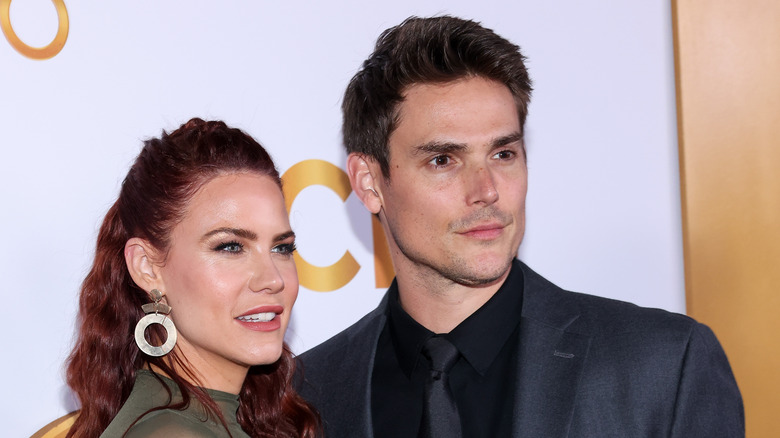 Victoria Sirakova/Getty Images
Sally Spectra (Courtney Hope) has been a strong character on both "The Bold and the Beautiful" and "The Young and the Restless" since her debut on the former in 2017. She left Los Angeles in 2020 and reappeared in Genoa City that same year, landing a job as the assistant to Lauren Fenmore (Tracey E. Bregman). Perhaps one of the biggest rollercoasters Sally has been on since arriving in Genoa City is her relationship with Adam Newman (Mark Grossman).
Sally and Adam met when Sally was hired at Newman Media's fashion sector by Chloe Mitchell (Elizabeth Hendrickson). Chloe tried to stop Sally from starting a relationship with Adam, but she didn't heed her friend's warnings. Sally and Adam resisted their feelings for a long time before finally admitting to themselves that they wanted each other. Thus, began a relationship of both business and pleasure that would dominate the screen and garner lots of support from fans.
Sally and Adam resisted their feelings for a long time
Sally Spectra and Adam Newman originally started dating after both were warned about getting involved with the other. They showed up to the Newman Media launch party together, prepared to spark rumors. Upset that Sally was still in Genoa City after trying to run Summer Newman (Hunter King) out of town, Phyllis Summers (Michelle Stafford) confronted Sally, and a fight ensued. Afterward, Sally and Adam shared their first kiss. After that, the two decided to keep their relationship professional, but their feelings persisted until Adam invited Sally on a trip to Italy. In a move to further her fashion career, Sally switched out Victoria Newman's (Amelia Heinle) wedding dress — a Fenmore design — with one from Newman Fashion.
They gave in to their feelings in Italy but stopped before things could go too far. Back in Genoa City, Chloe Mitchell and Chelsea Lawson (Melissa Claire Egan) started their own fashion business together, leaving Sally out of a job. Luckily, Adam swept in and hired her as the COO at Newman Media. That gave them the push they needed to make their relationship official. Soon, Adam and Sally were enjoying a strong personal and professional relationship, but as always, working together complicated their relationship.
Adam let Sally go, but regretted his decision
Adam Newman and Sally Spectra schemed together to get Victoria Newman out of Newman Enterprises, and it worked. Adam took over the company and made Sally CEO of Newman Media. However, Victoria found a way to return, leaving Adam without a job. In a move that left fans seeing red, Adam broke up with Sally so Victoria's anger with him would not affect her job. Despite their feelings, Adam insisted he and Sally stay away from each other. He regretted his choice after Sally started dating his brother Nick Newman (Joshua Morrow) and even proposed after seeing them together. Sally and Adam slept together one more time to see if their relationship could be saved, but sadly it couldn't. Sally ultimately chose Nick but soon discovered she was carrying Adam's child.
Sally continued to date Nick even though Adam supported her through the pregnancy, but this, too, would cause more trouble for their relationship. After Sally was rushed to the hospital with complications, she became unconscious, leaving Adam to decide whether to save her or their baby. He chose to save Sally's life, and she woke to find that her baby had died. Angry and heartbroken, Sally blamed Adam for his decision, causing a bigger rift in their relationship. Some fans hope this grief will pull them back together, but others believe that too much has happened between Sally and Adam and that they should move on with their lives separately.