What We Know About Marcia Gay Harden's Split From Ex Thaddaeus Scheel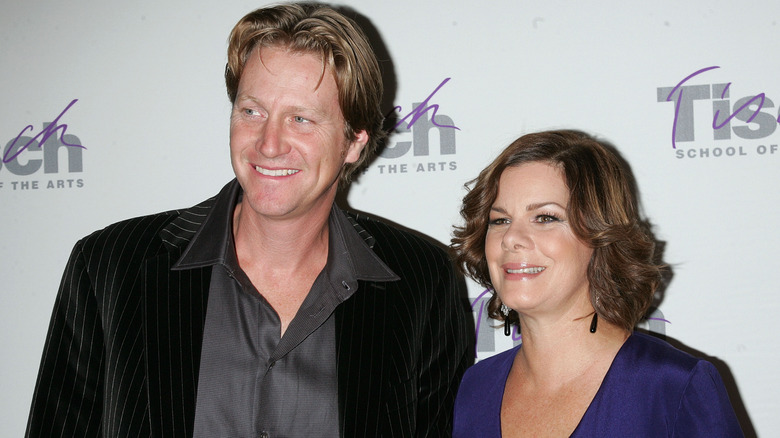 Jim Spellman/Getty Images
Actor Marcia Gay Harden is well known for her work in several classic films such as "Flubber" and "The First Wives Club." Just as she'd worked hard to make a name for herself in Hollywood, she has put just as much effort into keeping her personal life out of from the spotlight. This includes her divorce from filmmaker Thaddaeus Scheel. 
The two met on the set of "The Spitfire Grill." Harden was portraying a waitress in the independent movie while Scheel worked on set as a prop employee. The two connected and began dating before saying "I do" in July 1996. Two years later, they welcomed their daughter Eulala. The pair became parents again in April 2004 with the birth of their twins, Hudson and Julitta Dee. Things seemed to be going well for the family until February 2012, when Harden filed for divorce after 15 years. Neither Scheel nor Harden has said much about what led to the demise of their marriage, which has spared them the embarrassment of a messy public fallout. 
Marcia Gay Harden and Thaddaeus Scheel decided to divorce amicably for their children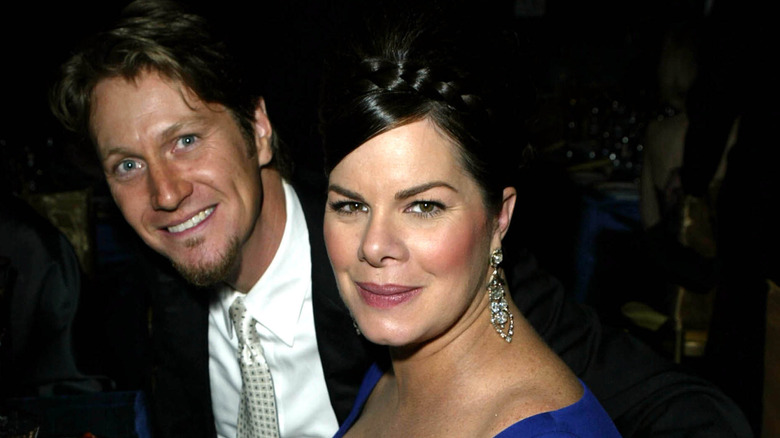 J. Vespa/Getty Images
Even when announcing that she'd split from "Stuck" director Thaddaeus Scheel, Marcia Gay Harden refrained from disclosing why. In an interview with The Saturday Evening Post, she revealed that this decision was intentional. The divorce came at a time when her mother, Beverly, was actively battling Alzheimer's after being diagnosed in 2007. Dealing with such a devastating ailment, it seemed easier to be cordial with one another, especially with their kids watching. Even with a brave face, Harden admitted that the divorce was agonizing. 
"My ex-husband knew that our break-up was very painful to me. I always saw people who loved each other, but when the marriage fell apart, they forgot that they loved each other and turned it into hatred for the rest of their lives. But I realized it just doesn't make any sense if you're a parent. Try to remember what you loved and move on. Forgiving is a powerful thing to do, but it didn't mean that I wasn't in pain," she told the outlet.
Through the turmoil, Harden found solace in her dear friend, the late actor James Gandolfini, whom she worked with on the "God of Carnage" production. According to Harden, it was Gandolfini who helped her talk to her children about the separation before his death in 2013. He would frequently check on her, offering advice from his own divorce. 
Thaddaeus Scheel has found love again, though Marcia Gay Harden's love life remains a mystery
Once their divorce was finalized, Thaddaeus Scheel kept a low profile, though he did fall for a new woman. He is currently in a relationship with a woman named Krista Tucker who works as a Disney animation writer. She has been nominated for several awards, including Outstanding Writing in a Preschool Animated Program for "Fancy Nancy" at the 2019 Emmy Awards. Scheel celebrated her big night, sharing a Facebook photo of the two on the red carpet, writing: "Great night at the Daytime Emmy's with this talented and gorgeous nominee, Ms. Krista Tucker."
Scheel's ex-wife, Marcia Gay Harden, has kept her love life close to her heart. She has not confirmed any romantic relationships, though she has expressed her interest in dating. However, Harden has maintained that she will not walk down the aisle again. Through her hardships, the immensely talented actor has emerged happier than ever, telling Kelly Clarkson in January 2023 that parting ways with her husband taught her the valuable lesson of loving herself. This was part of the reason she accepted the role of Claire in the Netflix series "Uncoupled," which is partially a reflection of her newfound single life. With fresh career moves and a new outlook on life, Harden is cherishing her new beginnings.