We Need To Talk About Luke And Laura's Firings From Below Deck Down Under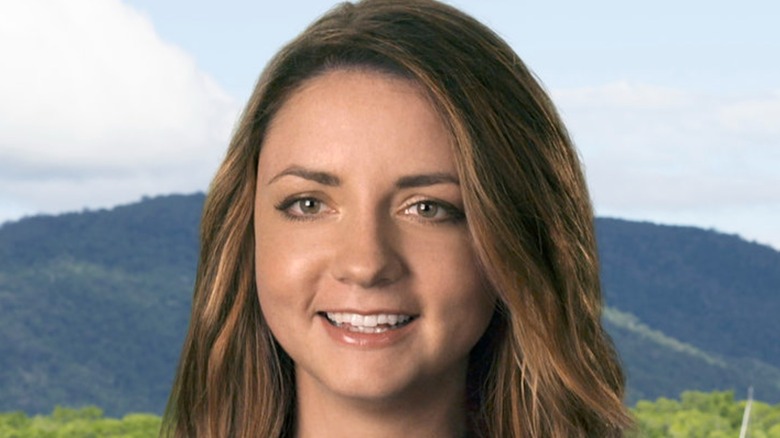 Bravo
This article contains references to sexual assault.
The fun of reality shows is watching how non-professionals interact and react when placed in unexpected circumstances. At their best, you get teamwork and triumph, as we've often seen on "Survivor" and "The Amazing Race." At worst, you get medical crises, tensions between friends, and even inappropriate conduct. Shockingly, August 2023 has already seen more than its share of the latter. "Big Brother," now in its 25th season, had to give the boot to cast member Luke Valentine after a sharp-eyed viewer caught him casually using a racial slur in the live feed (Variety notes that this isn't the first time a "BB" housemate has gotten in trouble for offensive language).
But that judgment lapse seems like child's play compared to what went on during the latest episodes of "Below Deck Down Under" Season 2. The Bravo reality series follows the lives of a luxury yacht crew as they sail around Australia. Already, fans were anticipating some unexpected twists (deckhand Adam Kodra can't swim and gets seasick, for instance) and some major flirting. 
But things stopped being fun when bosun Luke Jones and steward Laura Bileskalne stepped way over the line. Captain Jason Chambers took a zero-tolerance approach and fired both of them. The move left viewers shocked and impressed, but it also brought to light the very real issue of sexual harassment. It may seem as though a reality series is a hedonistic free-for-all, but the cast members are human beings with the right to set and keep personal boundaries.
Luke and Laura both made unwanted advances
The August 7 double episode showed the deckhands and stewards of the elite "Northern Sun" yacht enjoying a well-deserved night off. They went out drinking onshore and came back in varying stages of drunkenness. Bosun Luke Jones urged stew Margot Sisson to get cozy with him, but she insisted she just wanted to sleep. Undeterred, Jones entered Sisson's cabin naked and crawled into her bed as she slept. When producers ordered him out, he tried to shut the door on them before storming off. 
Captain Jason Chambers was alerted to the incident and ordered him off the ship to sober up. The following day, Jones returned and was promptly terminated. But the drama didn't end there. That same night, second stew Laura Bileskalne, who had been trying to flirt with deckhand Adam Kodra, went into his cabin while he slept and started massaging his back. Once again, producers stepped in to usher her out. 
The following day, the stew made things worse for herself by calling Jones's firing unfair and joking to Sisson that if it had been her, she would have welcomed Jones into her bed. Sisson and Kodra reported Bileskalne's behavior to the captain, who called her out on it. "You have not listened to a word I've said about boundaries," Chambers said (via YouTube). "I'm trying to move forward as a team, and trying to get that behind us, and you've brought that straight back up." He proceeded to fire the stew as well.
Fans are squarely on Team Margot and Adam
"Sorry" seems to be the hardest word for many people, and the disgraced ex-crew members of "Below Deck Down Under" are no exception. Reacting to the recent controversial episodes, Luke Jones and Laura Bileskalnes made Instagram statements that were a little skimpy in the contrition department. Jones posted a comment (via Us Weekly) that seemed to suggest his onboard actions had been misinterpreted: "It doesn't matter what they think about you because you don't care. Everything we hear is an opinion, not a fact." Bileskalnes' statement offered her "sincere apologies" to Adam Kodra but went on to suggest she was too young at the time to understand the seriousness of her actions.
Margot Sisson, meanwhile, has thanked Captain Jason Chambers and chief stew Aesha Scott for protecting her and taking immediate action when they learned about the sexual misconduct aboard. Chambers issued a statement of his own, saying in part, "I applaud the production team and crew, and I sincerely hope that all parties involved use this time to reflect and use this opportunity to not only change, but help others."
Reactions on X (the outlet formerly known as Twitter) are overwhelmingly championing Chambers and Scott and offering support to Sisson and Kodra. The message is clear: No means no, drunkenness does not imply consent, and being on a reality show doesn't give you free rein to sexually harass your co-stars.
If you or anyone you know has been a victim of sexual assault, help is available. Visit the Rape, Abuse & Incest National Network website or contact RAINN's National Helpline at 1-800-656-HOPE (4673).