Emilia Clarke Is Stunning Without Makeup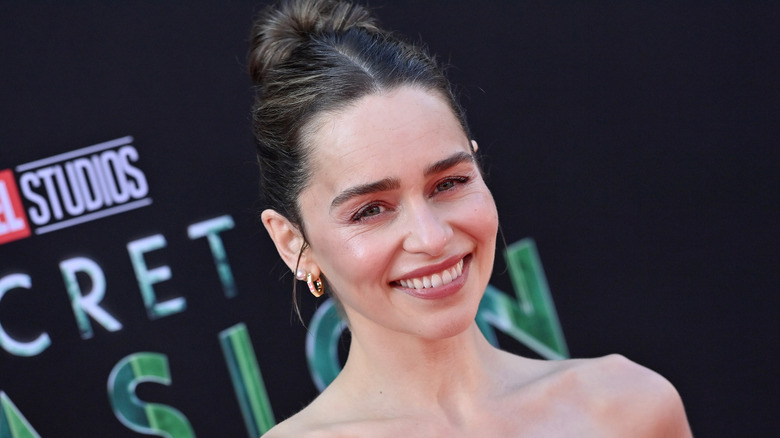 Axelle/bauer-griffin/Getty Images
Emilia Clarke, a.k.a. Daenerys Targaryen from HBO's award-winning series, "Game Of Thrones," is a British actor that grew up in the theatre scene because her father was a theatrical sound engineer. Whether it was her own ambitions or the environment in which she was raised, Clarke started acting by age 3. Now, she's a Hollywood star.
But, she proves different from the typical Hollywood star and fans have enjoyed watching the stunning transformation of Clarke. Clarke told Stylist about how her relationship with beauty changed after she had brain surgery. Unaware that she had a stroke, Clarke as a result suffered a ruptured aneurysm which took two surgeries to repair. Following the second surgery, Clarke admitted to Stylist that some days it was hard to look in the mirror, "I felt so deeply unattractive. What I can see now is that I could see the pain behind my eyes. And no amount of anything can cover that."
This experience taught Clarke that beauty comes from within: "Beauty is laughter. It's being inspired. If you look emaciated and tired and full of self-loathing you do not look beautiful, no matter how perfect your hair and make-up is." This may be why Clarke is the queen of no-make-up selfies and practices 'no makeup' makeup, as her mother taught her.
Emilia Clarke without makeup
Fans who follow Emilia Clarke on Instagram know she's not shy about what she posts. Her account is authentic and her photos are rarely perfect and posed. From silly pictures with her God son to cozy photos with her dog to photos of her just living her life when she's not on set, it's clear that Clarke cares about being seen as a normal down-to-earth individual. 
But, even though her photos aren't all glamorous, she's absolutely beautiful in her "no makeup" selfies because they radiate total confidence and true joy. However, not all fans are kind when they see a celebrity look "less than" their character or their appearance on the red carpet. In February 2023, Clarke posted a "no makeup" selfie with a mug her mother bought for her and the result was a lot of negative trolling. One commenter said: "She really look[s] like she is aging more than [ever]. Good for her aging naturally, but she looks more than 36 years old, actually I would say that she is 49 or more."
Not to worry though, women allies quickly responded to the male haters on Clarke's behalf with positive comments. In response to the male hater mentioned above, a fan chimed in, "Emilia is beautiful and her big bright and authentic smiles make me feel happy and almost as good as a hug, honestly."
Emilia Clarke's skin routine
Fans who know how radiant Emilia Clarke looks without any makeup are dying to know how she keeps it so fresh looking. And, the answer comes in only three steps twice a day. Clarke's simple cleanse, tone, and moisturize both morning and night routine is what keeps her face glowing and flawless for all those candid photos she shares with her followers on her Instagram. 
In an exclusive interview with Byrdie, Clarke reports, "[For cleansing], I love Clinique's Take the Day Off Cleansing Balm, especially if I've been doing heavy days on set — it's so much makeup that they put on my skin, and using an oil or balm cleanser really makes it all come off. I also use the Clarifying Lotion, and after that, my skin is really clean. The moisturizing bit is the Clinique Moisture Surge Broad Spectrum SPF 28 Sheer Hydrator, and it's so amazing that they've made one with SPF in it, because even if I forget to put my extra SPF on, which I would recommend people do, [I still] have a little bit of protection."
Unlike other stars whose routines are complicated and expensive, Clarke uses products that are affordable yet effective for the average person. And, with the results seen through her complexion, it's clear that these are products you need for your daily routine.