Who Is Ben Shapiro's Wife, Mor?
Ben Shapiro's wife, Mor, was smitten the first time she laid eyes on him in "dad jeans" way back in 2007, per The Daily Wire. She was still in college at the time — he was a recent grad. By all accounts, it's an example of a slight age-gap relationship gone right. In July 2008, Ben Shapiro posted about his wedding. "I got married last week ... I am 24 years old. My wife is 20," he wrote on his personal blog, adding, "Together we plan, with the help of God, on having healthy, happy, freedom-loving children who will grow up with the security provided by the armed guard. 
Since they tied the knot in Acre, Israel 15 years ago, Ben Shapiro has become a famous debater, battling it out against everyone from Bill Maher, also known for his controversial comments, to college students around the country. He's also welcomed four "freedom-loving" children into the world with Mor. Their most recent baby, a boy, is "very squishy," according to the talk show host. "My wife is an amazing human being and an amazing wife, amazing woman," Shapiro proudly shared on an episode of his talk show, adding that they're "repopulating the earth with baby Shapiros ..." When Mor isn't busy raising four kids, she's working long hours as a doctor and spending time with her husband in their historic Hollywood home.
Mor Shapiro grew up in Israel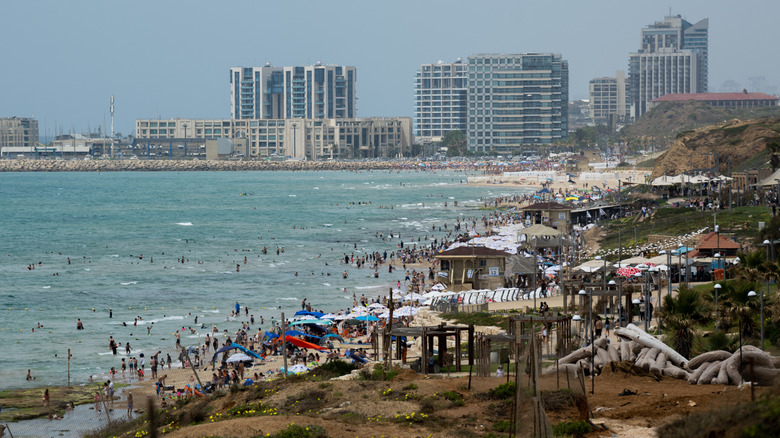 Alexi Rosenfeld/Getty Images
Mor Shapiro, born Mor Toledano in 1988, grew up in Herzliya, Israel, in an Orthodox Jewish Moroccan family. At just 12, she moved with them to Sacramento, California. Since then, she's called California home, studying Psychobiology at UCLA during her years as an undergraduate and staying on as a medical student for another four years — her husband also attended the same university. Allegedly, Ben Shapiro's younger sister, Abigail Roth Shapiro, introduced the couple. In 2008, they returned to Israel side by side, hosting a traditional Jewish wedding. "We broke the glass, we danced, we ate and we celebrated until deep into the night," the political commentator later remembered.
As Mor shared on The Daily Wire, her love story with Ben is similar to that of John and Abigail Adams. "Even though they endured long separations, their 1,000 letters to one another demonstrated their unwavering love and passion." What's more, Ben Shapiro also has a habit of dressing up like John Adams...
Mor Shapiro is a practicing doctor
In a conversation on The Daily Wire, Ben Shapiro confirmed that his wife is, in fact, a doctor. "She's actually a fantastic doctor. It's obviously her accomplishment," he said, noting that her decade-long journey through UCLA medical school and residency at Kaiser Permanente Southern California was far from a walk in the park — it involved a lot of long hours and plenty of money. According to the political commentator, part of any healthy relationship involves making sacrifices for one another. For instance, Mor was willing to transfer from the West Coast to Rutgers University when her husband got a job in New York (although this didn't end up being necessary). When she was accepted into Georgetown Medical, Ben was also ready to move coasts. "It is very important that people in relationships know that they are willing to go the full mile for the other person in the relationship," he said.
According to U.S. Health News, Dr. Mor Shapiro specializes in family medicine in Woodland Hills, California. She has her medical license in Florida. Mor founded the annual DGSOM UCLA Ethics Symposium, a night where case-based ethical scenarios relevant to healthcare are debated.
She likes to keep a low profile
Although Mor likes to keep a low profile on social media, we do know her thoughts about the viral song, "WAP" — she diagnosed the circumstances described in the lyrics as bacterial vaginosis, a yeast infection, or trichomoniasis, per Ben Shapiro's Twitter. Her Instagram is set to private, but her bio clearly identifies her as the "Wife of @officialbenshapiro." She also included the official Ben Shapiro tagline, "Facts don't care about your feelings, gang." Dr. Mor Shapiro's LinkedIn is also relatively inactive. 
Meanwhile, Ben Shapiro has 4 million followers on his own public account. He rarely posts about his family — neither his wife nor his children appear on his Instagram page, although he did share a photo of their new puppy on New Year's 2023. Shapiro's Instagram is largely dedicated to political commentary, Twitter screenshots, and public clap-backs — in one post, he argues the rumor he's had lip fillers, and in another, he debunks the claim that he's 5 feet 7 inches.
The Shapiros have occasional marital spats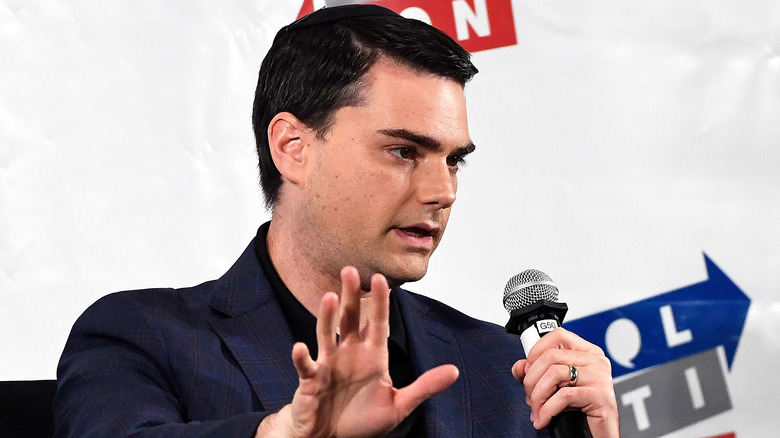 Michael S. Schwartz/Getty Images
What's Ben Shapiro's pet peeve when it comes to his wife, Mor Shapiro? "She loses her phone all the time" he revealed on The Ben Shapiro Show. In one argument while running late to a Bat Mitzvah — after a long day at work, Mor was too tired to go back into the house to look for her phone. "I said, 'Sweetheart, I don't know where your phone is. Can you get up off your butt and go in the house and look for [it]..." Eventually, Ben Shapiro decided to find it himself (unsuccessfully). Eventually, they realized she'd been sitting on it all along. "If she had just gotten up for 10 seconds, she would have seen that the phone is right there ... I said Dad, if I come home by myself it's because I tossed my wife's body in a lake."
In another episode, the Shapiro mentioned how his wife couldn't stop laughing after he fell over their children's toys in the middle of the night. "My life loves it when I get hurt," he joked. As for Mor's pet peeves? "[Ben will] literally be typing something on the computer but looking at me straight in the eyes. I'll think I'm having a full conversation but all the while he's registered none of what I've said ..." she revealed to The Daily Wire. He also doesn't know how to do laundry, which is definitely a downside in a house with four kids.