Ex Royal Lovers Who Went On To Lead Normal Lives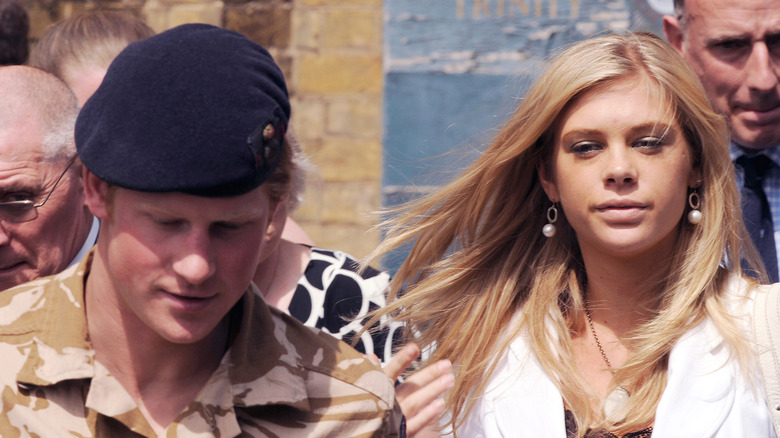 Anwar Hussein/Getty Images
For some royal fans, the idea of dating a prince or a princess might sound like a modern-day fairy tale. After all, many royals still reside in gorgeous castles, wear beautiful dresses, and even, occasionally, travel in horse-drawn carriages that seem to come straight from a storybook. Unfortunately, though, many royal significant others have found that their brush with palace life is nothing like what they'd dreamed of. Far from being a glamorous fantasy, the reality of royal living entails public criticism and the media's relentless eye. 
Over the years, several royals, such as Prince Edward and Prince Albert, have asked the press to leave their girlfriends in peace. Alas, that doesn't always do the trick. Prince Harry, for example, has been vocal about just how difficult it is to maintain a relationship under the eye of public scrutiny. In a written statement that he submitted as part of a 2023 lawsuit against the Mirror Group Newspapers, Harry elaborated, "I can remember that at least one of my girlfriends told me she was warned off me by her parents saying, 'Is [dating the prince] really worth all the [media] aggravation?' — our relationship ended shortly after" (via The New York Times).
Ultimately, these kinds of negative experiences with the press have driven many royal suitors away from princes and princesses — and back to their ordinary lives. From Princess Margaret's military paramour to Meghan Markle's Hollywood honey, these are some of the normal people that ended up dating royals.
Before Wallis Simpson, there was Freda Dudley Ward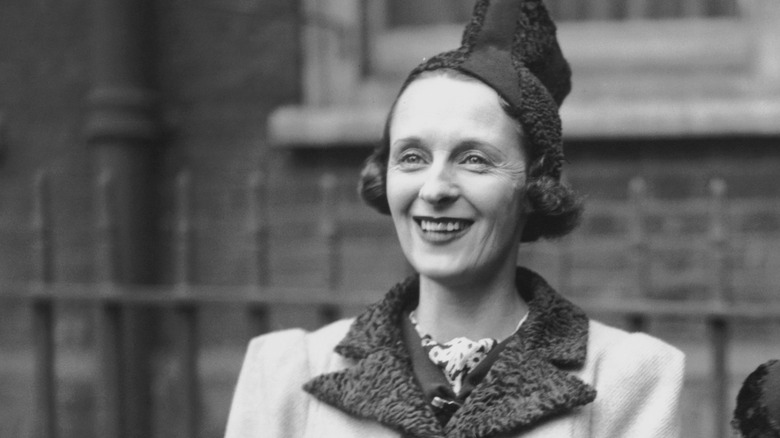 Keystone/Getty Images
These days, King Edward VIII is remembered for sharing a grandiose love story with the American socialite Wallis Simpson. After all, the British royal was so intent on marrying Wallis, despite her lack of suitability, that he abdicated the throne in 1936 and left the United Kingdom to be with her. However, before Edward fell head over heels for Wallis, there was another woman who captured his eye. 
Freda Dudley Ward was the British-born daughter of a Nottingham-based lace manufacturer and an American mother. Although she was by no means a member of the upper crust, Ward waltzed into Edward's life in 1918 when she ended up hiding out in front of a mansion during an air raid. Edward, by pure coincidence, happened to be at that same mansion, enjoying a party. The two were introduced and quickly hit it off. Before long, the two were engaged in a full-blown affair, frequently sneaking off together and going on secret dates.
Over time, however, Edward and Ward understood that their relationship could not last forever. As a commoner, Ward did not dare marry into royal circles. And, Edward — then, the Prince of Wales — had no trouble finding another woman to fall for. The pair parted ways, and Ward went on to live a relatively normal life. In 1937, she married the Marquis de Casa Murray, whom she stayed with for 17 years.
Captain Peter Townsend was deemed unfit for a princess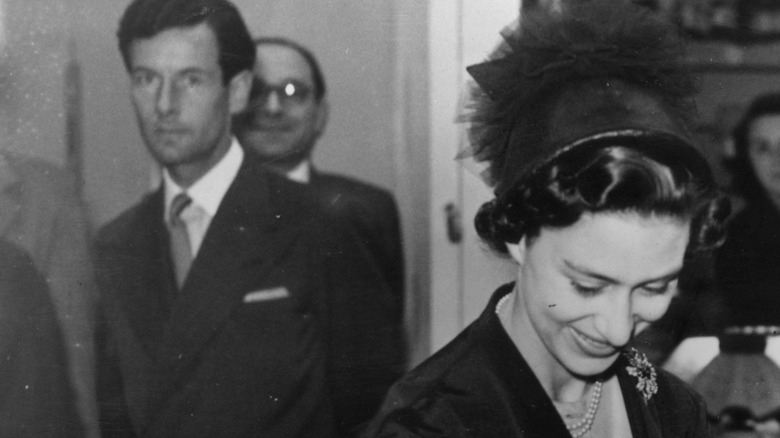 Keystone/Getty Images
King Edward VIII was not the only British royal to fall for a commoner. Princess Margaret was madly in love with someone who didn't quite fit in with most royal circles: Captain Peter Townsend. Although it remains unclear exactly when Margaret and Townsend fell in love, some royal experts believe that their affair began as early on as 1947 when the princess was still a teenager. During this year, Townsend accompanied Margaret to Belfast, where she was asked to help launch a ship. The duo stayed at Hillsborough Castle, and, as reported by the Daily Mail, it was requested that Townsend and Margaret be given adjoining bedrooms.
Margaret and Townsend's love story fizzled fast. When the couple asked Queen Elizabeth II for permission to get married, the monarch could not approve. After all, Townsend was a divorcé at a time when the royal family could not accept someone with this marital status. Ultimately, Margaret would have to give up her place in the line of succession if she moved forward with the marriage. The princess walked away from the man who she viewed as the love of her life.
Although it was likely difficult for Margaret and Townsend to part ways, the military captain went on to lead a normal existence. He continued to pursue a career in the military, and, while posted in Belgium, he met a young woman named Marie-Luce Jamagne. The pair wed in 1959.
Andrew Parker-Bowles has two royal exes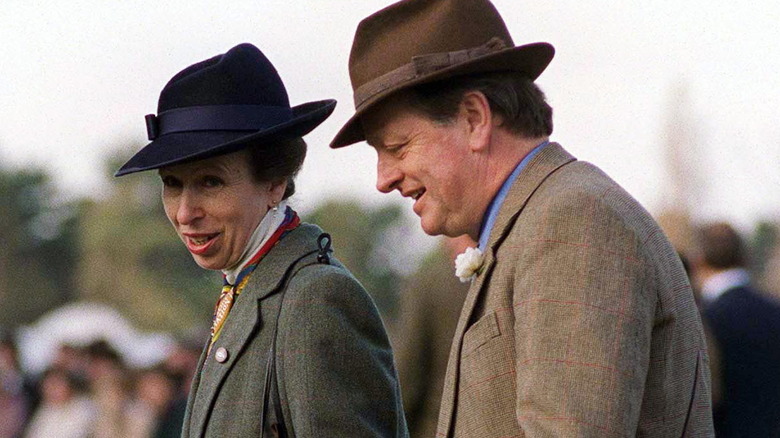 Tim Graham/Getty Images
Not many commoners can say that they have dated one royal, let alone two. However, Andrew Parker-Bowles not only dated Princess Anne during the early 1970s, but he also married Camilla, Queen Consort, just a few years later. It is understood that Andrew and Anne started seeing each other in June 1970, although nothing really came of the relationship. While the pair seemed to get along well on a platonic level, it is believed that their religious differences prevented them from taking things much further. That being said, there was no bad blood between the unlikely duo. As royal expert Sally Bedell Smith wrote in her book "Prince Charles: The Passions and Paradoxes of an Improbable Life," Andrew and Anne "remained lifelong friends."
On the flip side, things between Camilla and Andrew were much more serious. The pair tied the knot in a 1973 ceremony and proceeded to have two children, Tom Parker-Bowles and Laura Lopes. During their marriage, neither Camilla nor Andrew was able to remain faithful. When they decided to divorce in 1995, Camilla and Andrew issued a statement in which they declared: "We have led completely separate lives."
Following his relationships with Anne and Camilla, respectively, Andrew pursued a more normal life. He kept a low profile and took a step back from women who were too close to the throne. Instead, Andrew married Rosemary Pitman, a commoner. The couple stayed together until Pitman's 2010 death. 
Tamara Rotolo had a fling with the playboy prince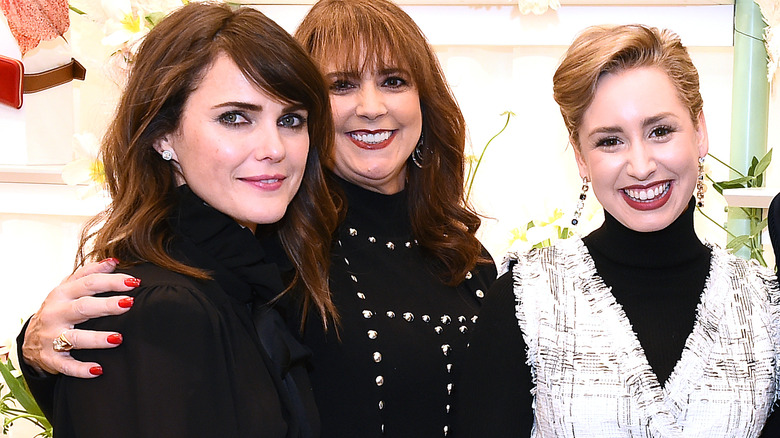 Ilya S. Savenok/Getty Images
Back in 1991, Tamara Rotolo embarked on the summer vacation of a lifetime. She was just 30 years old and coming out of a failed marriage. Perhaps a bit unsure about her future, Rotolo decided to take a break from her waitressing job and travel to the Cote d'Azur in the South of France. It was on this fantastic trip that she crossed paths with Prince Albert of Monaco — who was the principality's heir apparent and resident "playboy prince." Sparks flew, and the duo enjoyed a brief romantic encounter. But, while the pair's fling was little more than a holiday romance, it did result in the birth of a daughter, Jazmin Grace Grimaldi, nine months later.
Although it is clear that Rotolo's relationship with Albert did, ultimately, change her life forever, the American woman did nothing to chase after the spotlight. On the contrary, she headed back to California, gave birth to Jazmin Grace in Palm Springs, and largely avoided the press. She did, however, try to sue Albert for paternity in 1992 after the prince failed to recognize his firstborn child. 
In the end, following years of negotiations, Albert invited Jazmin Grace to Monaco in 2003. There, the young girl — then 11 years old — was finally able to meet her father for the first time. In the interim, Rotolo was able to change careers, transitioning away from waitressing and earning her real estate license.  
Daniel Ducruet's royal marriage blew up quickly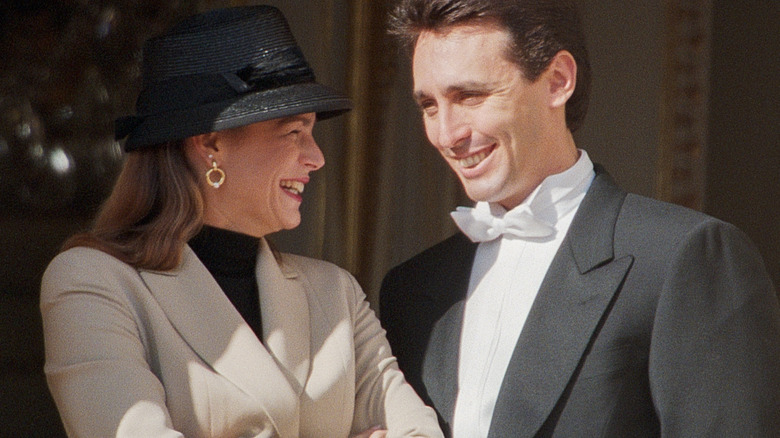 Stephane Cardinale - Corbis/Getty Images
Prince Albert was not the only Monegasque royal to date someone outside of elite circles. The prince's younger sister, Princess Stéphanie, was also known to fall in love with people from outside her rank. This first became clear around 1991 when the gorgeous young royal became involved with her bodyguard, Daniel Ducruet. Because he was a former fishmonger, Daniel was hardly the man that most palace insiders imagined for Stéphanie. Nevertheless, the couple fell madly in love and even had two children together: Louis Ducruet, who was born in 1992, and Pauline Ducruet, who arrived two years later.
Stéphanie and Daniel actually made it down the aisle together in a romantic 1995 service. And, despite the fact that traditionalists pushed back against the couple's relationship, they were allowed to hold the ceremony at the Prince's Palace of Monaco.
Sadly, though, Daniel failed to remain faithful to his bride, and the couple broke up just eighteen months after tying the knot. Speaking in the documentary "The Curse of Grace Kelly's Children," royal expert Phil Dampier recalled, "He was actually photographed frolicking, if you will, with Miss [Bare Breast of] Belgium. Needless to say, Stéphanie wasn't very happy about that." The embarrassing nature of these transgressions meant that Daniel had to exit royal life for good. Eventually, though, he began to pursue a more normal life. In 2018, he married a human resources executive named Kelly Marie Lancien.
Jean Raymond Gottlieb flew under the radar for years
Daniel Ducruet might have been considered an unconventional match for Princess Stéphanie back in the 1990s, but he was far from being the only ordinary guy who the princess fell for. He wasn't even the only bodyguard that captured Stéphanie's attention — just two years after the Monegasque royal broke up with Ducruet, she found herself getting involved with another one of her personal security officers. This time around, she fell for Jean Raymond Gottlieb.
Jean Raymond did not seem to have much interest in experiencing the glitz and glam of royal life. As he and Stéphanie explored their connection, the couple kept their relationship under wraps. And, even when Stéphanie got pregnant with Jean Raymond's child, she did not divulge the bodyguard's identity to anyone. In fact, she kept her baby's paternity a secret — creating a massive scandal at the palace. In the end, this move largely protected Jean Raymond from the press. Indeed, even after Stéphanie gave birth to a daughter, Camille Gottlieb, in 1998, the bodyguard was able to avoid the spotlight.
Speaking in the documentary "The Curse of Grace Kelly's Children," famed journalist Bidisha Mamata explained, "The father was not named on Camille's birth certificate. And, in fact, it was only revealed decades later by the daughter herself on Instagram." In other words, Jean Raymond was able to help parent his baby daughter without needing to give up his normal, private existence. 
Rose Farquhar was Prince William's first serious girlfriend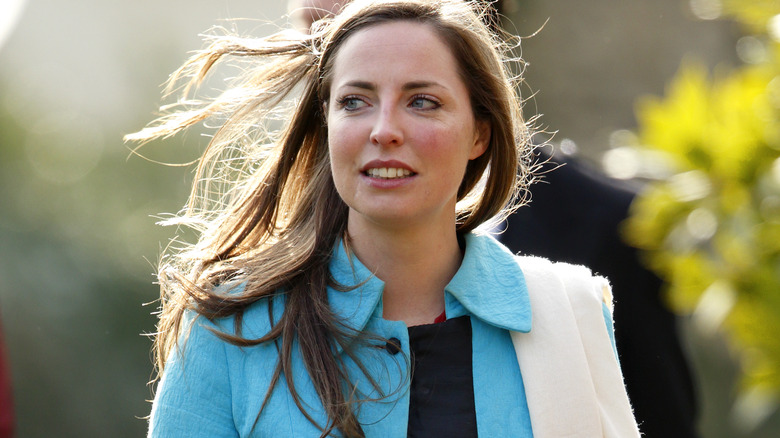 Max Mumby/indigo/Getty Images
Just because two people don't find love with each other does not mean that they cannot remain friends. Prince William and Rose Farquhar arguably proved this fact when, following a short romance back in 2000, the two continued to wish each other well — and even attended each other's weddings. 
Of course, it is important to keep in mind that William and Farquhar did not exactly date seriously. The pair got together when William was still quite young — and, more specifically right after he finished his A-levels. What's more, even when the couple did start to date, they only proceeded to have a very short-lasting relationship, as William pursued other women once he headed to university. 
That being said, the fact that Farquhar and William continued to support each other as they married other people simply proves just how seamlessly a royal break-up can go. And Farquhar's wedding in particular stands to show just how good normal life can be for someone who has already dated royalty. On December 17, 2022, Farquhar had her own fairy tale ending and walked down the aisle with George Gemmell. As one attendee told People of the ceremony, "It was a magical winter wedding in the snow. The bride and groom left in a tunnel of guests with sparklers in the dark, before leaving in the back of a vintage Land Rover. The Cotswolds are so beautiful in the snow!" 
Hugo Taylor settled down with a co-star
These days, Princess Eugenie is happily married to businessman Jack Brooksbank. But, back in 2008, the princess was spotted out with the likes of Hugo Taylor, a "Made in Chelsea" star and infamous ladies' man. As reported by the Daily Mail, the princess and the "bad boy" were often out together at high-end parties and frequented nightclubs. In fact, it was at a club called Vendome that one insider noticed Eugenie and Taylor canoodling. As the source dished to the Daily Mail, "They were kissing very openly and very passionately and not making a secret of it."
While this royal romance might sound alluring to some, others would argue that it was doomed from the start. At the time that the pair started seeing each other, the same anonymous insider told the Daily Mail, "Hugo's friends have been rather surprised because he always goes for stunning leggy blondes. Eugenie isn't his type at all to be honest and he's keen to play things down. It's not necessarily an exclusive relationship but they both like each other."
In the end, the pair broke up, and Eugenie met her match. Taylor, meanwhile, went on to live a strikingly normal life. In June 2018, he walked down the aisle with his "Made in Chelsea" co-star Millie Mackintosh. Soon after, Taylor and his wife welcomed two daughters. According to Instagram, the couple has focused on parenting their toddlers.
Chelsy Davy has embraced living away from the spotlight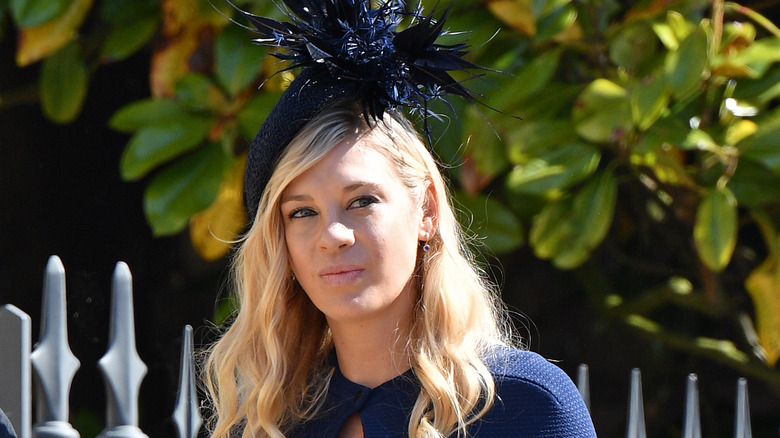 Pool/max Mumby/Getty Images
Perhaps no royal girlfriend had such a rough go of it as the Zimbabwean businesswoman Chelsy Davy. The gorgeous blond started dating Prince Harry sometime in 2004 — only to find that her life would be forever changed. During her years-long on-and-off relationship with Harry, Davy was apparently subject to an extreme level of media scrutiny. At times, the royal girlfriend was also said to be stalked by the paparazzi and other members of the press. 
In a written statement submitted in a legal complaint against the Mirror Group Newspapers, Harry dug into just how out of hand things had gotten. "I remember that whenever Chelsy and I went on a trip to Bazaruto, a small island off the coast of Mozambique, to try to get away from all the madness and enjoy some peace and quiet, journalists and photographers from MGN and the other tabloids would literally turn up and book into the hotel before we got there. I now believe they had blagged our flight details and hotel bookings and/or intercepted our voicemails," he said (via The New York Times). 
According to Harry's account, the couple called it quits — largely because of the pressure that all the media stalking added to the relationship. With time, Davy was able to remove herself from the royal spotlight and pursue a more normal life. In 2022, she said "I do" to hotelier Sam Cutmore-Scott. The couple share a son, Leo, who was born in the same year.
Trevor Engelson started a family with an heiress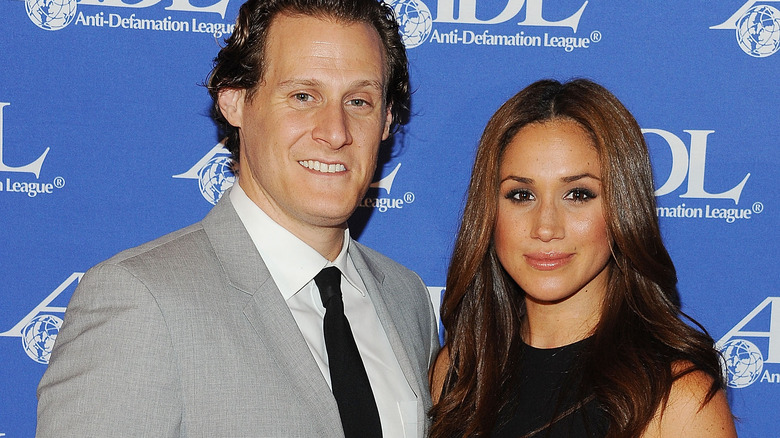 Michael Kovac/Getty Images
When Hollywood producer Trevor Engelson walked down the aisle with Meghan, Duchess of Sussex, back in 2011, it's probably safe to assume he had no clue that he was marrying a future royal. Nonetheless, just seven years after saying "I do," Engelson became something of an "accidental" royal ex. A few years after Trevor and Meghan's 2013 divorce, the "Suits" actor began dating none other than Prince Harry. When she wed the prince in 2018, she was given her first royal title.
Of course, the experience of watching his ex-wife join Britain's most famous family was not always easy for Engelson. "He went through a rough time during the break-up and that was only made worse when Meghan got together with Harry last year," a source claimed to The Sun in 2017. "He had to re-live it all again — this time in public." According to Insider, the producer even tried to pitch a TV show to Fox about a guy who's ex-wife married into the royal family.
Despite this possible attempt to process Meghan's unusual path, Engelson remains — for the most part — an ordinary guy. While he continues to work in Tinseltown, his job as a producer means that he remains far from the center of attention. What's more, he married another commoner (albeit an heiress) by the name of Tracey Kurland in 2019. These days, Engelson is a father to two little girls who were born just one year apart.