All The Drama Surrounding Kevin Costner And Christine Baumgartner's Messy Divorce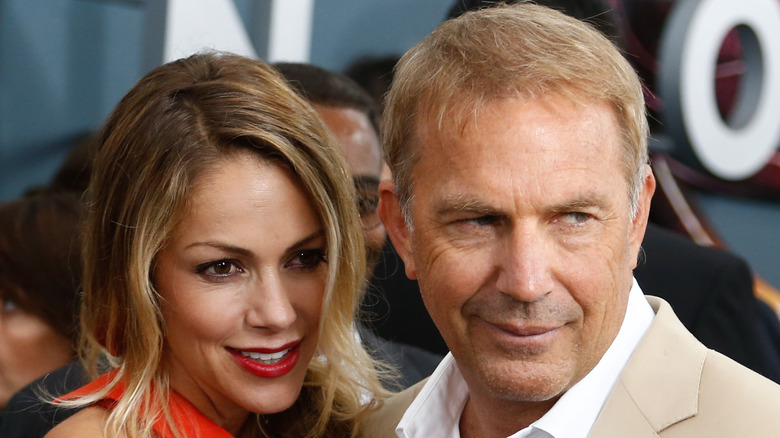 Debby Wong/Shutterstock
"Yellowstone" star Kevin Costner and handbag designer Christine Baumgartner's divorce has been a public mess. Baumgartner filed for divorce in May 2023 after 18 years of marriage, and ever since the two have battled it out in court over everything from property to child support. A prenuptial agreement had been in place for years, which should have made their split seamless. However, it appears the document only complicated things. 
The pair began dating in 1998 and remained a couple until briefly breaking up in 2002. After getting back together, Costner and Baumgartner wed in 2004 at his 160-acre ranch in Aspen, Colorado. They share three children: sons, 16-year-old Cayden and 14-year-old Hayes, and daughter, 13-year-old Grace, though Costner has seven kids in total. Unfortunately, the two could not bounce back from their issues. Despite Costner not wanting to split from his wife, there may have been signs that they may not last. While Baumgartner has only listed the reason for the divorce as irreconcilable differences, she had reportedly grown frustrated with the scheduling strains placed on their relationship by Costner's role on "Yellowstone." No matter the exact reason, their divorce has been anything but amicable.
Kevin Costner and Christine Baumgartner fought over her leaving their marital home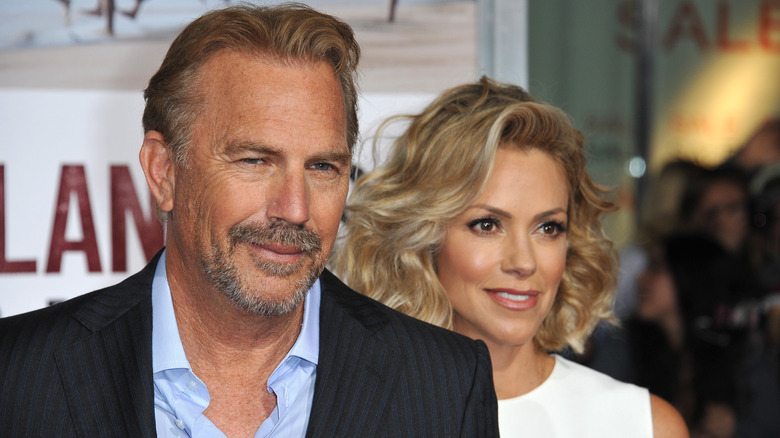 Featureflash Photo Agency/Shutterstock
As part of their prenuptial agreement, Christine Baumgartner was required to leave the marital home shared with Kevin Costner within a month of filing for divorce. Since she filed on May 1 of this year, she was expected to be out at the beginning of June 2023. When this did not happen, Costner filed documents to have the former model legally removed from the home. However, Baumgartner fired back against the prenup clause, claiming that her estranged husband had no right to remove her and their three children, who were raised in the Santa Barbara estate.
Costner had already given Baumgartner $1.2 million to go towards purchasing a new home and agreed to pay the mortgage and taxes for a year. The "Mr. Brooks" star also offered Baumgartner $30,000 for a rental property during the transitional period. In his June 30 court filing, Costner seemed frustrated with Baumgartner's refusal to exit the home, accusing her of presenting unfounded arguments as to why she shouldn't have to leave the $145 million sprawling property. Finally, in early August 2023, Baumgartner moved out after acquiring a rental home just 10 miles away from the mansion she fought her ex over. The house has four bedrooms and four bathrooms and costs $35,000 a month. That part of their separation may be over, but the couple has plenty more to fight over.
The actor delivered the divorce news to their children via Zoom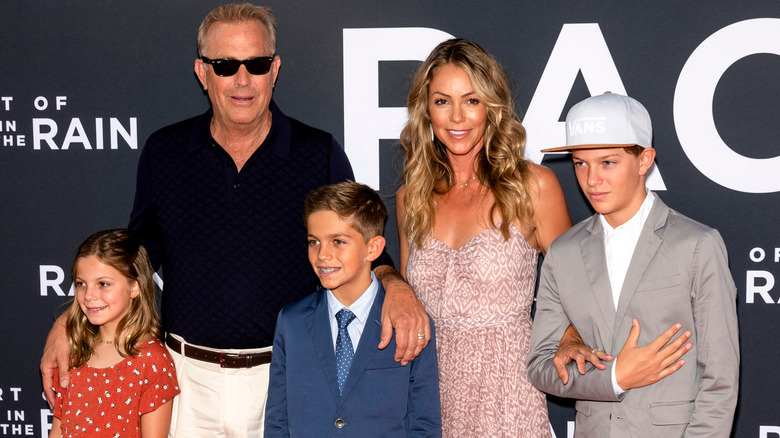 Ovidiu Hrubaru/Shutterstock
Another critical factor in this messy split is the couple's three children, whom both want the best for. The parents are seeking joint custody, though Christine Baumgartner is unhappy with how her Oscar-winning spouse, Kevin Costner, delivered the news to their kids. She wanted to tell them jointly in person that they were breaking up. However, the director informed them on his own during a 10-minute Zoom call while he was working in Las Vegas.
"I am still confused by his motivation to do this via a very short Zoom session, especially since he was planning on being home five days later. He also could have easily come home from Las Vegas to have the conversation in person," Baumgartner said in June 2023 court documents obtained by People.
Costner is now paying $129,755 in temporary child support, which is much lower than Baumgartner's previously requested $248,000 monthly for their children's needs. The embattled couple is scheduled to head to trial on November 27 over the validity of the prenuptial agreement. Sadly, there appears to be no peaceful ending to their marriage, but hopefully, both can one day become cordial co-parents.