Gwen Stefani's Son Kingston Is All Grown-Up And The Spitting Image Of Dad Gavin In New Video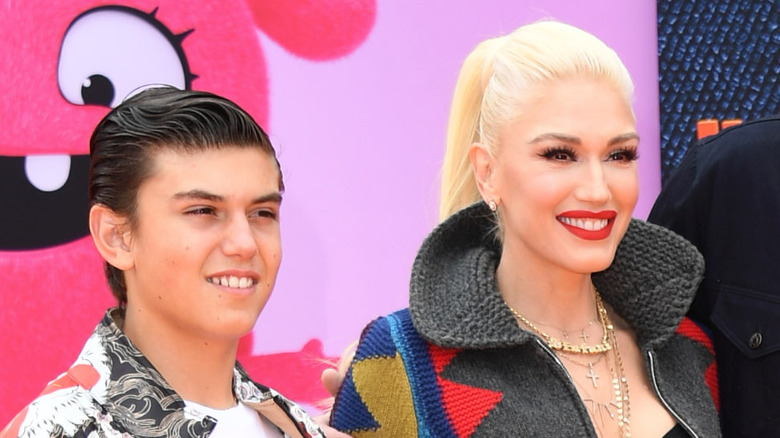 Jon Kopaloff/Getty Images
Just in case you needed a little dose of "feeling old," the son of Gwen Stefani and Gavin Rossdale is all grown up and already gearing up for a career in the spotlight. 
On Aug. 12, 2023, Kingston Rossdale took center stage at stepdad Blake Shelton's bar in Tishomingo, Oklahoma, to give a heartfelt performance that had the crowd on their feet (via People). As this viral video of his live performance proves, the teenager is following in the footsteps of his superstar parents and stepdad.
Days prior to the show, Shelton dropped a hint on social media that a secret debut artist would be performing at the lively venue. "Ok y'all here's the deal ... 7:30 pm this Friday I'm gonna set up and play 30 minutes or so acoustically. Then I'm gonna turn the stage over to a debut artist that will be doing their VERY FIRST public performance! See you at the @OleRed Tishomingo Doghouse!!!" the country star shared on Instagram.
Little did fans know that the artist would be none other than Shelton's stepson, Kingston. Wearing a T-shirt and baggy jeans, and rocking shaggy '90s hair, Kingston's performance gave off underground rock band vibes. In fact, the performance was eerily similar to those of his rockstar dad. We weren't alone in our observation.
Fans can't get over how much Kingston resembles his dad
Longish brown hair, powerful vocals, and an accompanying guitar? Check, check, and check. These are just a few of the similarities people are picking up between Gavin Rossdale and his son after Kingston's first public performance. Gavin is one of the founding members of the alt-rock band Bush, which rose to fame in the 1990s, and their lead singer and guitarist.
Viewers of the video are calling Kingston and Gavin twins after watching. One TikTok user wrote, "He looks so much like his dad! So crazy how this could be the '90s." Another comment read, "I'd love to see him sing 'Glycerine'." Kingston's onstage performance had a similarity to how Gavin has handled that particular song in the past — compare it to his dad's live performance of the hit on Access Hollywood.
It's heartwarming to see that Kingston has some great role musical role models in his family — from Gavin Rossdale to Gwen Stefani to Blake Shelton. We can't wait to see what else the budding rockstar has in store for listeners.