Gwen Stefani And Gavin Rossdale's Co-Parenting Conflict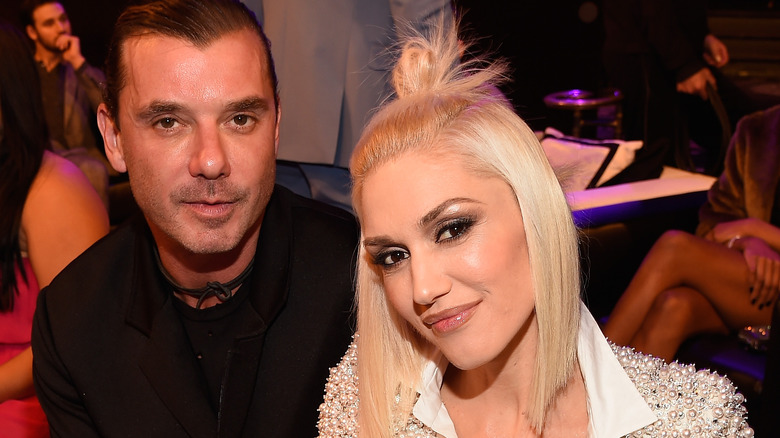 Kevin Mazur/pma2014/Getty Images
Before Gwen Stefani was the country-lovin' cowgirl we know and love today, she was a punk icon. In the '90s, Stefani was the frontwoman of No Doubt, a ska-punk band that gave us timeless hits like "Just a Girl" and "Don't Speak." On tour with fellow rock bands Bush and the Goo Goo Dolls in 1995, she met her future husband, Gavin Rossdale. Rossdale was the lead singer of Bush, and the two quickly connected, eventually marrying in 2002. 
Their relationship had its ups and downs (like when Rossdale was found to have fathered a child with Powder frontwoman Pearl Lowe) but ultimately lasted nearly two decades from when they began dating to their 2015 separation. The rockers also share three children; Kingston, Zuma, and Apollo. Fast-forward to now, Rossdale and Stefani have been divorced for close to ten years. 
She's happily married to country icon Blake Shelton while Rossdale is occasionally linked to someone, most recently CourtLyn Cannan. But as all divorcees know, just because you're separated from your former spouse doesn't mean there will no longer be conflict — especially when it comes to co-parenting your shared children, something on which Stefani and Rossdale reportedly butt heads. 
Are they parenting or co-parenting?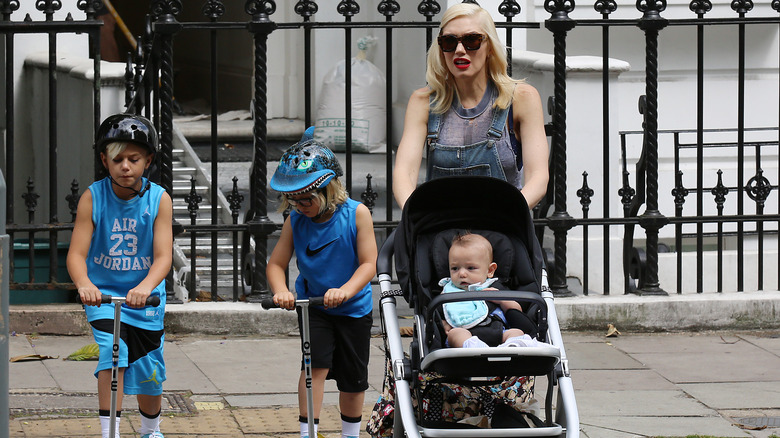 Neil Mockford/Getty Images
As Gavin Rossdale argued on the "Not So Hollywood" podcast, separated parents have two options: "You either do everything together and really co-parent, and see how that goes — or you can just parent. And I think we just parent." The rocker went on to explain that he and his ex-wife, Gwen Stefani, are two completely different people, which means they have differing views on how to raise their sons. Rossdale seems quite chill about the whole thing, though, noting, "It's just about wherever they are, they're loved and supported."
Stefani may feel a bit different but she's been pretty tight-lipped about what bringing up her kids with split, 50/50 parenting time with Rossdale looks like. She did admit to feeling a lot of "mom guilt" whenever it's her time with the boys and something work-related comes up. During an appearance on "The First One" podcast, the No Doubt singer recalled feeling terrible when a meeting took up some of her allotted time, leading Stefani to wonder: "What am I doing? I have to get off the Zoom, this is my day with my kids."
Despite their differences, it sounds as if both parents are committed to being there for their boys. According to Stefani, "All I ever really wanted was to have kids." Her former husband, meanwhile, told People: "I constantly strive to be a better father."
Stefani isn't alone in raising her sons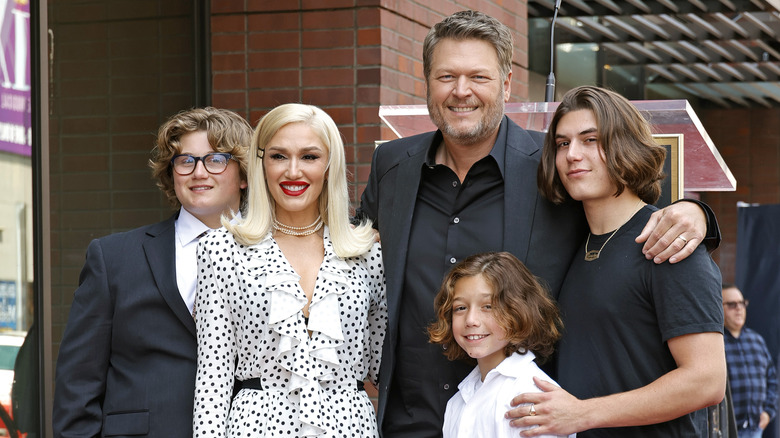 Frazer Harrison/Getty Images
While Gavin Rossdale has yet to settle down, Gwen Stefani married country superstar Blake Shelton in 2021. He has since become a stepdad to Stefani's three boys and Shelton seems to have a great relationship with his stepsons — a job "The Voice" coach takes very seriously. Shelton also isn't afraid of stepping back from the spotlight and taking some time to enjoy family life on the Oklahoma ranch he shares with his wife. 
After spending years on the road, he and Stefani are often like, "Hey, I'm good to put my sweatpants on at 6 p.m. and watch 'Ozark' eight times," (via People). The sprawling Ten Point Ranch that Stefani and Shelton call home is where the couple and her three children hunkered down during the COVID-19 lockdown, which gave them plenty of quality time.
On Father's Day 2023, Stefani's youngest son, Apollo, appeared in her Instagram Stories giving Shelton a "Best Step-Dad" award, per Music Mayhem. It seems that when Shelton shared, in an interview on "The Ride with Kimo & Heather" podcast, that he "can't imagine my life without these kids now," the country star really meant it and is fully embracing his role in helping Stefani co-parent them as best he can.