The Professional Athlete That Tried To Win Over Taylor Swift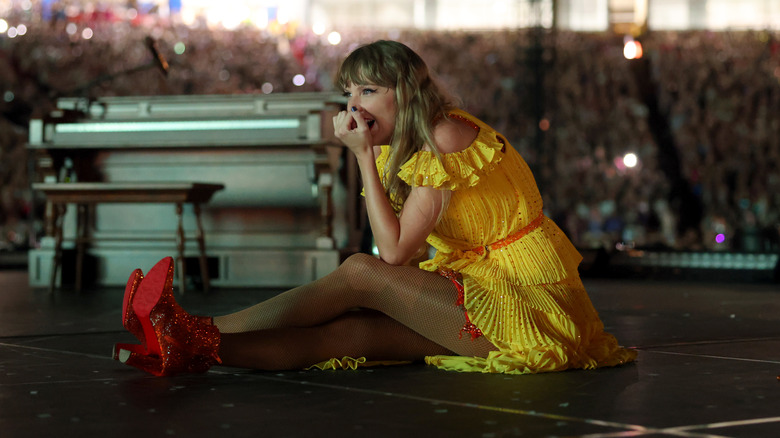 John Shearer/tas23/Getty Images
It looks like another guy is looking to add himself to Taylor Swift's "long list of ex-lovers." The award-winning pop star is single (at the time of this writing) after her widely-covered breakup with her boyfriend of six years, Joe Alwyn, and Kansas City Chiefs tight end Travis Kelce knows an opening when he sees one.
During an episode of his podcast, "New Heights," Kelce joked about his crush on Swift and his failed (albeit creative) attempt to connect with her at a concert via a homemade friendship bracelet, in true Swiftie fashion. The podcast, which Travis hosts with his brother, Jason, usually covers football-related topics, but Taylor Swift is pretty much irresistible — how could you not talk about her? 
Swift has yet to reveal her true feelings on the matter — the long-awaited "Eras" tour has kept her booked and busy. Still, who knows? Maybe a romance will blossom between the two, and we'll have another Taylor Swift era to explain. Stranger things have happened. For now, though, we'll have to wait and see.
The friendship bracelet that (could have) started it all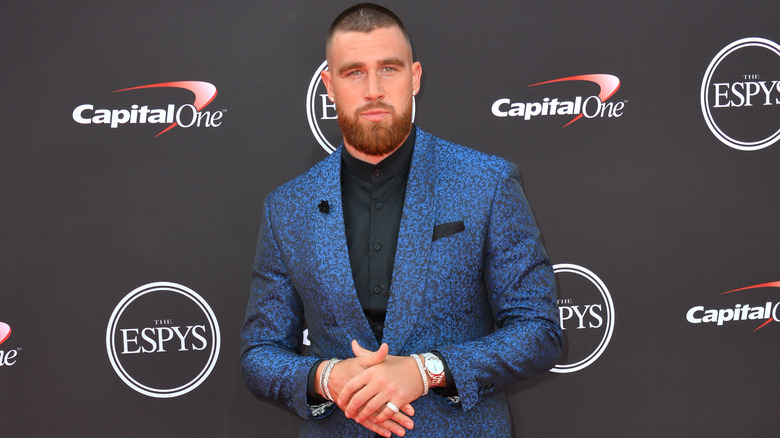 Featureflash Photo Agency/Shutterstock
When the U.S. portion of the "Eras" tour kicked off in March 2023, it didn't take long for fans to start a new Swiftie tradition based on song lyrics. Off Taylor Swift's latest album, "Midnights," the song "You're On Your Own, Kid" features a lyric that says: "So make the friendship bracelets/Take the moment and taste it." Fans didn't hesitate to take their idol's advice. Not long after, Swifties started exchanging homemade friendship bracelets at her concerts. Though Swift herself hasn't swapped bracelets with fans, a picture of her security guard wearing one made the rounds on Twitter in May 2023.
It was this tradition that inspired Travis Kelce to hatch his game plan. Swift performed at the Arrowhead Stadium in Missouri — which just so happens to be where Kelce's team plays. Coincidence? Well, probably, but it would be nice if a little romance came of it. Either way, Kelce went to see her in concert, with a bracelet specially made for her. Instead of just giving her his number, he decided to put his number on the bracelet. We've got to hand it to him: out of all the ways to give someone your digits, this is definitely one of the most creative. Taylor Swift sang a surprise song for Meghan Markle's night at the Eras tour, so she's no stranger to the unexpected (or the special attention). Unfortunately for Kelce, Swift just wasn't in the mood for romance, and the two never crossed paths.
Taylor and Travis's relationship history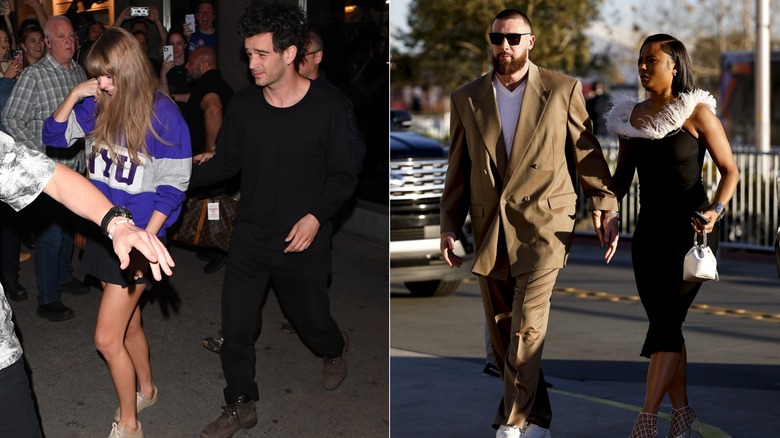 Robert Kamau/Getty & Michael Owens/Getty Images
It's probably pretty safe to say that no pop star's relationship history has been as thoroughly examined as Taylor Swift's. From her drama with Jake Gyllenhaal to her teenage fling with Joe Jonas, Swifties have a practically encyclopedic knowledge of her past boyfriends. Though Travis Kelce has failed (for now) to shoot his shot, Swift's most recent breakup shows that she might not be ready to settle down just yet. After splitting from longtime boyfriend Joe Alwyn, the alleged inspiration for "Lover," Swift's short-lived fling with fellow musician Matty Healy turned heads. In May 2023, a source told Entertainment Tonight that "Taylor has a crush on Matty and they are having a good time hanging out. Matty also thinks Taylor is awesome and incredibly talented, too. They dated briefly in the past." The relationship fizzled out after a month, making Swift single once again.
Kelce also has experience with long-term relationships. He was in an on-again, off-again relationship with internet personality Kayla Nicole over the span of five years, starting in 2017. According to E! News, he was also the star of a dating reality show, called "Catching Kelce," where he chose Maya Benberry to be his new girlfriend. Needless to say, that relationship didn't work out, either. Maybe he and Swift will find more success with each other.