All The Famous People Prince William & Kate Middleton's Kids Have Already Met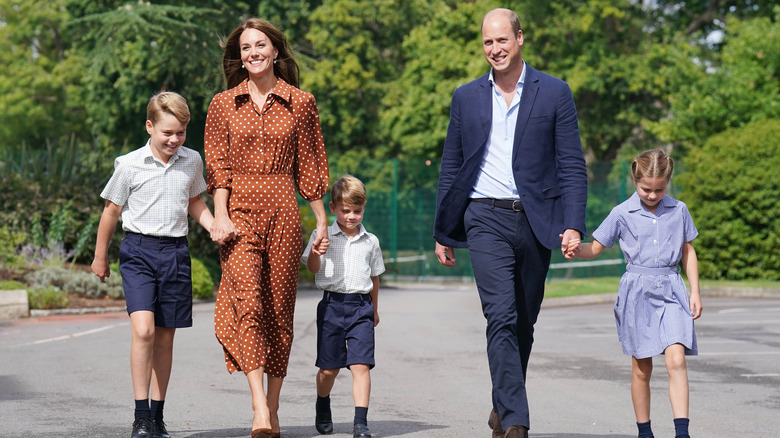 Pool/Getty Images
Prince William and Catherine, Princess of Wales have the task of raising their children not just to be well-adjusted adults, but to serve the crown. Since Prince William is next in line for the throne following King Charles III's reign, this means that Prince George, Princess Charlotte, and Prince Louis all follow in the line of succession. Since George is the eldest, his parents started bringing him to public events as young as 8 to prepare him for his role as the future king. His younger siblings are following a similar trajectory. As such, there are several ordinary things that the brothers George and Louis will never be allowed to do. The same goes for Charlotte; but, because she's the second born and a girl, she has an equally interesting path laid out before her. Much like the legendary Princess Anne, Charlotte will likely become the Princess Royal, a title bestowed on the eldest daughter of the monarch. She'll also have a prominent role as a senior working royal, though we know from history, through the likes of Edward VIII and Prince Harry and Meghan Markle, that royals have agency in accepting this task. 
Since the Wales children are already so prominent in global culture — their births were broadcasted around the world — it's no wonder that they've already somewhat familiar with growing up in the spotlight. While this comes with several downsides to be sure, it also comes with perks, and these royal kids have already rubbed shoulders with some very famous people.  
Tennis superstar Roger Federer gave Prince George private tennis lessons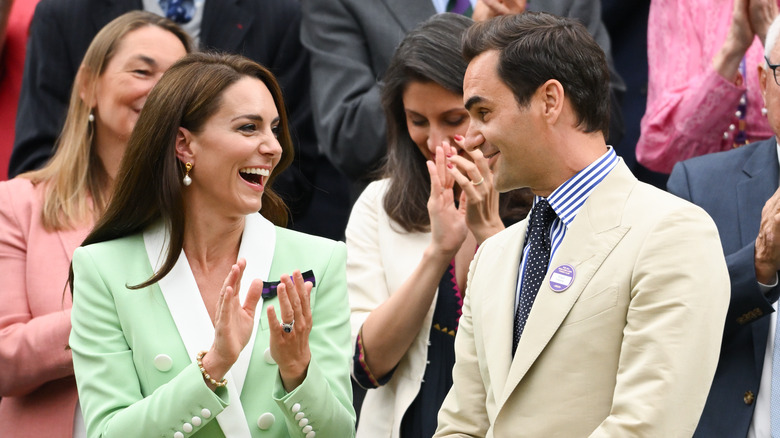 Karwai Tang/Getty Images
You know you're a famous kid when you're getting tennis lessons from the world's greatest tennis player. Prince George got some free lessons from none other than Wimbledon legend Roger Federer. This is because Federer is friends with Catherine, Princess of Wales and the whole Middleton family. In fact, George's lessons took place at the home of her parents, Carole and Michael Middleton in Bucklebury, Berkshire. In 2019, Federer explained the nature of his lesson to George, noting that since the royal lad was so young, the lessons were very simple. "At that stage it's all about just touch the ball, it's already good," Federer said about his tutelage of George (per Hello!). Conveniently, Federer was also George's favorite tennis star; but Federer joked, "I'm the only player he's ever met. Then you have a little head start in who is your favourite player" (per Daily Mail).
It's not surprising that George has already developed a fondness for tennis since his mother is so passionate about the sport. Catherine is the patron of the All England Lawn Tennis and Croquet Club, which is why she figures so prominently at Wimbledon. She's also an avid player herself, and Federer commented on this in relation to George's lessons. "I love to see that they're into tennis or into sports," the Wimbledon champion began, "his mum has always enjoyed their tennis ... I hope that he'll still say the same in a few years' time." No doubt George will. 
Sir David Attenborough talked to George, Charlotte, and Louis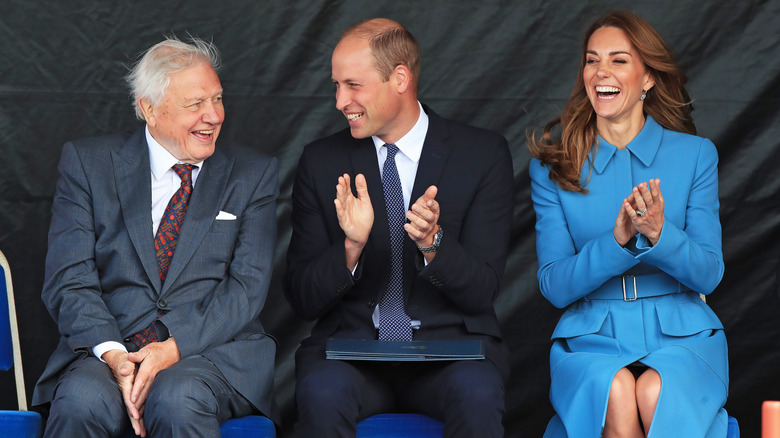 Wpa Pool/Getty Images
Prince George, Princess Charlotte, and Prince Louis are all huge fans of broadcaster Sir David Attenborough. The royal youngsters have had several interactions with the BBC personality over the years. On October 3, 2020, Prince William and Catherine, Princess of Wales released a cute interview video on their Instagram account of their three children asking Attenborough questions about animals. The video was actually the first time that people heard Louis speak, and it was pretty cute. "What animal do you like?" the young prince asked Attenborough, who replied that he likes monkeys best. 
Attenborough has a long-standing relationship with the royal family; he was friends with the late Queen Elizabeth II and has become close with William because of the latter's Earthshot Prize, an initiative aimed at helping the planet. The Wales kids got to meet Attenborough in person in September 2020 at Kensington Palace. The palace released photos of Catherine, William, and the three children interacting with the famous BBC host. 
Later, in November 2020, Catherine and William met Attenborough in regard to his documentary, "A Planet For Us All." Unfortunately, the kids didn't come and Catherine told Attenborough: "The children were very upset that we were coming to see you and they weren't coming. They're massive fans of yours." Attenborough replied, "Kids know an awful lot about what is happening to the world." Fortunately, these little super fans got to meet their favorite celebrity.
Charlotte and George met James Norton at Wimbledon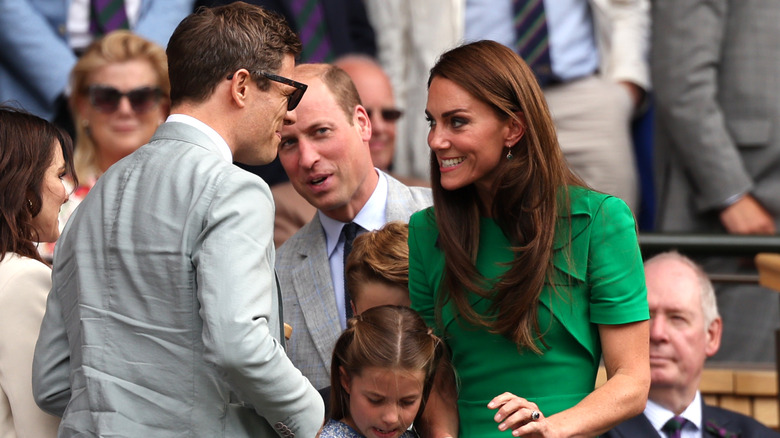 Julian Finney/Getty Images
Wimbledon seems to be a good spot for the Wales kids in terms of celebrity sightings. Granted, they're celebrities in their own right, but the kids have met a fair amount of famous people while watching tennis. At Wimbledon 2023, Prince George and Princess Charlotte tagged along with mom and dad Catherine, Princess of Wales and Prince William. It was Charlotte's first time at Wimbledon, while George attended the year before as well. For little Prince Louis, he was likely too young to attend. While watching the matches, the two eldest Wales kids got to meet James Norton. The English actor is slated to be the next James Bond, though when asked about it by Variety in June 2023, he shut that down. "No, no, no, none of that," Norton said, and later added, "There's nothing concrete behind it." 
What was concrete was that Norton met the Wales family, including the two eldest royal kids, and made quite an impression. Catherine seemed to be thrilled by the celebrity sighting, and tabloids had a riot poking fun at William's concerned, attentive expression as Catherine greeted Norton. Charlotte and George were far less excited about the introduction than their mother was; but, by all accounts, Wimbledon was a big experience for the two oldest Wales kids. And, if Norton does become the next Bond, then George and Charlotte have something to brag about. 
Prince George met Barack and Michelle Obama in his bathrobe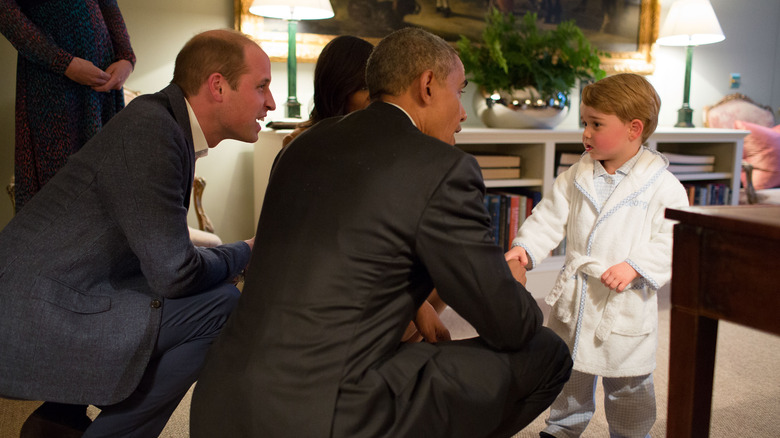 The White House/Getty Images
In one of the most adorable moments of meeting a head of state, Prince George greeted former President Barack Obama and Michelle Obama in April 2016, when the president and first lady visited England. The couple met Prince William, Catherine, Princess of Wales and Prince Harry for a dinner at Kensington Palace. George, then only 2 years old, was allowed to stay up past his bedtime to greet the famous couple, who had gifted him a rocking horse and a stuffed animal of a Portuguese water dog, a breed that the Obamas loved and had at the White House. George met the Obamas in a monogrammed house coat and slippers, like the wee boss he is, and stayed in the living room with them for about 15 minutes before the adults had dinner. 
Obama also dined with the late Queen Elizabeth II and it was his meetings with the queen and George that were especially memorable for him. Later during his visit to Lindley Hall in London, Obama remarked, "It is wonderful to see all of you. I guess you all know why I came here. Nothing was going to stop me wishing happy birthday to Her Majesty and meeting George – who is adorable" (per Daily Mail). That interaction might count as the most precious political meeting ever. And now we know what kind of pajamas little George wore. 
Prince George met David Beckham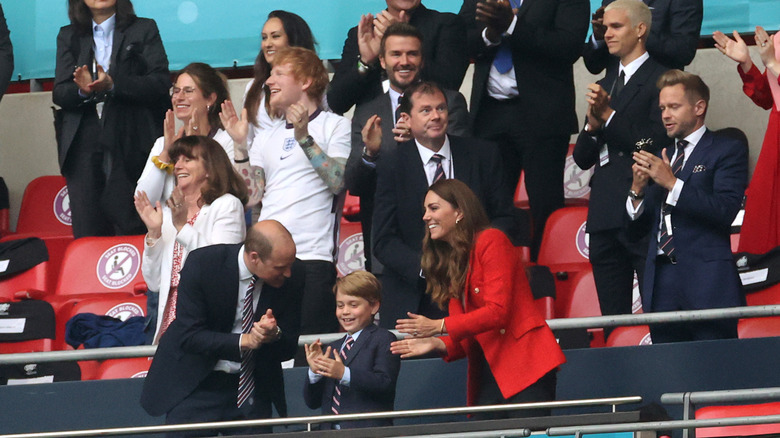 Carl Recine - Pool/Getty Images
Prince George joined his parents Prince William and Catherine, Princess of Wales for the UEFA Euro 2020 Championship soccer game in June 2021, as England and Germany competed at Wembley Stadium in London. George, only 7 at the time, was the talk of the town, especially because it was his first time at a sporting event like that. He wore a blazer and tie, looking like a miniature version of his father at the event. Adorably, when the stadium stood to sing England's national anthem, "God Save the Queen," George seemed more interested in checking out the crowd and the sights and didn't do a very good job of chiming along. 
Close behind William, Catherine, and George were David Beckham and his son, Romeo Beckham. Before the game kicked off, the two families got to say hello to one another, making the soccer game a very special one for George. Not only did he get to watch the game, but he also got to meet one of England's legends. In fact, William and Beckham go way back and have been friends for decades. Beckham and his wife, Victoria Beckham, attended William and Catherine's 2011 wedding, so it's not terribly surprising that George got to meet his parents' longtime friend and star.
Princess Charlotte and Prince George met Justin Trudeau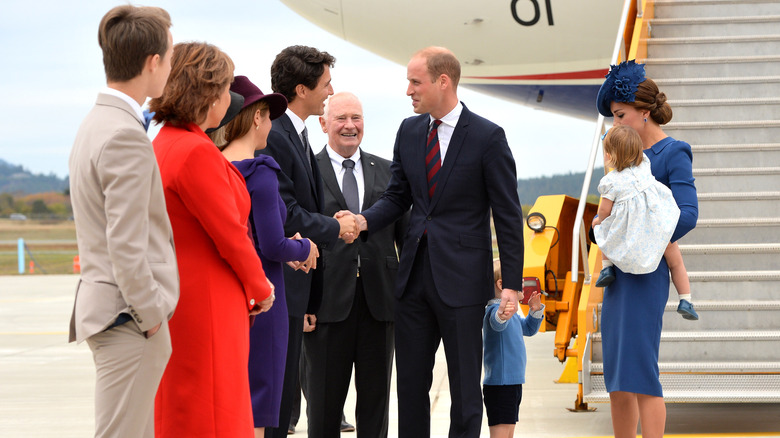 Pool/Getty Images
Prince William and Catherine, Princess of Wales visited Canada shortly after their 2011 wedding on one of their first royal tours as a couple. William and Catherine returned in 2016, this time with Prince George and Princess Charlotte in tow. The trip was a significant one, as it marked the family's first trip as a foursome. (Prince Louis, of course, had not been born yet.) In fact, Prime Minister Justin Trudeau invited the family of four to celebrate the 150th anniversary of Canada, so it was planned well in advance. Trudeau's director of communications, Kate Purchase, told The Globe and Mail: "The Prime Minister certainly has invited William and Kate [Middleton] and family to come to Canada whenever they are available on their schedule." 
The Wales family arrived in Victoria, British Columbia, where they were greeted by Trudeau and his then-wife, Sophie Grégoire Trudeau, and other Canadian figures. George and Charlotte got to meet these political personalities as they disembarked from the aircraft. George arrived as adorable as could be, in black shorts and black knee-high socks with a blue sweater. Meanwhile, little Charlotte wore a pale blue dress with short, white socks and blue shoes. Catherine paid tribute to Canada by wearing the late Queen Elizabeth II's diamond maple leaf brooch. Like her children, she wore blue, and they all looked impeccable and happy to be there. 
Ben Affleck's kids played with the Wales kids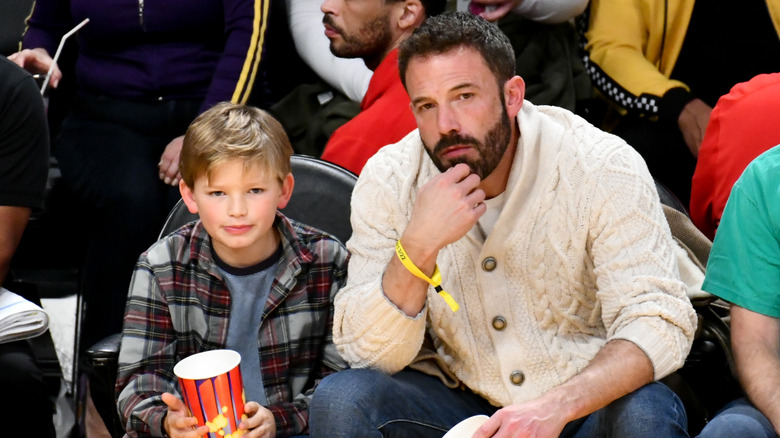 Allen Berezovsky/Getty Images
Ben Affleck's son, Samuel Affleck, played with Prince George and Princess Charlotte. Hilariously, the event was completely unplanned. Ben was in London filming "Justice League," when he took the then-4-year-old Samuel to an indoor play place where George and Charlotte happened to be playing. Ben spoke about the experience on "The Graham Norton Show" in November 2016. "I noticed this weird vibe from the other grown-ups," Ben explained. "They were all very well dressed and they had earpieces and I thought, 'For a kids' place this is tight security!' I was the very last person to realize that Prince George and Princess Charlotte were in there playing with my kid." Ben explained that Samuel got sick during his time in London and his dad joked, "I can now tell [Sam] that he got a cold from the King of England!" Clearly, it was a memorable experience for Ben, but something tells us that all of the kids involved were pretty unfazed.
George and Charlotte met King Felipe at Wimbledon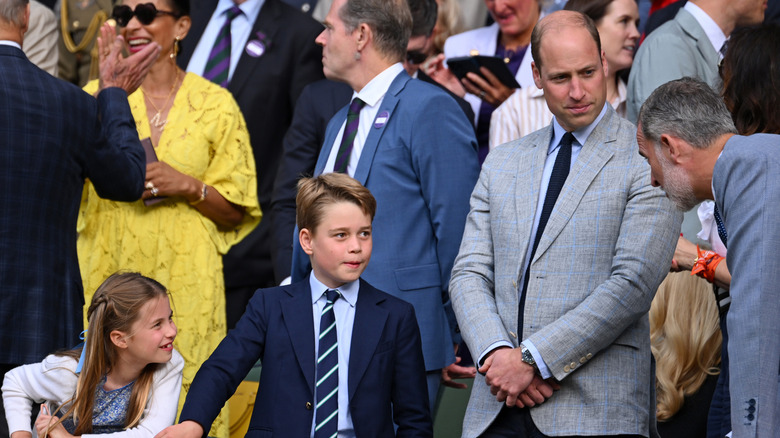 Karwai Tang/Getty Images
Spain did quite well at Wimbledon 2023, with Carlos Alcaraz beating Serbia's Novak Djokovic in the men's singles finals. So it's no wonder that Spain's royalty was also in show, cheering on their own. King Felipe VI of Spain was in the Royal Box at Centre Court along with Prince William; Catherine, Princess of Wales; and Prince George and Princess Charlotte. Since the king was in such close proximity to the Wales family, it's no surprise that he stopped to chat with them, including the two youngsters. 
The touch of royalty at the event, from both England and Spain, was a big deal for the players. When Alcaraz won, he said in a post-game interview on court: "It's special to play in front of royalty. King Felipe, I am really proud that you are here supporting me. When I played in front of you twice, twice I won — I hope you are coming more! It is really special, and I have to thank you for coming and supporting." So it was a major moment for Spain, but also a chance for royal families to meet and reconnect. 
Tom Cruise and Prince George sat a few rows apart at the 2020 UEFA Euro Championship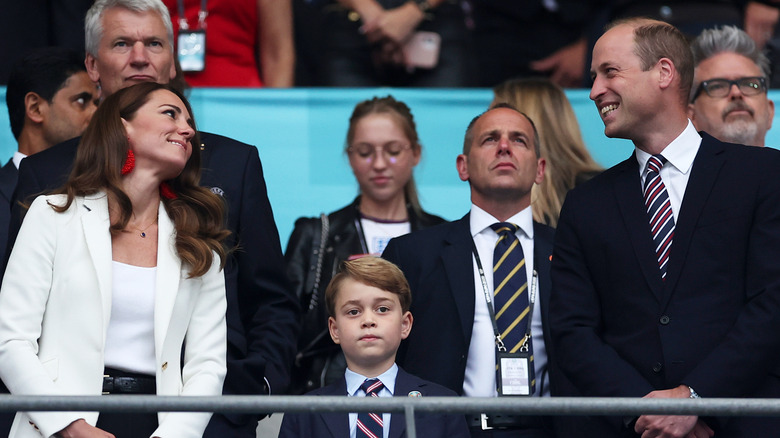 Eddie Keogh - The Fa/Getty Images
Tom Cruise was in England in 2021 to film "Mission: Impossible – Dead Reckoning Part One," a film that was majorly stalled by the coronavirus pandemic. While the film neared its wrap, Cruise took advantage of the events in London to attend the 2020 UEFA Euro Championship at Wembley Stadium. It was the final match between England and Italy, and Prince George was in attendance along with Catherine, Princess of Wales and Prince William, who is the president of the Football Association. George was adorably animated and lively at the event, cheering along with his father and hugging his mother when England scored a goal. Like Cruise's movie, the game was delayed by a year because of the pandemic, which somehow added to the liveliness of the crowd. They had been waiting for this moment for a long time. 
Cruise was situated only a few rows back, near David Beckham. Tatler made much of the fact that Cruise, Beckham, and George were accidentally twinning, all in suits. There were a lot of A-listers situated in a small area, and George was front and center. Tragically, England lost the game, prompting William to tweet his regret and his happiness for Italy. "Heartbreaking. Congratulations @Azzurri on a great victory," William began. "@England, you've all come so far, but sadly this time it wasn't our day. You can all hold your heads high, and be so proud of yourselves — I know there's more to come. W." 
George and Charlotte met the cast of The Rings of Power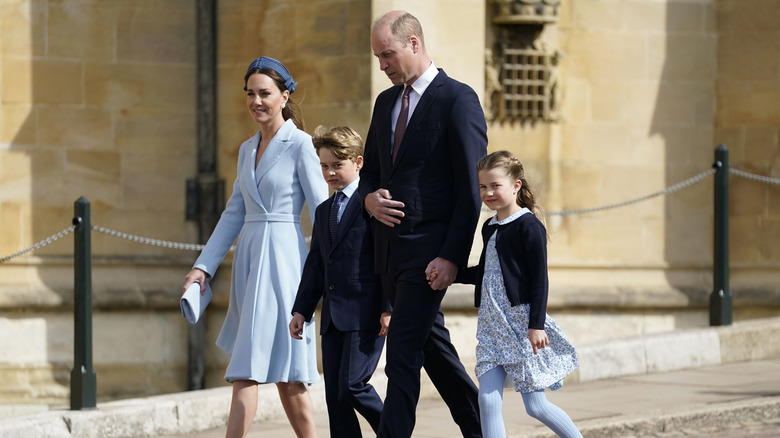 Wpa Pool/Getty Images
Prince William and Catherine, Princess of Wales took their two eldest, Prince George and Princess Charlotte, to the set of "The Lord of the Rings: The Rings of Power." The family, minus Prince Louis, ventured to the set of the Amazon Prime production in February 2023 to get a sense of the setting and to meet the cast and crew. They arrived at a forest in Buttersteep Rise, Ascot with security and got to see the behind-the-scenes work. "William is a huge fan of the films so jumped at the chance," an insider told The U.S. Sun. "They were introduced to the major cast members and were shown around the set. It was all hugely exciting for George and Charlotte who loved looking at the props and how everything was laid out." The source noted that it was too late at night for Louis to join the family; they also added that the cast felt very honored by the visit.
William is indeed a big fan of "The Lord of the Rings." Back in 2014, he went to the premiere of "The Hobbit" and met Martin Freeman, the actor who plays Bilbo Baggins. Freeman said of William, "He knew all the facts about Middle Earth and I think I kept him talking too long." Considering how much William loves that world, it was obviously exciting for him to take his kids to see the newest production in "The Lord of the Rings" franchise. 
George and Charlotte congratulated Carlos Alcaraz on his Wimbledon win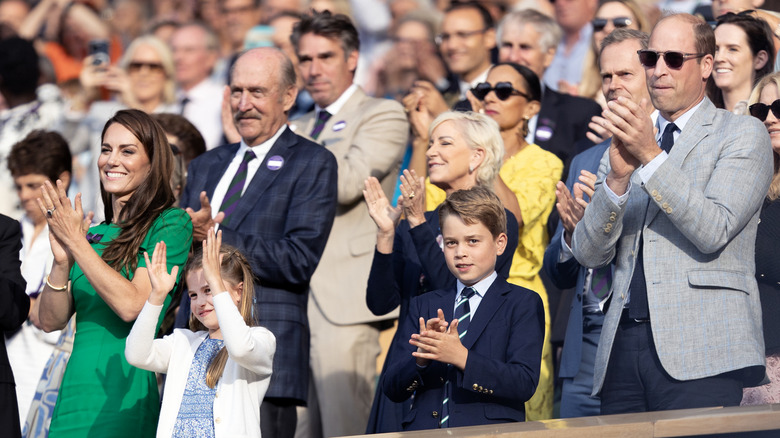 Tim Clayton - Corbis/Getty Images
Princess Charlotte and Prince George were adorably energetic at Wimbledon 2023, cheering during the game and being effusive audience members in their front-row seats in the Royal Box. This was certainly the case when Spain's Carlos Alcaraz played in the men's singles finals as he beat Novak Djokovic. Charlotte and George gasped; they covered their faces in horror and held their breath as the match was underway. Any body language expert in the world could tell that George and Charlotte were emotionally invested in the game and knew the rules of tennis on top of that. The royal children play tennis themselves, with all of them practicing. In fact, according to The Sun, Catherine spoke to a ball boy, Joel, of the All England Club, telling him that even young Prince Louis was trying to get the hang of being a ball boy himself. "He (Louis) tries to practice the standing and staying serious like us," the ball boy later said. No wonder Charlotte and George knew what was going on during the game. 
Since Catherine, Princess of Wales is the patron of the All England Lawn Tennis and Croquet Club, she was very busy at the event and handed Alcaraz his trophy. While George and Charlotte were lively during the games, they were shy and reserved when they got the chance to actually meet Alcaraz after the game. They stayed close to their mother and clapped in awe. While they've met their fair share of famous people, Alcaraz was obviously one figure who impressed the Wales kids! 
Princess Charlotte met swimmer Warren Lawrence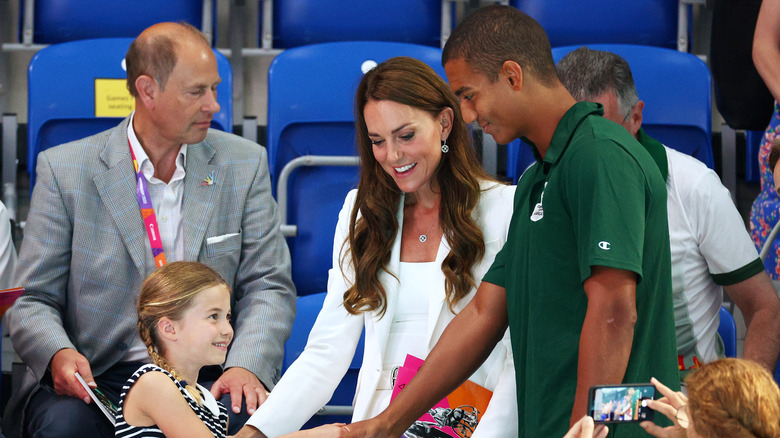 Elsa/Getty Images
In August 2022, Princess Charlotte got to join her parents Prince William and Catherine, Princess of Wales for the Commonwealth Games. The young princess, who was 7 at the time, energetically watched from the sidelines with her parents as they took in several different kinds of sports. They watched swimming, gymnastics, and hockey. The family also stopped off at the SportsAid venue, where Charlotte pinned a medal on England's medal chart. Catherine, Princess of Wales is actually a patron of SportsAid, a British charity that helps young athletes reach the Olympics, Paralympics, and the Commonwealth Games. Catherine became a patron in 2013; and her attendance at the Commonwealth Games, along with Prince William and Charlotte, was well documented on the SportsAid website. Clearly, royal patronage is a big deal for charities. The event was a win for Charlotte too, who got to meet Dominican swimmer Warren Lawrence. Photographers caught the sweet interaction, as a very excited Charlotte greeted the swimmer while standing with her parents. 
Of all of the sports that the family has watched, soccer is Charlotte's favorite. When William met with the England national women's team earlier in 2022, he said of his daughter, according to Us Weekly, "Charlotte wanted me to tell you that she is really good at goal. She said, 'Please tell them that.' She's a budding star for the future." Judging from how invested she seems to be in sports, it's entirely plausible!