Stephen Colbert Knew He'd Marry His Wife Evelyn McGee-Colbert The Moment They Met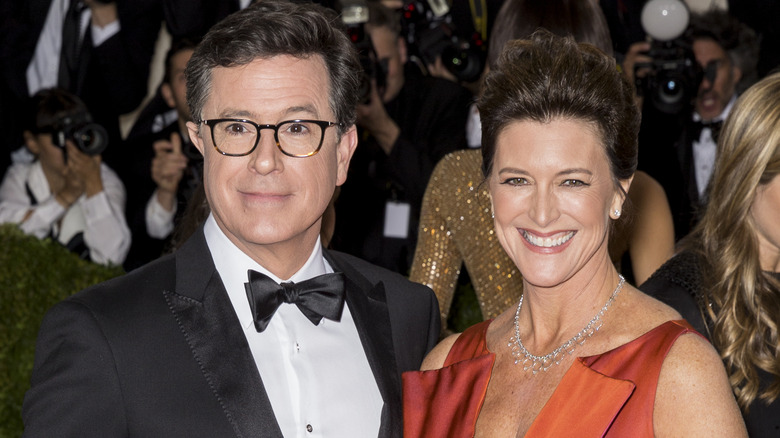 Ovidiu Hrubaru/Shutterstock
The idea of seeing someone across a crowded room and instantly knowing they are your soulmate is what fairy tales are made of, but for Stephen Colbert, that's just how he met his wife, Evelyn McGee-Colbert. When a "The Stephen Colbert Show" audience member asked him how he met his wife, Colbert told the story. He met Evelyn while back in his hometown, and as soon as he saw her, he knew he had to meet her.
Oddly enough, he was already seriously involved with another woman at the time. He began the story by saying that he had been dating his then-girlfriend for a few years when she gave him an ultimatum — either get married or break up. 
He didn't know what to do, so he told his girlfriend that he needed to go home to Charleston, South Carolina. He needed some time to figure things out, explaining that being at home for a week would help him feel more centered and grounded. So, off he went.
Stephen Colbert's mother told him all he needed to know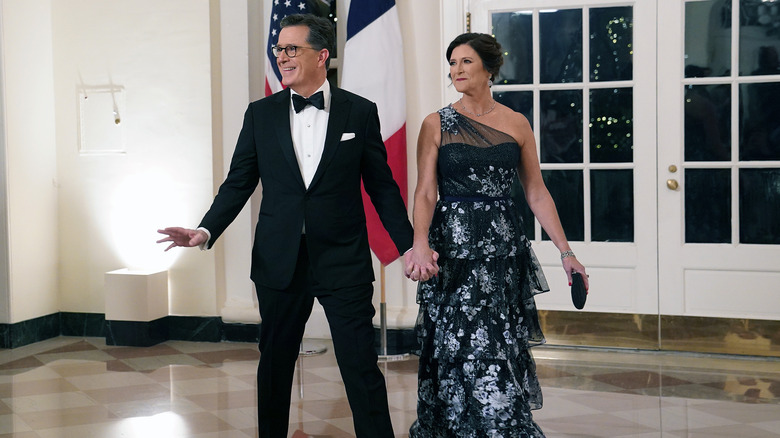 Nathan Howard/Getty Images
When Steven Colbert flew home, his mom picked him up at the airport and noticed that he was distracted. Colbert told her why and about his girlfriend's ultimatum. She simply asked if he wanted to marry her, and when he said he didn't know, she responded, "I don't know isn't good enough." That's when Colbert knew he didn't want to marry her and would be breaking up with her after the week was over.
Colbert's mom was involved in a theater production and asked him to go with her, so he did. At the theater, Colbert looked over and cast his eyes on the then-Evelyn McGee, whom he would eventually marry. He described how stunning she was in a black dress. "Honest to God, I thought, 'There's your wife, you're going to marry her,'" he said. "And I thought, 'That's crazy, you do not have a voice in your head that says that, forget it.'" 
Colbert went on to describe how they were looking at each from afar a few times during the night. And at the afterparty, Evelyn walked near him and apparently cut in line to grab some strawberries. He did not want to have any regrets, so he said, "You will kick yourself for the rest of your life if you do not turn around and say hello to her."
Stephen Colbert and Evelyn McGee-Colbert have been married since 1993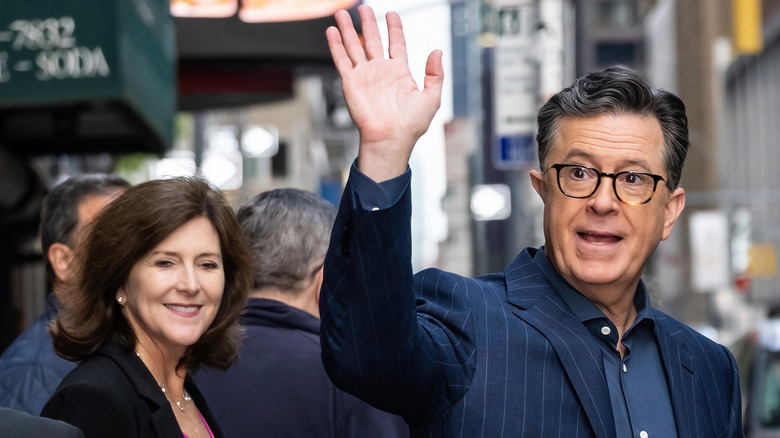 Gilbert Carrasquillo/Getty Images
Stephen Colbert said he purposely turned away from her thinking she was just being polite. He described it at the most harrowing minute of his life and said, "What if she'd gone away? But she didn't. She was still there when I turned around, smiling at me." He ended the sweet story with "And now we're married." The Colberts were married in 1993 and moved to New York City. The couple have three children, Madeline, Peter, and John.
Evelyn McGee-Colbert fondly remembers seeing how Colbert was with his mother was very endearing. "He walked in with his mother on his arm. I was thinking, 'That man loves his mother,'" she explained in an interview with Montclair Local.
Now, Stephen and Evelyn Colbert are not only married but they work together, too. Stephen founded Spartina Productions, which signed a three-year deal with CBS to produce television and streaming content, via Variety. He and Evelyn are both principals in the company.