Diamond Pro Tells Us Jonathan Scott's Design Skills Shine In Zooey Deschanel Engagement Ring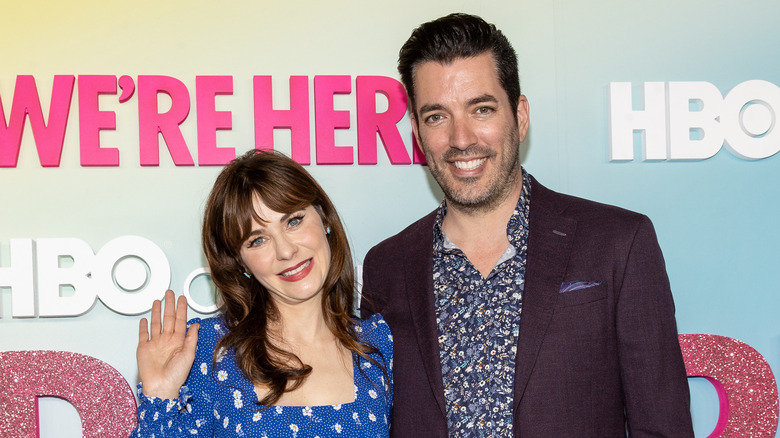 Emma Mcintyre/Getty Images
Yes, those are wedding bells you're hearing! After four years of dating, Zooey Deschanel and Jonathan Scott are officially engaged. On August 14, Deschanel made the announcement on Instagram by sharing a photo of herself snuggled up to the "Property Brothers" star. "Forever starts now!!!" the "Physical" actor captioned her pic. The caption also features an infinity symbol hugged between two love emojis, implying the couple's future together.
But there's a third subject in the viral photo that stole everyone's attention — Deschanel's enormous engagement ring. Fans and friends alike couldn't help but take notice of the gorgeous jewelry adorning the actor's hand. Melanie Lynskey of Showtime's "Yellowjackets" wrote, "Aaaaahhhhhhhh so happy for you both!!! This is wonderful! What a beautiful ring too."
The unique color and extraordinary size of each stone suggest that this is an engagement ring that had a ton of love and thought put into it. Mike Fried, CEO of The Diamond Pro, agrees: "Zooey's engagement ring is completely customized and entirely gorgeous." The diamond expert was kind enough to dive into the details we've all been dying to know about the stunning ring, exclusively telling The List its likely cost and the meaning behind the custom design.
The costly ring's design is tailored to Deschanel's personality, expert says
Glittering white and purple, Zooey Deschanel's engagement ring has certainly grabbed our attention. One aspect of the ring that we can't get enough of is its long, swoosh shape. Diamond expert Mike Fried explained that the shape is formed by three stones. "It features three stones in a swooping design. The stones appear to be two diamonds flanking a purple stone," Fried pointed out. Speaking of the purple stone that's sure to start an engagement ring trend, Fried has narrowed down what the stone might be. He states, "It could be a diamond, sapphire, or alexandrite."
Zooey Deschanel is known as one of Hollywood's sweetest, quirkiest actors. The ring that Jonathan Scott designed for her mirrors her lovable personality. "What stands out the most is the ring's intricate design," Fried detailed. "It is far from a traditional or classic ring. Zooey is a one-of-a-kind person, and it's evident that Jonathan Scott sees that and values that about her."
Scott spared no expense on the ring, either. "Each stone looks to be around 3 carats, making the total value near a quarter of one million dollars," Fried deduced. We can't wait to see what their wedding rings (and ceremony!) will look like.