What Is Prince Albert Of Monaco's Relationship With The British Royal Family Like?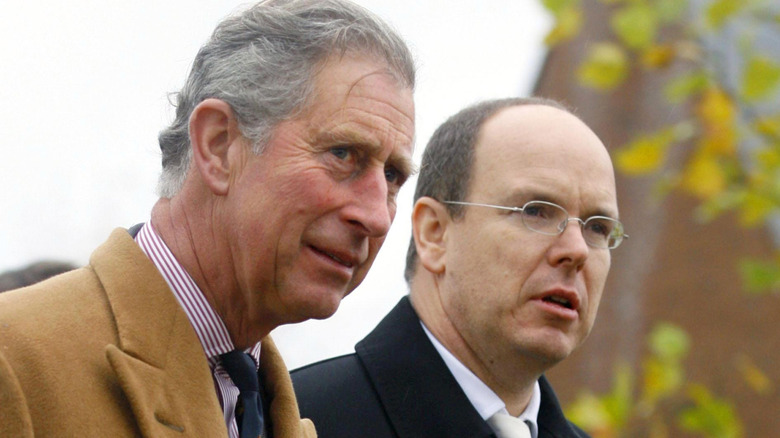 Tim Graham/Getty Images
While not as widely covered or internationally known as their British counterparts, Monaco's royal family is influential in its own right — especially Prince Albert of Monaco, who has been in the spotlight since his birth in 1958.
Albert is the son of Prince Rainier III and Grace Kelly, the famous Hollywood actor who married into Monaco's royal family. With his wife Princess Charlene by his side, Albert weathered a number of personal scandals and has emerged as the reigning sovereign of the small principality located southeast of France. According to the Embassy of Monaco, the United Kingdom and Monaco work closely together. "It is important to allow that special relationship to thrive by building bridges between the London and Monegasque communities," the embassy asserts. Albert has set an example in this regard, having been spotted supporting British royals during their highest points, like coronations and royal weddings, as well as their lowest, like Queen Elizabeth II's funeral.
But just what is Prince Albert of Monaco's personal relationship with the British royal family like? Here's a look. 
Prince Albert and Queen Elizabeth were actually distant cousins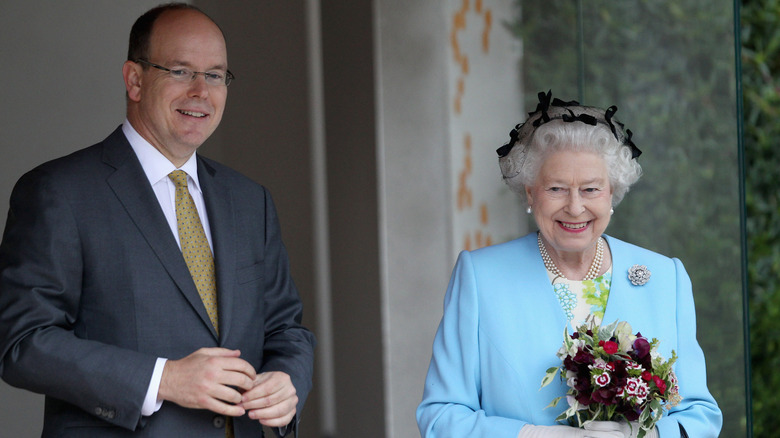 Chris Jackson/Getty Images
The British royal family has far-reaching familial connections. Although married, Queen Elizabeth II and Prince Philip were distantly related, and Princess Catherine even has distant ties to the firm. Included in that pack is Prince Albert II of Monaco, who is a far-removed cousin of the late queen.
Back in the 1800s, a member of Britain's high society who was an ancestor of the queen, Lady Mary Victoria Hamilton, married Prince Albert I of Monaco. Joining the House of Grimaldi, Lady Mary married Albert I in an arranged marriage — the couple only crossed paths four weeks before tying the knot at France's Château de Marchais. Lady Mary and Albert I had a son, Louis, a year after they got married, but that was not enough to save their ill-fated union. Lady Mary quickly became disillusioned in Monaco, leaving Albert I. In a shocking twist for the time period, the union was annulled in 1880.
Louis, who lived from 1870 and died on the throne in 1949, is Albert II's great-grandfather, bringing the connection he has to the British royals full circle. Thanks to Lady Mary and through a connection to Princess Alice of Battenberg, Elizabeth's mother-in-law, the royal families of Britain and Monaco are intrinsically linked.
The queen skipped Albert's wedding and sent a representative instead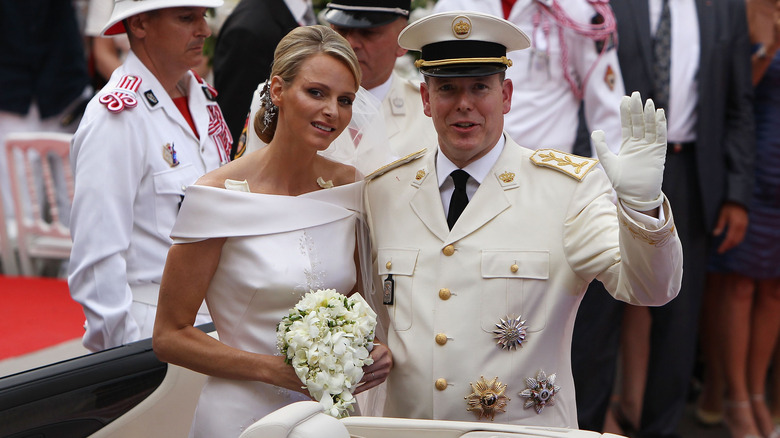 Dan Kitwood/Getty Images
Although Prince Albert of Monaco has rich connections with the British royal family, their dedication to one another didn't always reach the highest ranks. Albert has engaged in some rather personal scandals, including having children out of wedlock. When he finally tied the knot with Princess Charlene in 2011, the world watched in awe, given that the rambunctious bachelor was finally settling down. And while their motivations for not attending were never disclosed, Queen Elizabeth II and Prince Philip didn't make the trip to Monaco to join the 3,500 guests to take in the nuptials.
Deciding to miss the event was an interesting choice for the queen, given the guest list. The ruling kings of Sweden, Belgium, Lesotho, and Spain were all in attendance, as were the presidents of Ireland, Malta, Germany, France, Iceland, Hungary, and Lebanon. The ceremony was a who's who of international royals and politicians, but the queen stayed put in Britain. Instead, she sent her youngest son, Prince Edward, as the British royal family's representative at the lavish affair. 
Prince Albert felt for Harry and Meghan ahead of their wedding and offered some advice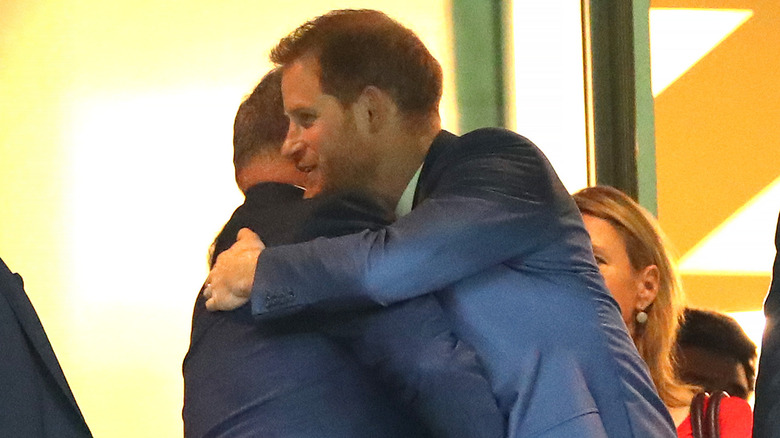 Cameron Spencer/Getty Images
Ahead of Prince Harry and Meghan Markle's wedding, Prince Albert of Monaco imparted some royal knowledge to them. "I know Prince Harry and he's a wonderful young man," Albert told Hoda Kotb on NBC's "Today." "If they ask me, I would give them that advice, to make sure they have their intimate moments and to preserve those as much as possible because that's so important for the balance of your life but also for your children you're going to have.
His comments echoed a sentiment he previously shared with People in 2017, when he expressed concern for the then-new couple as they navigated the media and the judgment they would encounter. "Sooner or later, she's going to have to face the full onslaught," Albert said of Meghan. [It's] a pretty tough act, especially in the British royal family, which is scrutinized by the press as no one's been."
Prince Albert attended Prince Philip's memorial service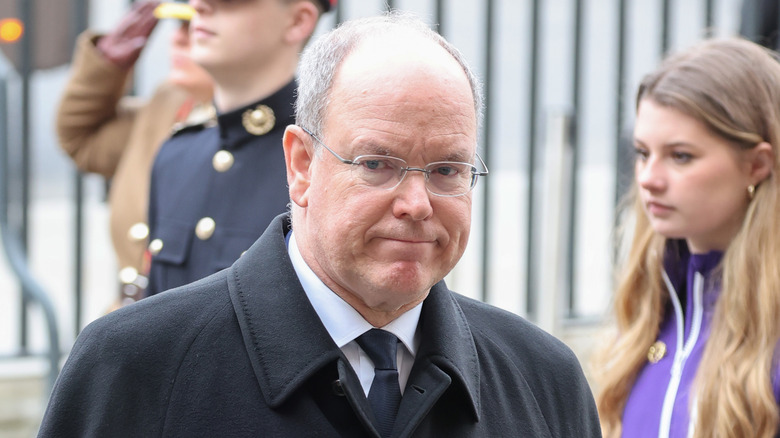 Chris Jackson/Getty Images
Though he had retired from public life and his health was declining, it was a monumental loss when Prince Philip died in April 2021. Queen Elizabeth II's husband, her longest-serving consort, was a foundational member of the British royal family. When it came time for Philip's memorial, Prince Albert of Monaco was in attendance to say a final farewell.
As it turns out, Philip had a lifelong connection to the country of Monaco. His father, Prince Andrew of Denmark and Greece, died in Monaco back in 1944. Philip, meanwhile, traveled there while in the Royal Navy, making a stop as part of his voyage on the HMS Magpie in 1951.
Following Philip's death, the Prince of Monaco sent his condolences to the queen in the form of a thoughtful letter. "Allow me to express to you, the members of the royal family and the British people, my most sincere condolences and my deep sympathy for your loss at this time of great sorrow," he wrote.
Albert gave insight into King Charles III's headspace before the coronation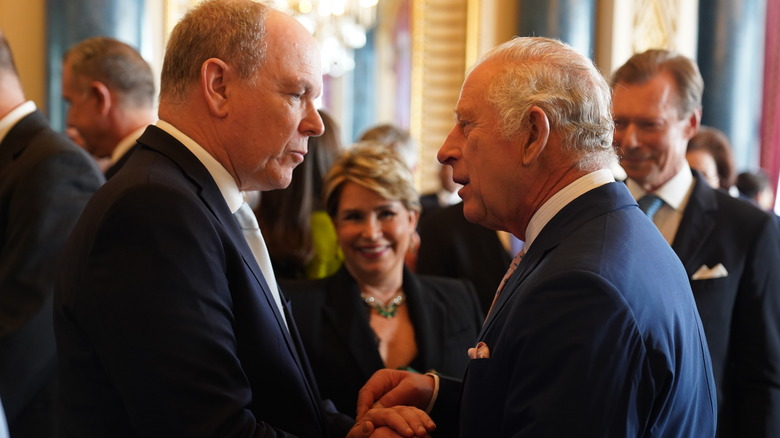 Wpa Pool/Getty Images
All eyes were on King Charles III when his coronation finally rolled around. Shedding light on his mental state was none other than Prince Albert of Monaco. Having known Charles for years and occupying a similar royal role in his own country, Albert spoke to the new king's unique experience and headspace while interview on "A Right Royal Podcast."
"You pretty much know what's going to happen and you learn to prepare for it. But, of course, it is a very emotional moment. And you feel a little nervous and a little anxious to see that everything will go well, but it's not overwhelming," Albert said at the time. "Yes, you want to be able to share it with your family and those around you, but you also want everything to run smoothly and not last too long. When you know that things are well organized and well planned, it makes the anticipation of the event a little easier."
That wasn't the only insight Albert gave. When speaking to People ahead of Charles' coronation, he revealed what he expected of the event. "I'm certain that it's going to be an incredible ceremony and a very moving one," the Prince of Monaco noted. "I'm certain His Majesty will add his own 'personal touches' to the ceremonies."
King Charles and Prince Albert are 'old travelling companions'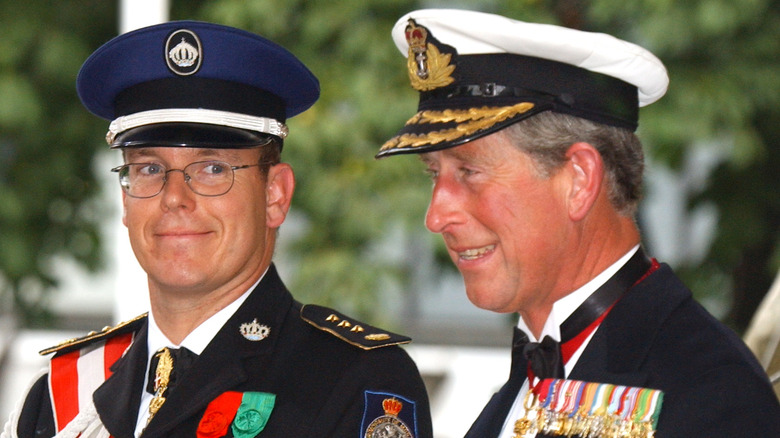 Antony Jones/Getty Images
For years, King Charles III was known as the royal bachelor who simply wouldn't settle down, not marrying Princess Diana until he was in his 30s. Prince Albert of Monaco fell firmly into the same camp, having not married his wife Charlene until he was 53. The Britsh king and the Monégasque prince bonded over their shared singlehood back in the day.
After Charles' May 2023 coronation, Albert recalled a conversation shared between them as they relived their days as single royals who marched to the beat of their own drums before finally settling down, according to Express. "I congratulated him and he reminded, especially Princess Charlene, that we are old travelling companions [to] funerals and weddings since most often to attend these ceremonies, you have to enter two per to and we were single. So we were often put side by side."
Albert also told People, "If there was a procession to march in and out of, say, a hall or cathedral, or when people needed to be announced, we would always be paired together because we were 'the two single royal guys.' It became kind of a 'Here we go again!' situation, which happened to us so often that we'd laugh about it." Recalling that he and Charles got so comfortable with one another that they'd say, "Oh, I see you're here, so I guess we're gonna end up walking down the aisle together again.'" Albert confessed that he found entire ordeal funny.
Albert and Charles became linked by COVID-19 in an unfortunate way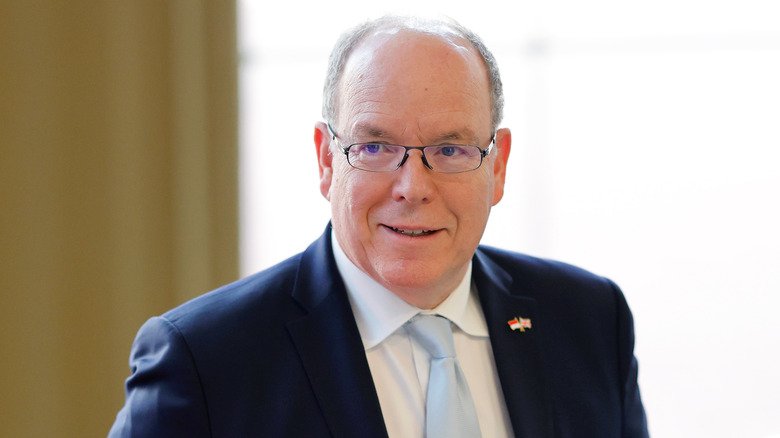 Max Mumby/indigo/Getty Images
In 2020, King Charles III, then Prince Charles, was diagnosed with COVID-19 — and Prince Albert of Monaco may have had something to do with it.
About a week and a half after traveling to England to take part in a roundtable event with Charles, Albert announced that he had tested positive for COVID-19. His spokesperson at the time maintained that the prince was in good health and that doctors were paying close attention to his recovery. Charles, unfortunately, tested positive shortly thereafter, and the two royals were inevitably linked by the illness. However, Clarence House made it clear that fingers were not being pointed specifically at Albert.
"It is not possible to ascertain from whom the prince caught the virus owing to the high number of engagements he carried out in his public role during recent weeks," Charles' spokesperson said at the time. Still, it was an unfortunate shared experience to connect the two royals, who were together only days prior.
Albert and his wife joined the royal family at Queen Elizabeth's funeral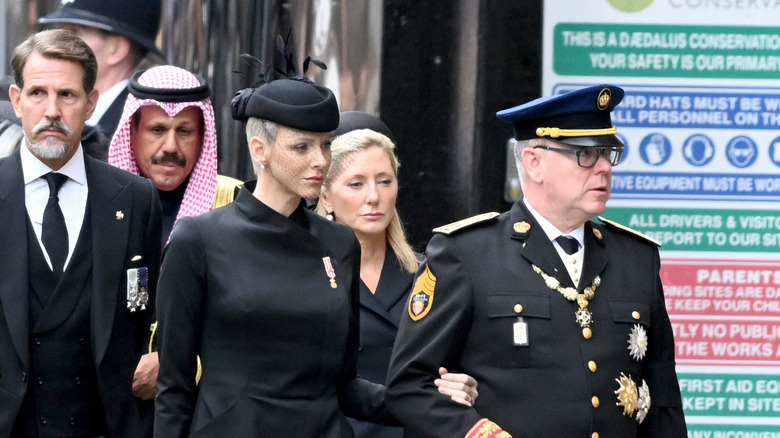 Samir Hussein/Getty Images
When Queen Elizabeth II died in September 2022, the world, including Monaco, mourned her passing. The Prince's Palace of Monaco flew its flag at half mast, and Prince Albert issued his heartfelt sympathies to King Charles III and praised the late monarch.
"It is with profound sadness that My Family and I learned of the passing away of your beloved mother, Her Majesty Queen Elizabeth II. ... Her Majesty's unwavering commitment and dedication to duty during Her reign has always been extremely inspiring; It will be long remembered and admired. She truly represented the unity and dignity of the United Kingdom throughout the last seven decades," the prince wrote.
Given his deep connection to the British royal family and the queen herself, Albert traveled to Britain to attend her state funeral, reuniting with the royals to commemorate the life and reign of the monarch. Albert, dressed in his state uniform for the somber occasion, was accompanied by his wife, Princess Charlene.
Charles and Albert work closely with one another on environmental causes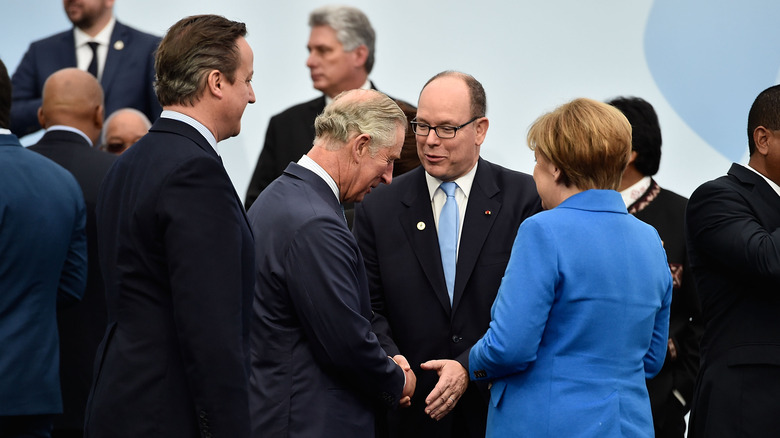 Pascal Le Segretain/Getty Images
Although the members of the British royal family are typically known for keeping their opinions to themselves, King Charles III has adamantly advocated for environmental causes throughout his life. Joining him in his work is none other than Prince Albert of Monaco, with the two having worked together on a number of projects related to conservation. As Albert told People, the two attended the "Our Ocean" conference together in Malta back in 2017.
Commenting on their joint efforts, Albert told the publication that he is eager to see how Charles' work will evolve now that he's on the throne. No matter what, the prince of Monaco expressed, he is grateful that Charles has been dedicated to their mutual cause.
"The king has been very much in the forefront. He was the first major figure of state, a leader of opinion, to commit himself to environmental protection. He really began in the 1980s — and in many pioneering ways. In sustainability and really in every aspect of it. In architecture, for example, and in using different designs, even to small town designs," Albert said. "I admire his fight for several great battles. For the improvement of architecture. For energy sustainability, against deforestation and on a number of environmental issues. These are concerns on which we've frequently exchanged views."
Prince Albert disapproved of Harry and Meghan's famous Oprah interview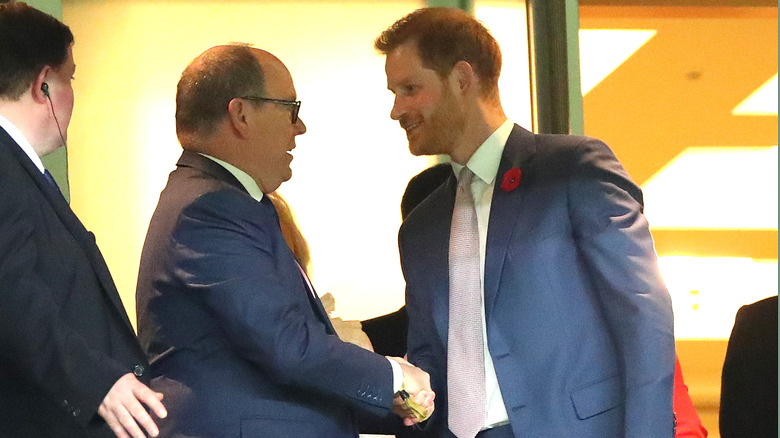 Cameron Spencer/Getty Images
Prince Harry and Meghan Markle's sit-down with Oprah Winfrey was the interview watched around the world. The couple shared their royal experience publicly, and while some praised their vulnerability, others took issue with the exchange — Prince Albert of Monaco being one of them.
Reacting to the bombshell interview during an appearance on BBC World News, Albert said that while it would be difficult to place himself in Harry and Meghan's shoes, he didn't think that such a widely-watched conversation was the proper venue for the Duke and Duchess of Sussex to air their grievances.
"This type of public display of dissatisfaction ... these types of conversations should be held within the intimate quarters of the family. It doesn't really have to be laid out in the public sphere like that," Albert said of the Oprah interview, adding that it bothered him to watch Harry criticize his experience within the firm. "I can understand where they're coming from in a certain way," Albert admitted, "but it wasn't the appropriate forum to be able to have these types of discussions." Albert went on to issue a warning to Harry that the outside world — a far contrast to the royal environment in which he grew up — would be tough. "I hope he can have the judgment and wisdom to make the right choices," the Prince of Monaco concluded.