Tragic Details About Maren Morris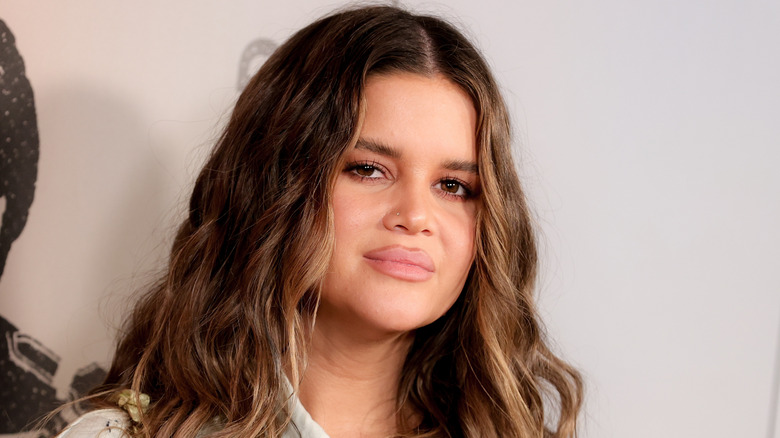 Rich Fury/Getty Images
Maren Morris is not your average country star. From the moment she burst onto the scene, the singer-songwriter has continued to shake up the ethos of country music. Morris made her major label debut in 2016 with "My Church," and the soulful tune scored her a Grammy for Best Solo Country Performance. Her breakout album, "HERO," peaked at No. 5 on the Billboard 200 chart. In 2018, the songstress teamed up with EDM artist Zedd to create their six-time platinum earworm, "The Middle." After three chart-busting albums, an iconic crossover, and several world tours, Maren Morris seems to be just getting started.
As her career soars, Morris doesn't just want to influence the sound of country music — she also hopes to transform the genre into a more inclusive space. A champion for parity in the music industry and an outspoken advocate for LGBTQ+ rights, Morris received the GLAAD Excellence in Media Award in 2023 — a first for any country music artist. "I'm not brave... making the right decision shouldn't take bravery or courage. It shouldn't take heroic effort to want basic human rights for everybody," Morris said during her acceptance speech.
These days, Morris has plenty to be grateful for. Still, the country singer's life hasn't always been as charmed as you might think. From heartbreaking loss to postpartum depression, tragedy has come knocking for Morris on several occasions. 
Maren Morris was rejected numerous times before hitting it big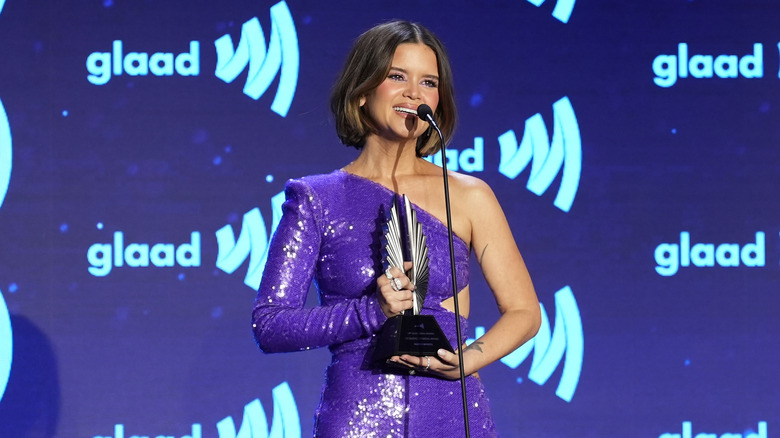 Ilya S. Savenok/Getty Images
Maren Morris fell in love with performing as a child — but she took a few detours before reaching country music stardom. In an interview with Bustle, the Texas-born singer recalled learning to play guitar at age 12. By 18, Morris was uncertain about her path in life. "[A]ll my friends from high school were going off to college, and I was still playing honky-tonks and roadside bars around Texas," Morris said. "At that point I was like, 'I think I would like to take a break from this career thing and try something else.'" After one college semester, Morris realized she wasn't interested in collegiate life. "Shortly after that, I decided to save money to move to Nashville," she recalled.
After landing in Music City, Morris assumed the role of the starving artist. Fellow rising star Kacey Musgraves offered Morris a couch to sleep on, and she tried her best to stretch out every last dollar of her savings. While trying to make it in the industry, she was turned down for numerous opportunities — including "American Idol." As she said on "Today," "One of many shows I tried out for and didn't get." After nearly giving up on her dream, Morris released her first hit, "My Church," which climbed to No. 5 on the country music charts. In 2022, the superstar wrote "Circles Around This Town" to memorialize her early days in Nashville.
Maren Morris was deeply affected by the Route 91 Harvest Festival shooting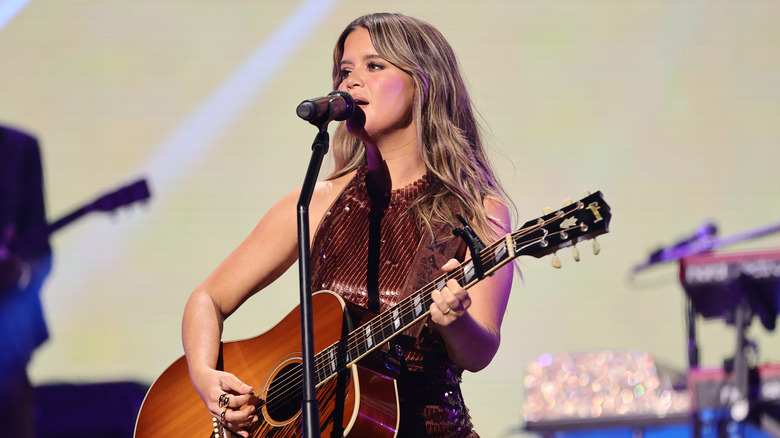 Matt Winkelmeyer/Getty Images
On October 1, 2017, thousands of country music fans gathered in Las Vegas for the Route 91 Harvest Festival. A musical performance had just kicked off when a man began shooting into the crowd from a nearby hotel room window. It was the start of the deadliest mass shooting in U.S. history. The gunman killed 58 people and injured hundreds more. As the nation mourned, the country music community struggled to come to terms with the senseless attack.
Maren Morris joined in the outpouring of grief. The shooting hit home for the songstress, who had performed at the Route 91 Festival one night before the massacre. Reflecting on the impact of violence and hatred in our society, Morris wrapped her sorrows into a song. On October 2, 2017, the singer tweeted a YouTube link to her newly-released tune, "Dear Hate," and included a message that read, "Hate is everywhere, and I'm sick of not doing enough. ... Here is 'Dear Hate.' Any cent I see from this I'm donating to the Music City Cares Fund." Morris later explained that "Dear Hate" was intended to be a message of hope during a moment of deep despair. "I've had it for years and just never knew when to release it, and then when the Vegas shooting happened ... it just felt like the right time," she told Taste of Country. "It was time for the world to hear it."
She suffered from postpartum depression after the birth of her son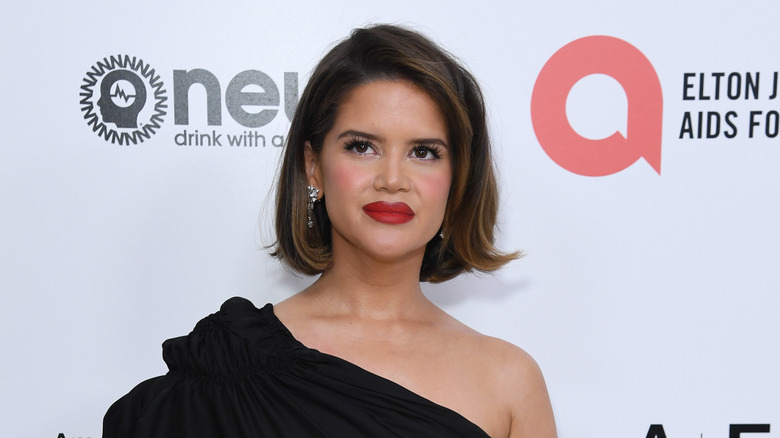 Jc Olivera/Getty Images
On March 23, 2020, Maren Morris and husband Ryan Hurd welcomed their son, Hayes. Although Hayes arrived in good health, his birth was more complicated than expected. After 30 hours of labor, the baby was delivered via emergency C-section. Morris told Little Spoon that she regretted being unprepared for what comes with recovering from a C-section. "The postpartum of a C-section is so brutal," she said. The songstress described feeling "really isolated" and "really lonely" as she struggled with the physical and emotional effects of the surgery. Soon, the first-time parent found herself grappling with heavy emotions. "I was obsessed with my baby, and I felt so connected to him, but I didn't feel connected to myself," Morris told Bustle. Eventually, the "My Church" singer realized she was suffering from postpartum depression.
For Maren Morris, postpartum depression was like "drowning" in the depths of extreme pressure and self-criticism. "You're trying to become a new mother and good parent and do everything right, and you just feel like you suck at every level," she told CBS Mornings. With the help of therapy and frequent check-ins from friends, she started the process of healing. Morris' postpartum journey became a source of inspiration for her hit 2022 album, "Humble Quest." The musician told StarNews Online, "Writing the record after I had [Hayes] speaks for itself. It's my most vulnerable album."
If you or someone you know needs help with mental health, please contact the Crisis Text Line by texting HOME to 741741, call the National Alliance on Mental Illness helpline at 1-800-950-NAMI (6264), or visit the National Institute of Mental Health website.
She has struggled to find her place in the landscape of country music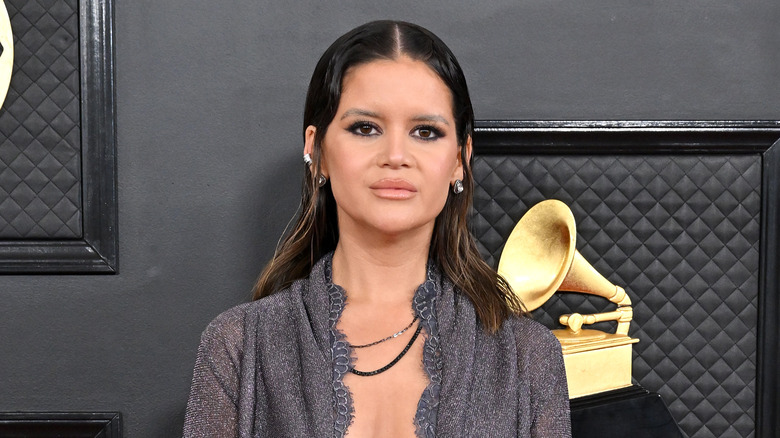 Axelle/bauer-griffin/Getty Images
Maren Morris doesn't pull any punches when discussing her experiences as a woman in the country music industry. In 2019, she told BBC News, "The stereotype is you've either got to be this religious, virginal conservative, or the wronged woman burning the house down." Morris fits into neither of these boxes — she's happily married, likes to party, and writes edgy lyrics. Morris is determined to break the mold for female country singers. Unfortunately, her nonconformism is unpopular with some country music fans.
Morris is also outspoken about hot-button political issues, such as gun control. "At one point I posted a picture of Emma González, one of the survivors of the Parkland shooting, and I lost probably 5,000 followers," the singer told Playboy in 2019. "To not be able to share an opinion, or to lose fans and ticket sales over it, is so mind-boggling to me." Her political views and genre-bending music have prompted some critics to say Morris shouldn't be considered a country music artist.
The award-winning musician has no intentions of changing her ways, but the criticism does make her feel out of place in the industry. "Locking into becoming an established country artist with each passing year has been daunting. It's where I'm comfortable; it's what I grew up in. But I'm sick of the standards we've been forced into, and it scares me that I'm getting so fed up with certain norms," Morris confessed.
Maren Morris has been mommy-shamed on social media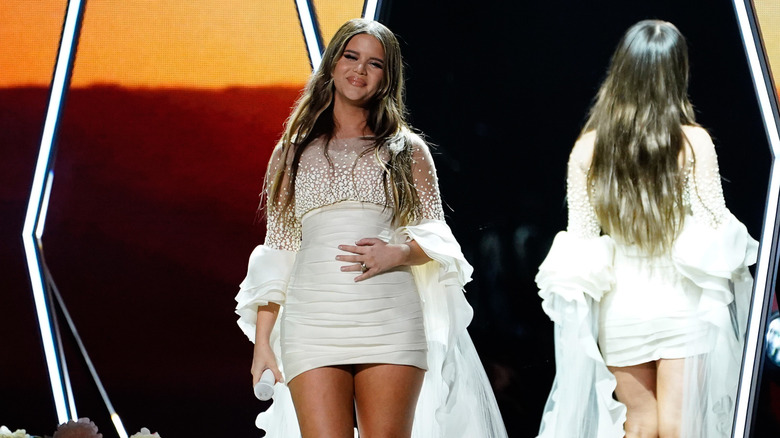 Mickey Bernal/Getty Images
Thanks to Maren Morris' celebrity status, escaping public opinion — or unsolicited parenting advice — is a near-impossible feat. In 2020, Morris was lambasted by mommy shamers after posing for a well-intentioned Instagram photo with her son, Hayes. In the now-deleted snapshot, Morris could be seen lounging on a pool float with the infant resting in her lap. The songstress was also holding a beer — a detail which some pearl-clutching followers quickly judged.
Although the photo was generally well-received by fans, Morris admittedly felt sensitive about the handful of critical comments. "I don't think I'm going to show his face in photos on social media anymore," Morris told Andy Cohen on "Watch What Happens Live" in 2020. Then, the new mom fired back at her haters, stating, "Anyone who is a mother who is shaming another mother, it obviously comes, I think, probably from a deep insecurity in your own motherhood." She continued, "I can take somebody saying my music sucks or I'm ruining country music, but for some reason, the mother card, I just can't emotionally handle it right now."
In 2020, Taste of Country noted that Morris scrubbed all photos of Hayes from her Instagram account. Since the pool float debacle, Hayes has maintained a small presence on his mom's social media accounts. However, she now uses emojis or clever angles to obscure his face, thus protecting his privacy. 
Right-wing media figures have targeted the country star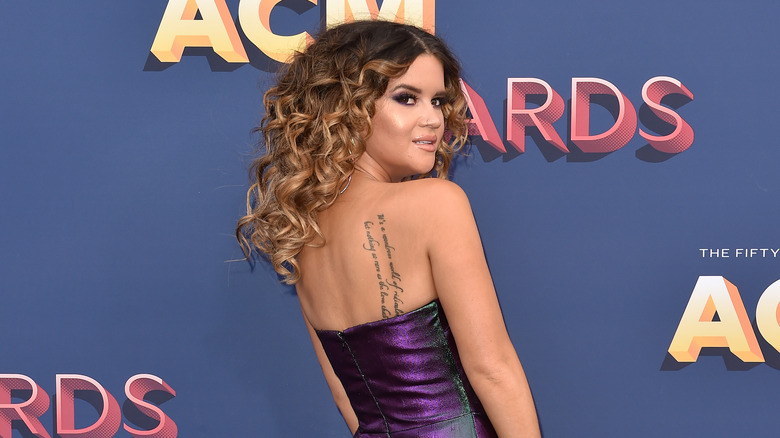 Axelle/bauer-griffin/Getty Images
Given the conservative slant of a number of modern-day country music artists, it's easy to forget that earlier country songs – sung by icons like Johnny Cash, Merle Haggard, and Loretta Lynn — dealt with working-class struggles, anti-war activism, and other left-wing ideologies. Despite these origins, the genre has become a hot spot for the culture war between political parties. Unlike many of her contemporaries, Maren Morris is outspoken about her progressive beliefs, which has elevated her to hero status in some spaces while making her an antagonist in others. Still, Morris isn't afraid of going toe-to-toe with conservative country music figures.
In August of 2022, Morris slammed Brittany Kerr Aldean on social media after Brittany made inflammatory remarks about the trans community. Morris' comments attracted the attention of right-wing firebrand Candance Owens. In a since-expired Instagram Story, Owens urged her 4.5 million followers to delete Morris' music from their playlists. 
The following month, Brittany Kerr Aldean, who is married to country singer Jason Aldean, appeared on Fox News to discuss her ongoing feud with Morris. That's when former host Tucker Carlson called Morris a "lunatic" and a "fake country music singer." However, it was Morris who had the last laugh. The superstar released a T-shirt that featured the words "lunatic country music person" and donated the proceeds – $150,000 in total – to organizations that support trans youth.
Maren Morris deals with body-shaming online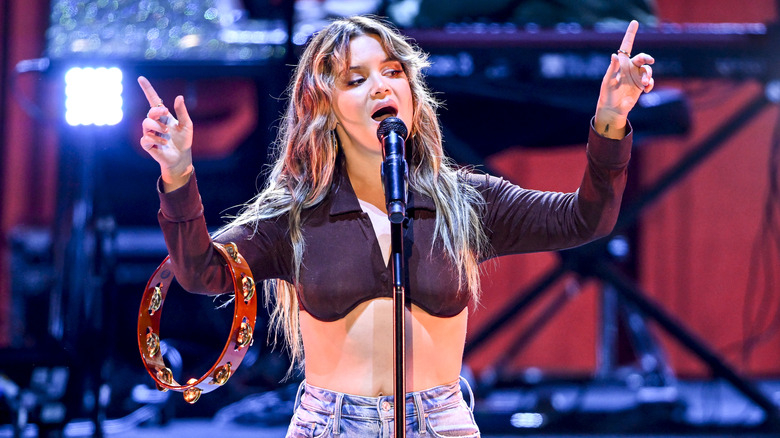 Steve Jennings/Getty Images
Maren Morris is well-versed in the lesson of "damned if you do and damned if you don't." Throughout her years in the public eye, the Grammy winner has been criticized for virtually every decision she's made regarding her body, clothing, and cosmetic enhancements. In 2019, the musician did an interview and photoshoot with Playboy. Morris took to Instagram to share a sneak peek of the shoot, which featured the hitmaker posing topless in a cowboy hat and red jeans. The response was mostly supportive, save for a few mean-spirited commenters who took issue with the nearly nude pic. Morris addressed the critics in a series of now-expired Instagram stories. "[Y]ou can put me in your little box, but I just want to live and love," wrote the hitmaker. "I recently accepted myself and will put these photos in a frame because I'll never have this moment back" (via People).
Morris fended off another body-shaming attack in 2020 when an Instagram troll advised her to "stop with the Botox." The superstar fired back. "Dude, I just went through a pregnancy and we're in the middle of a quarantine," she commented on the since-deleted post. "The Botox has long worn off" (via Today).
Back in 2017, Morris tweeted, "Honestly, I'm over the slut-shaming that goes on here. I'm a self-sufficient woman who loves her body. Get over it, thanks." Sadly, not much has changed since then, as her body is still routinely scrutinized online. 
Her music career has put a strain on her marriage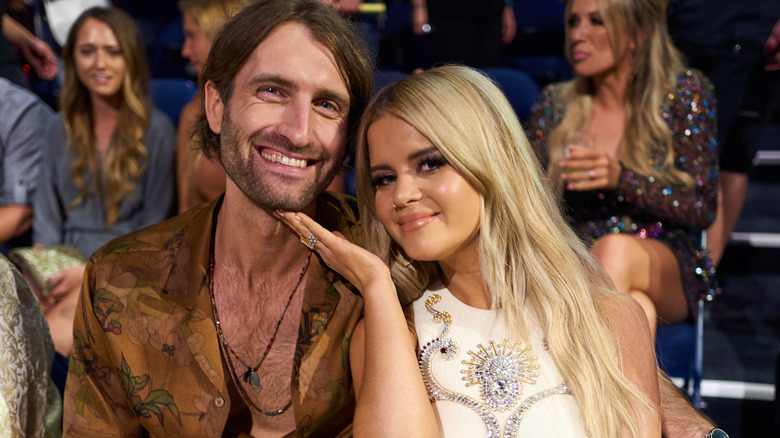 John Shearer/Getty Images
If there's one thing to know about Maren Morris' personal life, it's that she's head-over-heels in love with her husband, fellow singer and songwriter Ryan Hurd. The pair, who wed in 2018, are more than a married couple –– they're collaborators, too. Together, they've written and performed numerous hits, including "Great Ones," "I Can't Love You Anymore," and "Chasing After You." "[M]usic has always been really intertwined in our love for each other," Morris gushed to Us Weekly in 2019. But despite their rock-solid foundation, the pair have struggled to balance their careers and marriage.
Morris released her runaway hit single, "My Church," in 2016, and the ballad launched her career to new heights. In 2017, the recording artist scored a Grammy for Best Solo Country Performance. By 2018, Morris was both a newlywed and a touring artist – but it wasn't easy to be both things simultaneously. "It was probably the hardest part of our relationship," she told Esquire in 2019. "We went on our honeymoon, and then I immediately went on this gigantic tour." Fortunately, therapy helped the couple get back on track. "It was a tough summer," Morris recalled. "But we have grown so much closer because we had to make some hard decisions and have some tough talks about what this future looks like and how we can make this better."
Maren Morris grieved for producer Busbee, who helped create her first two albums
Like many success stories, Maren Morris' rise to fame involved numerous co-writers, producers, and collaborators — a legion of talented folks who contributed to her iconic sound. Out of all her industry pals, Morris developed a pivotal relationship with Grammy-nominated producer Michael James Ryan, known professionally as Busbee. The pair co-wrote Morris' breakout hits, "My Church" and "80s Mercedes." Busbee went on to produce Morris' 2018 album, "HERO," followed by "Girl" in 2019.
Tragically, Busbee died from brain cancer at age 43 in 2019. Reflecting on his death, Morris later told CBS Morning News, "I remember thinking, 'What am I gonna do without my friend? And also musically, who am I without him in this world?'"
Morris' 2022 album, "Humble Quest," features a heartfelt tribute to Busbee titled "What Would This World Do?" Morris wrote the ballad for Busbee just a few weeks before his death. "As my producer of my first two records and the guy that really saw something in me very early on ... I wanted to end this record with this dedication to him," she told iHeart Country. "I think the legacy we leave behind, whether it's our songs or our memories or the way we touched a complete stranger — which he did to so many — I feel like that is the most magical thing that exists."
Some of her songs reference past heartbreaks and betrayals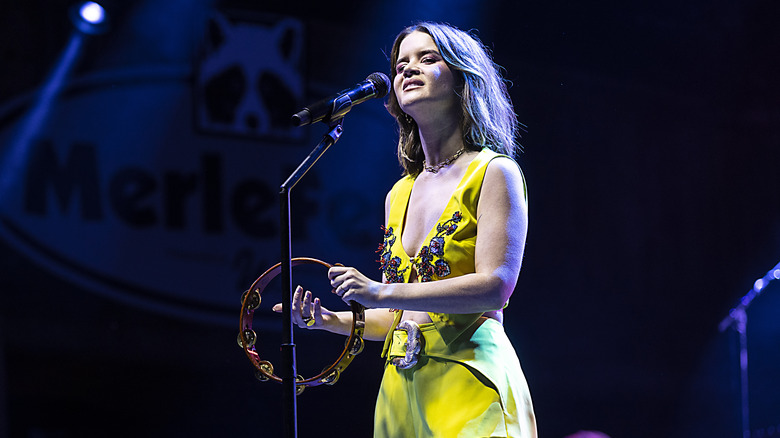 Jeff Hahne/Getty Images
Maren Morris is known for laying everything bare in her songs. She's not shy about embracing her flaws, either: "I've cussed on a Sunday, I've cheated, and I've lied," she proclaims in her hit song "My Church." Morris' vulnerability feels like an open invitation to give ourselves grace and find beauty in our own imperfect lives. That said, the country star has experienced plenty of heartbreak and betrayal, and she's not afraid to address those themes in her songs.
In 2022, Morris released "Good Friends," a tune dedicated to her closest pals. "I've lost a lot of friends in the last couple of years," the songstress shared with Vulture. "I feel a lot lighter as a human being because I've been able to let go of toxic people ... Now I'm left with the quality few that nourish me and make me wiser and laugh."
Morris' lyrics also reference past heartaches. Speaking with Esquire, Morris confessed that her 2018 album, "Hero," was tinged with bitterness because she was "just coming out of this very co-dependent, toxic relationship." The musician told Taste of Country that she penned the song "Once" to help herself process the breakup. "I was with one person for five years and that was my first love. As that was falling apart, my career starting taking off," Morris stated. "I do take responsibility for my half of it, but also, I don't want to dim my light for someone else."