Details About Karlie Kloss And Josh Kushner's Two Secret Weddings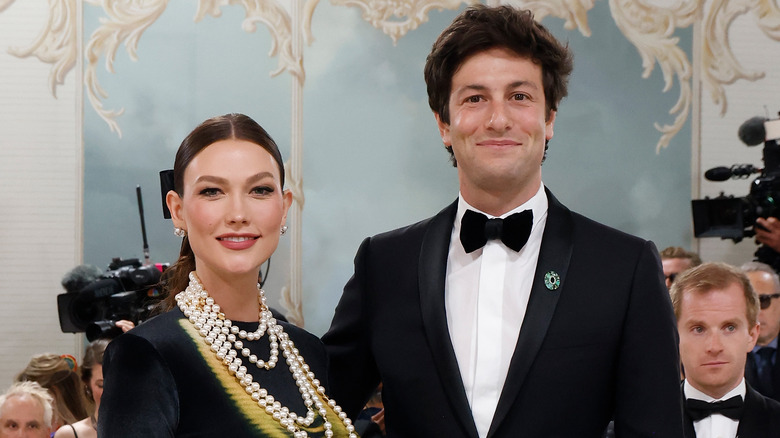 Taylor Hill/Getty Images
Karlie Kloss met her husband, Joshua Kushner, in 2012, and they began dating soon after. The world has seen Kloss' stunning transformation, but she has kept their relationship away from the public eye. In fact, aside from her professional accomplishments, the model keeps almost everything private. As Kloss said in an interview with Net-a-Porter, "It's not like I've ever wanted to be so secretive about my private life. Carolina Herrera always says, 'A woman who's an open book is boring.' There's no mystery anymore. I know in my life what really matters to me." The model also added that she found solace in keeping things to herself.
Despite maintaining their privacy, it is evident that Kloss and Kushner have a luxurious lifestyle. This is unsurprising, considering their sizeable net worth. According to Bloomberg, Kushner's net worth reached $3.7 billion as of January 2023. Similarly, Celebrity Net Worth reported Kloss' fortune at $40 million in 2023. Their substantial wealth provides them the means to pursue any desires, and with their financial resources, they made a choice to celebrate their union twice.
Kloss and Kushner's initial wedding occurred on October 18, 2018, in a Jewish ceremony held in upstate New York. The event was attended by less than 80 people, as reported by Vogue. Notably, Kloss graced the occasion in a personally tailored ensemble. The second wedding took place the following year.
Inside Kloss and Kushner's two weddings
Karlie Kloss and Joshua Kushner's marriage was announced on Instagram. Kloss joyfully shared the news by posting a snapshot of herself and her husband, both wearing smiles that radiated happiness. Along with the photo, the model captioned the post with a simple but sweet message: "10.18.2018." Kloss emanated a captivating bridal aura, dressed in a Dior gown designed by Maria Grazia Chiuri adorned with translucent lace sleeves and an expansive V neckline, as detailed by British Vogue. Her hair was arranged in an updo, topped with a veil. Accompanying her ensemble were delicate stud earrings and a modest necklace. 
Following their intimate Jewish wedding in October 2018, Kloss and Kushner renewed their marital vows once more, surrounded by their celebrity friends. The star-studded event took place in June 2019 and was attended by Katy Perry and Orlando Bloom, Diane von Furstenberg, and Derek Blasberg, to name a few. The festivities, which embraced a Western theme, unfolded at the luxurious Brush Creek Ranch in Wyoming. Kloss aptly labeled this three-day celebration as a "Wild West Weekend," a depiction she shared through photographs posted on her Instagram story. Beyond the ceremony itself, the group engaged in a range of activities, including horseback riding, experiencing the ranch's shooting range, and reveling in dance, which Kloss shared pictures of.
After two weddings, Kloss and Kushner have since become parents to two boys. The eldest, Levi Joseph, was born in 2021, while their second son, Elijah Jude, was born in July 2023.
Kloss received backlash for her relationship with Kushner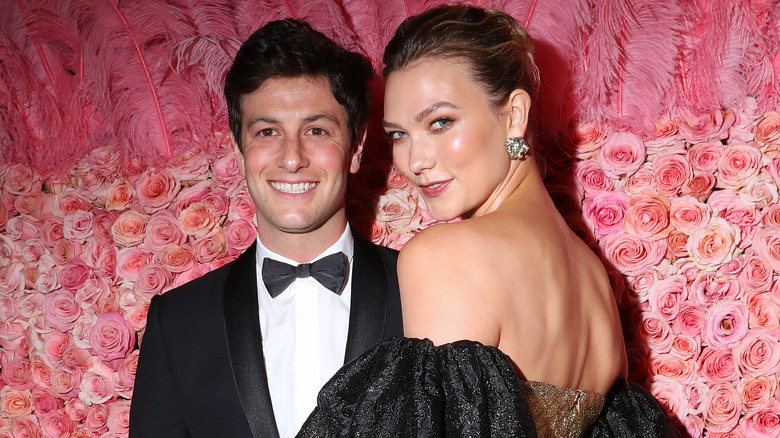 Kevin Tachman/mg19/Getty Images
After being with Joshua Kushner for over a decade, Karlie Kloss admitted that she has been receiving hate comments since they got married. Kushner is the fourth and youngest son of real estate magnate Charles Kushner. He and his siblings, Dara, Jared, and Nicole, were all brought up in Livingston, New Jersey. Jared is the husband of former president Donald Trump's daughter, Ivanka Trump, making Kloss and Ivanka sisters-in-law. With her political entanglement, Kloss was well aware she'd get flack for it. She told People, "I really followed my heart on choosing to be with the person that I love, despite any complications that came with it. You know, I knew for me, it was worth it to fight for that." She also admitted that she does not read her comments section to avoid negativity.
Kloss even received more hate after she supported President Joe Biden in the 2020 election. Even though she was connected to the Trumps through her brother-in-law, Jared, the supermodel made her political stance clear on Instagram. In said post, she was wearing a Biden Harris face mask, clearly showing support for Biden and then-Democratic vice presidential nominee Kamala Harris. Along with the photo, she wrote, "What's your voting plan? This was mine — signed, sealed, (notarized), and delivered."