Ashley Olsen Secretly Welcomes Baby Boy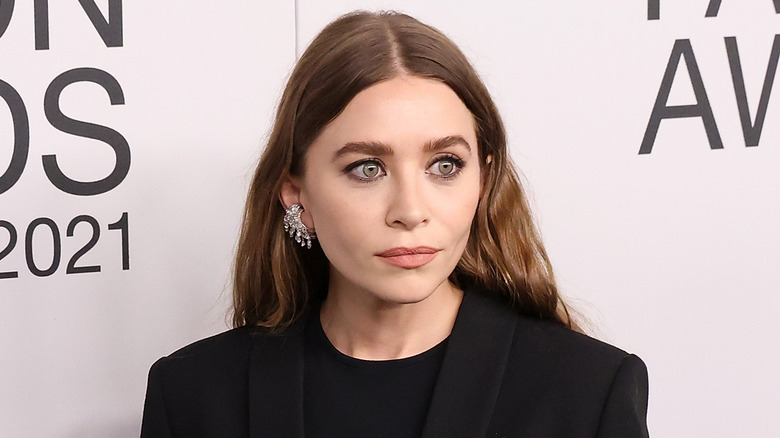 Taylor Hill/Getty Images
Ashely Olsen has been a mom for the last few months, according to TMZ. In an impressive display of evasiveness, she managed to keep the big news under wraps ... until now. When it comes to their private lives, the Olsen twins like to keep things, well, private. "We were raised to be discreet people," Mary-Kate Olsen told i-D in a 2021 interview — it's a sentiment reflected in their shared fashion line, The Row, which prides itself on understated luxury. Over the past few decades, fans have watched the twins' style change from bright and bold early 2000s glam to dark and edgy 2010s minimalism. At the same time, the Olsens stepped back from acting and opted out of most interviews. They let their very occasional red carpet appearances speak for themselves — even without active social media accounts, the former "Full House" stars are top-tier influencers.
It's likely that Ashley gave birth to her baby boy, Otto, sometime in the spring of 2023. "Ashley and Louis [Eisner] welcomed their son months ago and are thrilled to be parents," an anonymous insider told Us Weekly. The pair (allegedly) said their "I do's" in a — you guessed it — in a private ceremony. According to Elle, there were only about 50 guests in attendance. That said, neither Olsen nor Eisner have publicly spoken about their marriage.
Ashley Olsen has been with her husband since 2017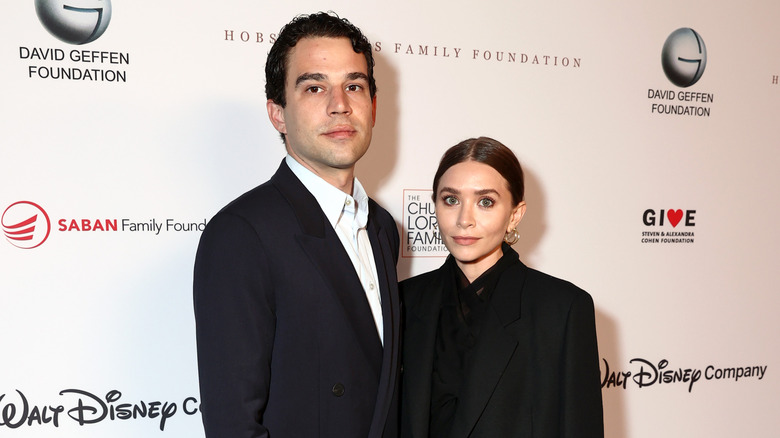 Matt Winkelmeyer/Getty Images
Ashley Olsen and her now-husband, Louis Eisner, have reportedly been linked since 2017, and they were rumored to be engaged in 2019. However, it wasn't until late 2022 that they officially exchanged marriage vows. "[Ashley] is very close with her family. Louis is very close with his family too, and they were in attendance as well," a source close to the couple told People, describing their winter wedding. "For them, it was a perfect celebration. They never wanted a huge wedding." Louis Eisner is the son of renowned jewelry designer Lisa Eisner — given Ashley's ties to the fashion world, it's likely she and the Eisners had mutual connections.
Before tying the knot with Louis, Ashley had several other high-profile relationships. She dated film producer (and former Columbia University quarterback) Matt Kaplan in the early 2000s — he's now engaged to "Call Her Daddy Host," Alex Cooper. She's also been linked to Jared Leto, Dax Shepard, and Lance Armstrong (among others). Louis Eisner gave a rare glimpse into their relationship in 2021, posting a picture of Ashley hiking through the woods holding a machete and a beer. Eisner's Instagram account has since been deleted, but Elle managed to snag a screengrab of the post.
Mary-Kate Olsen also likes to keep her relationships quiet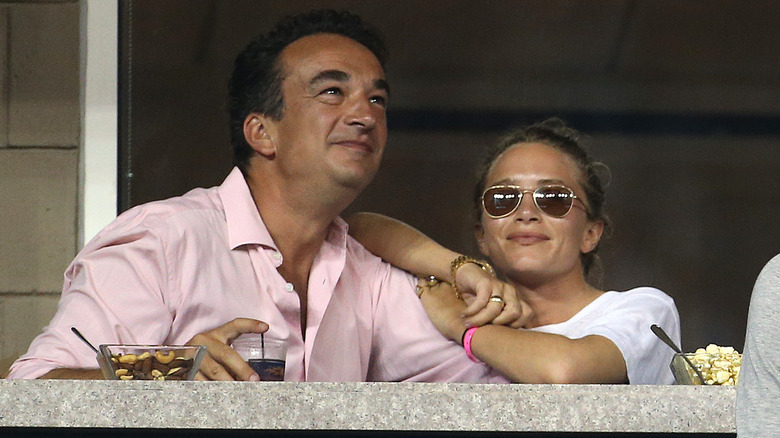 Jean Catuffe/Getty Images
Like her twin sister, Mary-Kate Olsen doesn't like to share the private details of her romances. The former "Full House" star (and baby Otto's aunt) was famously married to Olivier Sarközy, the brother of former French President Nicolas Sarközy, from 2015 until she filed for divorce in 2020. He was nearly 20 years her senior and, although they didn't share any biological children, she did become stepmother to Sarközy two kids from a previous marriage. Mary-Kate's dating history is just as complicated as Ashley's, and since 2021 she has been spotted with Brightwire CEO John Cooper.
As for the twin's younger sister, Elizabeth Olsen? She's learned a lot from Mary-Kate and Ashley, especially in regard to giving interviews. "They'd say, 'You know, even if you don't think anyone's going to read this article, someone might pull the quote later for [something else]," the "WandaVision" star told Modern Luxury in 2017 (per Refinery29). "It's all part of how you hope someone interprets you, and how they frame who you are and the work you do ... They're very tight-lipped — notoriously so," she added. The youngest Olsen is also relatively private when it comes to her personal life. As for the most important piece of advice her sisters gave her? "'No' is a full sentence" (via The Independent).