King Charles' Throwback Photo Of Princess Anne On Her Birthday Proves They Were Always Close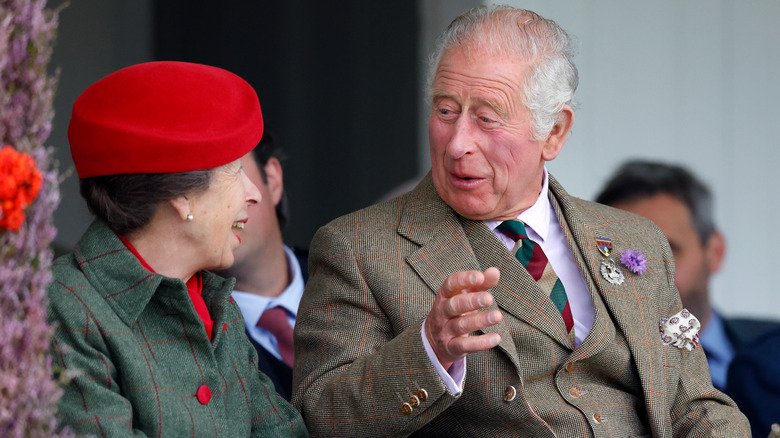 Max Mumby/indigo/Getty Images
Of Queen Elizabeth II's four children, King Charles III and Anne, Princess Royal, are the closest in age with less than two years separating them, which might explain why Charles and Anne have always had a close relationship. And in honor of his sister's 73rd birthday on August 15, the royal family's Instagram account posted two sweet pictures of them together. One is of the siblings exchanging smiles behind the scenes at the coronation, both in their formal regalia of the day — Princess Anne's big role in the coronation was the Gold Stick-in-Waiting, aka the king's ceremonial bodyguard.
The coronation pic combined with the second image really shows off the longevity of their close relationship. Taken in July 1951, the pic is of King Charles at just 2 years old leaning out of his pram to grin at and hold the hand of an almost 1-year-old Princess Anne. A number of royal fans commented on the picture wishing the princess a happy birthday and noting how much they like to see all the support Princess Anne has given her brother over the years. And we're right there with them!
Princess Anne provides absolute love and support for King Charles
There's only one person in the world today who truly knows the pressure and responsibility of being the British monarch. But that doesn't mean King Charles III is alone in his job. It's clear he's able to manage it thanks in large part to the help and love from his little sister. Anne, Princess Royal, has been referred to as King Charles' "secret weapon," according to Insider, thanks to all the work that she does for the royal family. She's often out of the spotlight and pretty low profile, or as low profile as a princess can be, but still managed to be the hardest-working royal in 2022, carrying out hundreds of engagements.
Royal commentator Wesley Kerr explained to Tatler just how important Anne has been to Charles throughout their lives: "She can be relied on for complete discretion and unconditional love. Anne is wise, intelligent, incredibly plugged into the modern United Kingdom. She understands completely who and what has shaped him and is eager for him to succeed: for the sake of their beloved mum and dad and for country and Commonwealth."