Princess Anne Lands A Big Role In King Charles' Coronation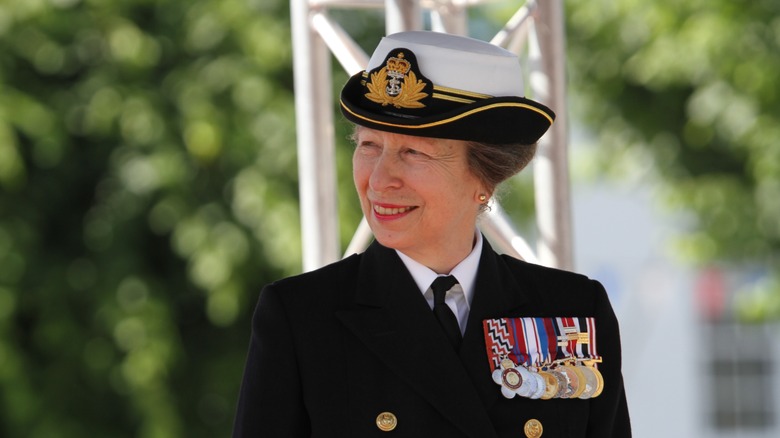 Simon Ward Photography/Shutterstock
King Charles III spent nearly his entire life up until last year as the next in line for the throne; he attended his mother's coronation in 1953 at the age of four. But now his coronation day is finally in sight — May 6, 2023. As we countdown to it, we're finding out more and more about an event that people haven't seen in some 70 years, including several unusual details about Charles' coronation. 
We've also found out certain things about the guest list. Prince Harry will be there; however, he will reportedly not be sitting with the royal family, per the Daily Mail. And Meghan Markle is staying at their home in California for the big day. Further, there was one royal who was completely snubbed from the coronation — Sarah Ferguson, the Duchess of York, one of the most beloved royals. 
Some familiar faces who are without question going to be in attendance include the latest Prince and Princess of Wales, though whether their youngest son Prince Louis makes an appearance, we may have to wait to find out. Along with his sons, Charles' siblings will be at the event, and his sister Anne, Princess Royal, has been appointed with a prestigious role in the proceedings.
Princess Anne will be the king's ceremonial bodyguard at the coronation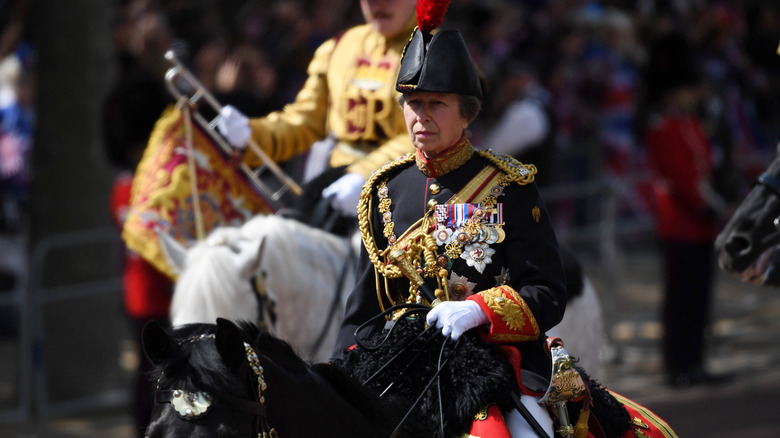 Chris J Ratcliffe/Getty Images
Anne, Princess Royal has been named by her brother, King Charles III, as the Gold Stick-in-Waiting for his upcoming coronation, which means she's his bodyguard and personal attendant for the event, as reported by The Mirror. While it is a ceremonial role now, it started in the 15th century as a very real and literal bodyguard position. 
Princess Anne will be on horseback immediately behind the newly crowned King Charles and Camilla, Queen Consort, and leading some 6,000 service members as they process from Westminster Abbey to Buckingham Palace. Charles personally gave her the job, according to a palace source, due to "her loyalty and her unwavering devotion to duty above all else." And she is said to be "incredibly honored" by the appointment. 
Anne is the Colonel of the Blues and Royals, a cavalry regiment in the royal household, per The Household Division. Since 1678, one of the two colonels of the Household Cavalry regiments has been appointed as Gold Stick-in-Waiting, according to the Household Cavalry Museum. There's also a Silver Stick-in-Waiting, who assists the Gold Stick-in-Waiting as needed. And yes, there are literal gold and silver sticks involved.
Princess Anne makes history yet again with this prestigious role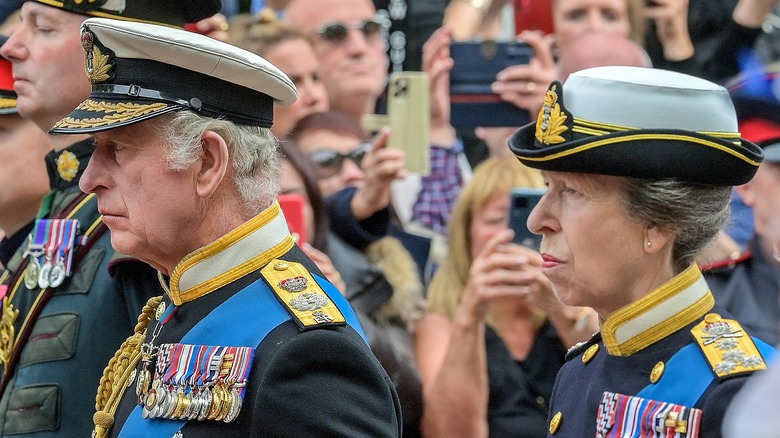 Sean Aidan Calderbank/Shutterstock
During momentous occasions such as this, it's important to have reliable family members around — especially for a newly crowned king. It's no surprise that Princess Anne was given the honor of Gold-Stick-In-Waiting by King Charles III, given how close they've grown over the years. While the two were known to have quite a competitive relationship as children, the royal siblings are seemingly quite fond of one another these days. 
Royal insiders told The Mirror that Charles often looks to his younger sister for advice, largely because he appreciates her "no-nonsense attitude." Upon accepting the position of Gold-Stick-In-Waiting, Anne became the first woman in history to hold this prestigious position. She was previously the first woman to be a part of the "Vigil of Princes" at her mother, Queen Elizabeth II's, funeral too. 
Anne stood, alongside her three brothers, in full uniform, proudly guarding the queen's casket at St. Giles's Cathedral. The Princess Royal is expected to be clad in uniform yet again as she rides behind her brother, leading the charge. Anne isn't the only member of the royal family with a special job at Charles' coronation either. According to Hello! magazine, Prince George will participate as a page of honor, helping to carry the train of his grandfather's ceremonial robes.