What We Know About Friends' Star Matthew Perry's Short-Lived Romance With Yasmine Bleeth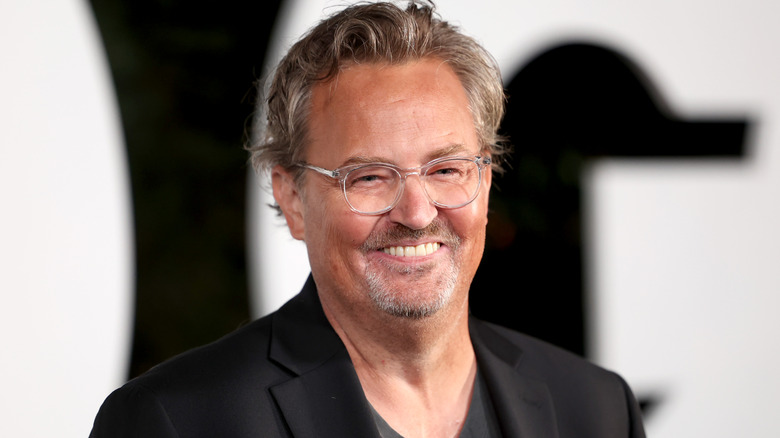 Phillip Faraone/Getty Images
Matthew Perry definitely isn't in the news as much as he was during his "Friends" days. However, his headline-worthy relationships still turn heads, even if they are nearly three decades old. For example, the fact that he once secretly turned his on-screen crush into his real-life girlfriend.
Back in the '90s, "Friends" was taking the world by storm with its relatable characters going through life's typical dramas. One of the most intriguing elements of the show was their relationships. Chandler Bing, played by Perry, was notorious for his crush on Yasmine Bleeth of "Baywatch" fame. But it turns out that his feelings might have gone far beyond being attracted to only the image of swimsuit-clad Bleeth on his screen as the two actually dated in real life.
Unbeknownst to basically everyone, the pair dated sometime in 1996, according to Page Six. There are practically zero pictures of the couple together, which is unsurprising considering they kept things super hush-hush. The International Business Times reported that the low-key love affair happened right after one of Perry's more public relationships — when he dated Julia Roberts. Neither actor has come forward and spoken about dating one another, at least not outright.
Perry may have hinted about their relationship on a Friends episode
During Season 3 of "Friends," when Matthew Perry's character Chandler Bing was falling hard for "Baywatch" babe Yasmine Bleeth, he may have candidly referred to his off-screen relationship. In the episode "The One With A Chick and A Duck," Chandler names his adopted little feathery-friend Yasmine. Later in the program, we witness Perry's character telling the chick, "That's Yasmine Bleeth, she's a completely different kind of chick. I love you both."
It could be that Perry was hinting at his relationship with Bleeth, and we didn't even know it! The romance was reportedly short-lived, and some even speculate that the break-up was amicable due to how Perry referenced Bleeth during the "Friends" episode.
However, we may never get a straight answer from either celeb. Bleeth has quietly faded from the industry and leads a pretty private life. Perry has largely stayed out of the limelight as of late but has had plenty of opportunity to speak about the tryst over the past few decades and hasn't done so yet.
What happened after they split?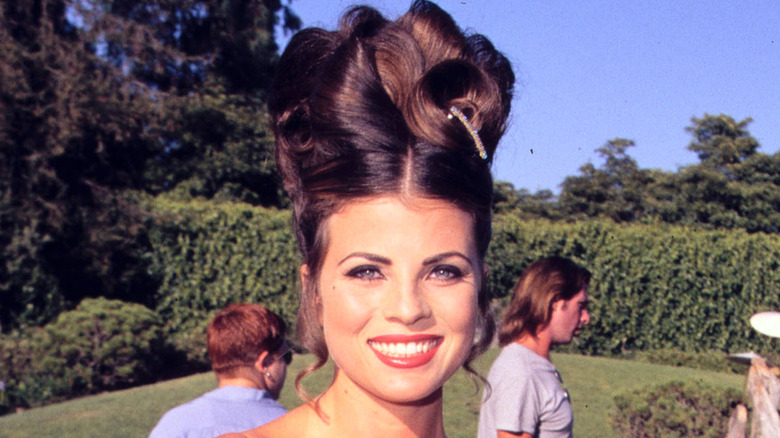 Steve Granitz/Getty Images
Yasmine Bleeth has kept her love life as quiet as when secretly dating Perry. Eventually, the fictional lifeguard went on to marry Paul Cerrito. The pair met in rehab and tied the knot in 2002. Now, Bleeth seemingly does her best to avoid the spotlight.
In true Matthew Perry form, after separating from Bleeth the "Fools Rush In" actor went on to date quite a few notable celebrities. His first known relationship post-Bleeth was with Neve Campbell (which was equally as short-lived) before moving on to soap opera star Maeve Quinlan. Then, a brief liaison occurred with another '90s kids' favorite, Lauren Graham of "Gilmore Girls," followed by Rachel Dunn, Lizzy Caplan, and finally, Molly Hurwitz. Perry popped the question with the latter, but the pair were only engaged for six months before calling it quits. For now, that rounds out Perry's lengthy list (though others like Sophie Turner have tried to date the star).
Just like his iconic character Chandler, it seems like Perry also isn't lucky in love.