5 Sad Signs Britney Spears & Sam Asghari Were Never Meant To Be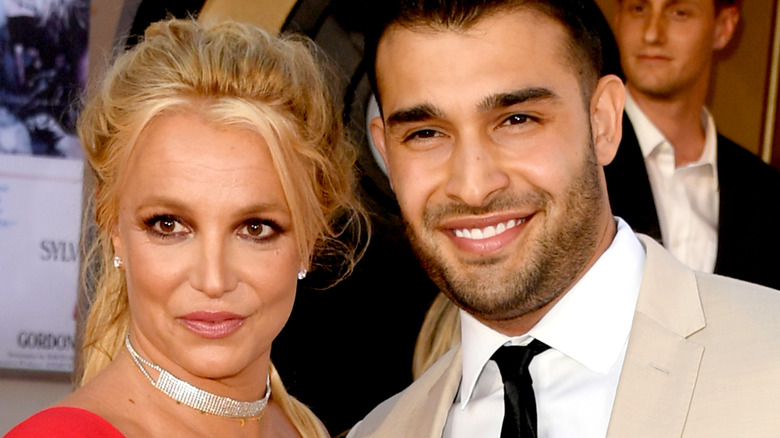 Kevin Winter/Getty Images
Britney Spears and Sam Asghari's relationship is reportedly over, with the couple headed for divorce after 14 months of marriage, according to TMZ. Insiders informed the outlet that they've been having some serious disagreements lately, with allegations of infidelity, ultimately causing a major divide — irreconcilable differences, if you will. Things have allegedly gotten so bad that Asghari is no longer living with his wife. 
"It's only a matter of time before Sam files for divorce," a source told the outlet. Meanwhile, another insider echoed this in a chat with People, claiming that things between Spears and Asghari have taken a serious turn for the worse. This isn't the first time that rumors about trouble in Spears and Asghari's marriage have circulated, either. Back in May, TMZ reported that their arguments were so serious that "security has had to step in." 
If news of the split turns out to be true, however, things should proceed smoothly, thanks to a prenuptial agreement that protects Spears and her considerable assets, per Page Six. "Any money she made before the wedding is protected," an insider previously confirmed. And while this news may come as a surprise to some, there were actually quite a few signs that these two just weren't going to work out.
Britney Spears didn't deny rumors of marital troubles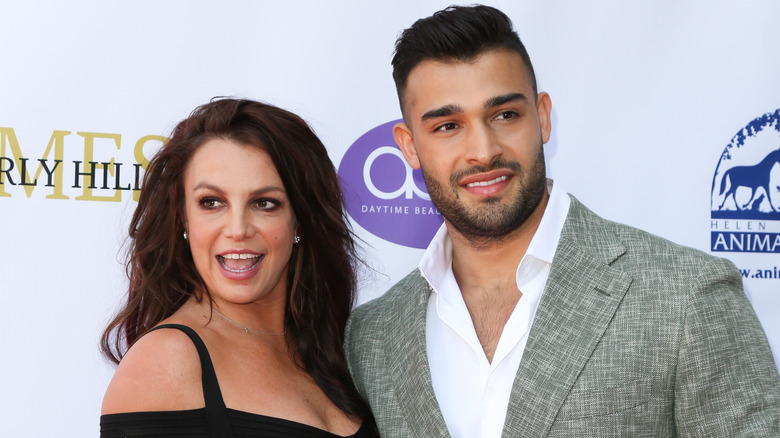 Paul Archuleta/Getty Images
The last time rumors about Britney Spears and Sam Asghari's marital troubles circulated, Asghari was somewhat quick to set the record straight — by way of his rep, Brandon Cohen, that is. In March 2023, Cohen told Page Six that reports of issues between his client and Spears were simply not true, though he didn't elaborate any further, and Asghari didn't make any kind of personal statement on the rumors either. Interestingly, Spears decided not to speak out at all. 
She was active on Instagram at the time, though she notably didn't share any photos of her and Asghari for weeks. On April 12, the pop star posted a peculiar quote and turned the comments off. "You deserve to be in environments that bring out the softness in you, not the survival in you," her Instagram post read. 
Two days later, she uploaded a video of some horses on a beach. "I choose horses over people these days," she captioned it. Spears didn't post Asghari on her Instagram feed until April 27. It's unclear if the photo was recent or a throwback.
No one from Britney Spears' family attended her wedding
Britney Spears and Sam Asghari tied the knot in June 2022 in front of a handful of guests. What fans were quick to notice, however, was that the bride's family was completely absent. While there were plenty of celebrities in attendance, including Selena Gomez, Paris Hilton, and Madonna, Spears' mother, Lynne Spears, her father, Jamie Spears, and her siblings, Jamie Lynn Spears and Bryan Spears, were not there to support her. 
In addition, Spears' two sons (with ex-husband Kevin Federline) didn't attend, either. "Although the boys will not be in attendance, Kevin and the boys are happy for Britney and wish her and Sam all the best going forward," Federline's lawyer, Mark Vincent Kaplan, told TMZ ahead of the big day.
As for Asghari, it's unclear if his parents attended their son's wedding, but at least two of his older sisters, Fay and Maddie, were there, according to Newsweek. It's unknown if his third sister, Ellie, was there.
Sam Asghari really wanted to have kids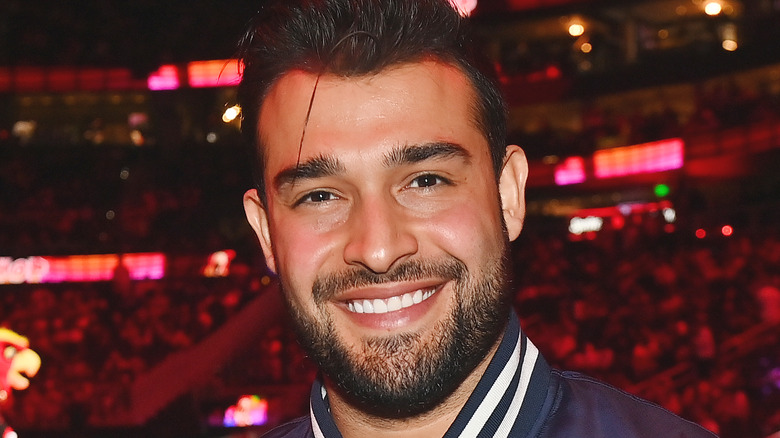 Paras Griffin/Getty Images
One thing that may have been a challenge in Britney Spears and Sam Asghari's relationship was Asghari's desire to have children of his own. "I don't mind becoming a father. I want to be a young dad," he told Forbes in 2021. Although Spears has often said that she'd like to have more kids one day, it wasn't guaranteed, given that she is older now compared to when she had her sons. Nevertheless, Spears was willing to try, and two months before she said "I do," the "Womanizer" hitmaker announced that she was pregnant. 
"So I got a pregnancy test ... and uhhhhh well ... I am having a baby," an Instagram post, which has since been deleted, read in part, per Elle. About a month later, Spears and Asghari revealed they had sadly lost the baby. The couple penned a joint statement that they shared on Instagram. "It is with our deepest sadness we have to announce that we have lost our miracle baby early in the pregnancy," their statement read, in part. "We will continue trying to expand our beautiful family." 
Spears and Asghari didn't open up any further about the pregnancy loss and it's unclear if they tried to conceive again. However, it is possible that starting a family and the pressures that may have surrounded Asghari's desire to have children of his own caused tension within their marriage.
Sam Asghari reportedly fled a restaurant following a fight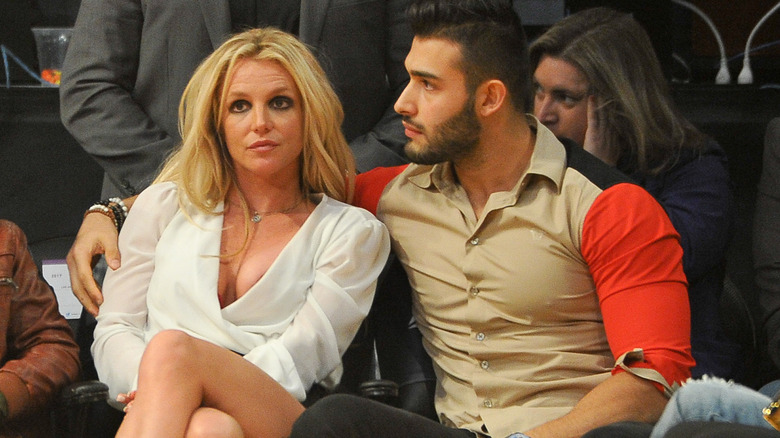 Allen Berezovsky/Getty Images
Another sign that Britney Spears and Sam Asghari were headed for divorce came in January 2023. At the time, TMZ reported that Spears had some kind of mental health episode while out at a restaurant with her husband and the situation became so untenable that he actually got up and walked out. The outlet was sent videos of the alleged incident by other diners, but things may not have been as they seemed. In an apparent attempt to defend his wife, Asghari took to his Instagram Stories with an important message. 
"Don't believe what you read online people," he wrote, according to Page Six. Asghari has been quick to stand up for Spears in the past and has spoken out a few times about Spears' conservatorship, for example. "I respect her privacy, that's why I don't talk as much. And I found it absolutely disgusting for the people that were in her life at the time when she didn't have a voice, they went and told her story like it was theirs. It was absolutely disgusting," he said on his Instagram Stories back in May, per E! News. 
Now that Spears and Asghari are apparently over, sources tell TMZ that the pop star's family is concerned about her. Since the pop icon is estranged from most of the people closest to her, the outlet claims that she doesn't really have anyone to lean on for support. 
They were at different places in their respective careers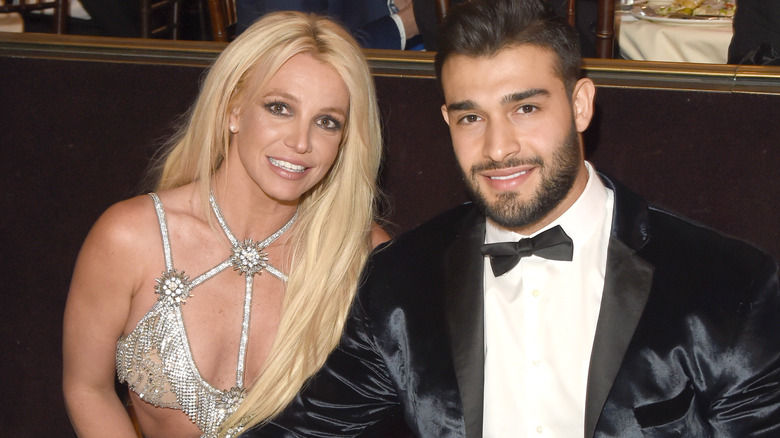 J. Merritt/Getty Images
Britney Spears and Sam Asghari were at wildly different places in their careers when they met and that still stands today, partially due to their 13-year age gap. Spears and Asghari first laid eyes on each other when he auditioned to be in her music video for "Slumber Party" back in 2016. At the time, Asghari had been picking up small roles where he could — he also starred in Fifth Harmony's "Work From Home" music video — but Spears was an established artist with a residency in Las Vegas and a multi-million dollar empire.
Nevertheless, they exchanged numbers and, a few months later, she decided to give him a call. Over the next few years, Asghari supported Spears as she performed at sold-out shows and recorded new music, but he was really just starting out. Once Asghari began landing roles in major films, Spears had just fought her way out of her conservatorship and vowed to retire. 
Even still, Asghari is very much in his prime and he has been determined to make a name for himself in the entertainment industry, thus putting him and his wife on very different career paths. Though not always the case, this can be detrimental to a marriage and may have caused trouble between these two as well.