Signs Britney Spears And Sam Asghari's Marriage Is On The Rocks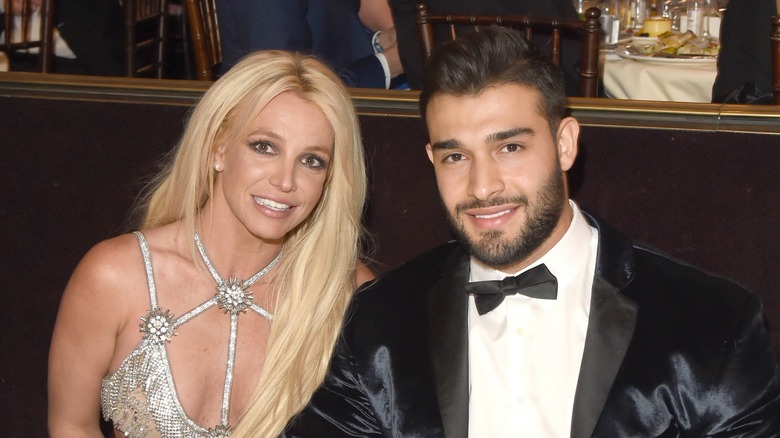 J. Merritt/Getty Images
Pop star Britney Spears and actor Sam Asghari's marriage may be on the fritz after new information has come to light about their relationship. In May 2023, TMZ released "TMZ Investigates Britney Spears: The Price of Freedom," a documentary on Spears with one major bombshell alleging that her marriage is volatile and even physical. In June 2023, an inside source revealed to US Weekly that the couple has gone through ups and downs but "intend to make their marriage work." A source told the outlet: "Britney and Sam have their ups and downs, but nobody can deny they love each other very much."
The couple first met on the set of Spears' music videos for the song "Slumber Party" which was released in 2016, and the two hit it off instantly. The two dated for five years and tied the knot in June 2022 once Spears' conservatorship was up. 
After Spears' conservatorship ended, the public's opinion of Asghari and his intentions became a huge topic of discussion. While many have described Asghari as her biggest supporter, many have also speculated that Asghari may be using Spears to advance his career, rise to fame, and for financial gain. Due to their speedy engagement and marriage post-conservatorship, many came to Spears' aid to make sure she got a prenup as a precaution. Ever since many conspiracies and concerning rumors have emerged about the couple's relationship.
Britney Spears and Sam Asghari have both been seen without their wedding rings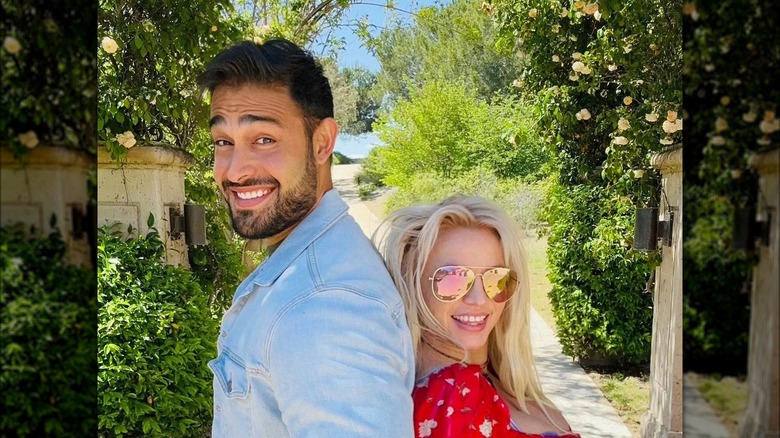 Instagram
Before boarding a plane to Hawaii in March 2023, Britney Spears was seen without her wedding ring amid rumors that there was trouble in paradise between her and her husband Sam Asghari. To make matters even stranger, Asghari did not accompany Spears to Hawaii. Instead, she spent the trip with her longtime friend and manager Cade Hudson. This same week, Asghari was also seen without his wedding ring while running errands, which stirred a buzz of speculation.
After reports came out that the two were both seen without their wedding bands, Asghari took to his Instagram to clear up any confusion on the status of his and Spears' relationship status by posting a series of photos to his Stories with close-up images of their wedding bands. The posts were light-hearted and seemed like a funny way to address the rumors, which led people to believe there was nothing to worry about. However, just a day after Asghari's Instagram stories were posted, Spears was spotted yet again without her wedding ring on a solo trip to Puerto Rico.
Britney Spears posted a concerning photo on Instagram of Sam Asghari pretending to choke her, worrying fans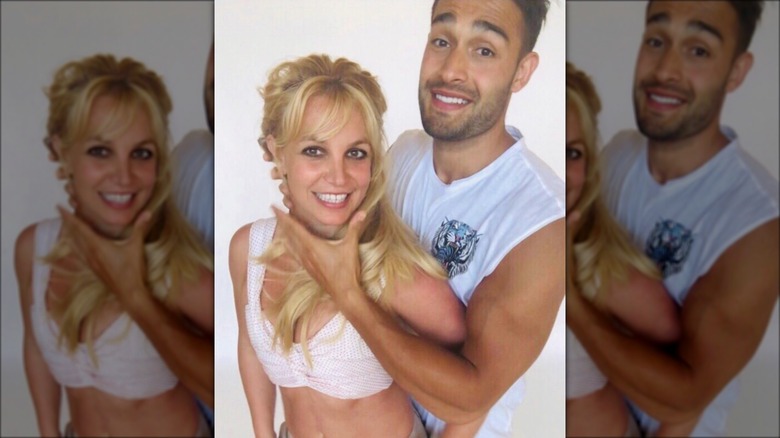 Instagram
Back in December 2020, Britney Spears posted a series of photos on her since-deleted Instagram celebrating her birthday of her and Sam Asghari concerning fans. Although their facial expressions were seemingly playful enough, both of Asghari's hands were gripped around Spears' neck as if he were pretending to choke her. Although it may have just seemed like good fun to the couple, showing such a dominating physical act so publicly on Instagram could potentially indicate signs of domestic abuse, which led to a cause of concern in the comments. According to The National Domestic Abuse Hotline, abusive relationships that involve strangulation have a high probability of becoming deadly, so it's understandable fans were concerned.
A few fans noted that it looked like Spears was allegedly covered in red marks which could have indicated force in the photo. "She's covered in red marks." One commenter noted. Another commenter wrote, "She seems to have a lot of red marks ... But the closer you look, looks like a slap, hard grabbing marks, etc."
Other fans noted how forceful and dominating Asghari looked in the photo, as well. "Wtf is up with this dude's hand ... it looks like he grabbed her head and told her to look into the camera and smile," one commenter wrote. "His stance is aggressive to me," another said.
If you or someone you know is dealing with domestic abuse, you can call the National Domestic Violence Hotline at 1−800−799−7233. You can also find more information, resources, and support at their website.
Fans have speculated that Sam Asghari is controlling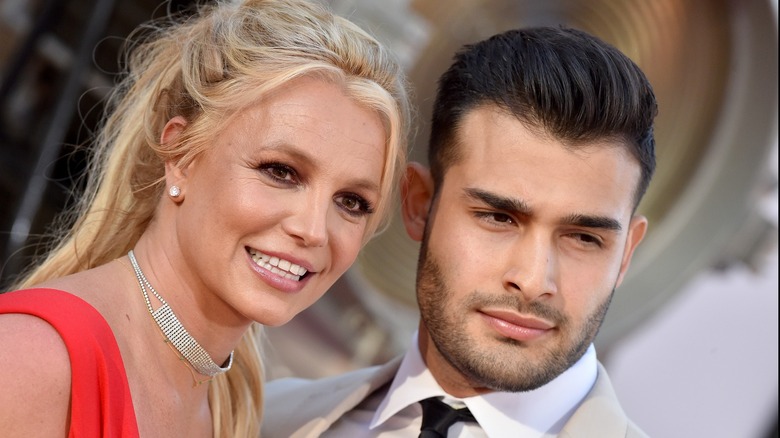 Axelle/bauer-griffin
After Britney Spears' conservatorship ended in 2021, fans became concerned about her well-being and who she would lean on for the major responsibilities she was not granted before. This also drew the question of if someone else could potentially take control of her life, given newfound freedoms that she was not used to. Fans shared their concern for Spears post-conservatorship with many conspiracies, including one about her potentially being controlled by her husband Sam Asghari.
This conspiracy started when fans noticed a change in Spears' social media presence, which felt erratic, and reposted old content of hers. Many speculated that Asghari took over her social media accounts to maintain appearances, but Asghari took to his Instagram stories to reassure everyone that he does not control Britney Spears — at least her social media accounts, that is. "I would never control someone that's been controlled for 13+ years," he wrote in an Instagram story Q&A.
In December 2022, when directly asked by TMZ if Sam controlled Britney, he responded, "I don't even control what we have for dinner," the actor said. "You know, in the past, there has been a lot of stuff going on, so I understand where [fans are] coming from," he added. "They're just being protective. If anything, they're being good fans."
TMZ claimed the Britney Spears and Sam Asghari have a volatile relationship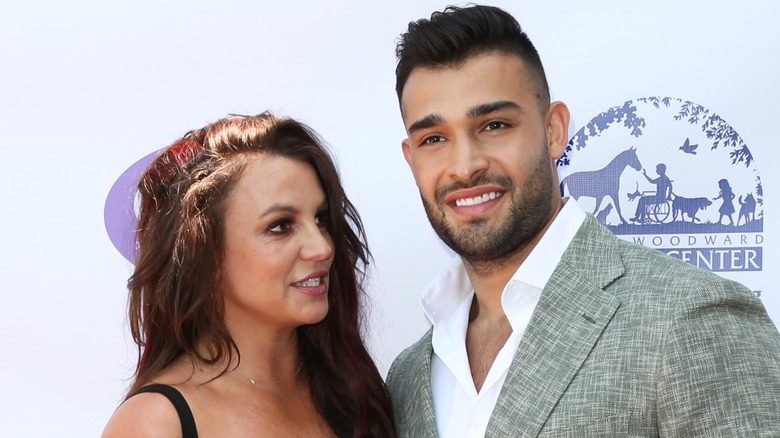 Paul Archuleta/Getty Images
In contrast to how their relationship is painted on social media, the relationship between Britney Spears and Sam Asghari might not be as smooth as it seems. Based on some of Spears' Instagram posts and seeing the few interactions between her and Asghari, fans have speculated that their relationship might not be as healthy as they want onlookers to believe. And according to TMZ's 2023 documentary on Spears, their relationship actually might be more toxic than anyone could imagine.
According to inside sources, TMZ reported, "We're told Britney has gotten physical with Sam and screaming matches have been frequent. We're also told things have gotten so volatile security has had to step in. Our sources say Sam doesn't stay at their home much anymore, and it's especially alarming because of how she has come to rely on him."
TMZ's "Price of Freedom" documentary alleges that Spears may be the main instigator in fights that turn abusive. "He's a big guy, and we're told he's pretty passive, so he just takes it, so he does get angry, and screaming matches are not uncommon," managing editor Fabian Garcia said in the documentary. 
Some think Britney Spears and Sam Asghari's photos look forced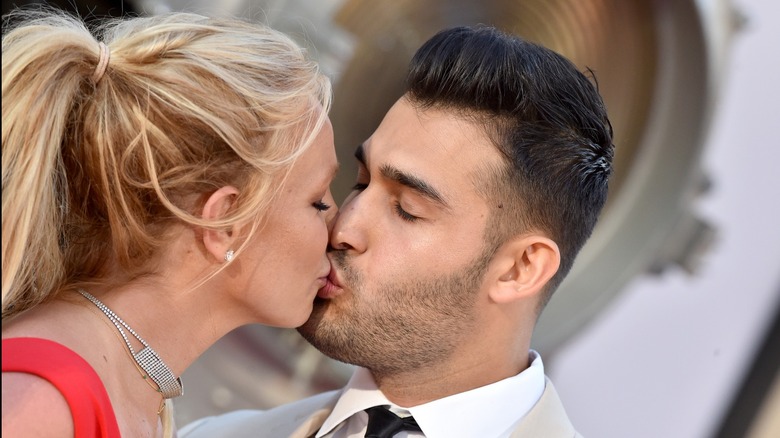 Axelle/bauer-griffin
We all know that one couple who seems to shove their relationship in your face on social media with constant posts, almost to prove to everyone how happy they are when in reality, it's likely the opposite. Britney Spears is no stranger to posting constant and intimate photos of her with her husband Sam Asghari on Instagram, which has made fans question the authenticity of their relationship. Especially considering how forced their body language and over-the-top PDA looks to some. Sexologist Nikki Goldstein explains the underlying reason for this phenomenon: "Often, it's the people who post the most who are seeking validation for their relationship from other people on social media," she told The Daily Mail.
As far as timing goes, Spears' posts with Asghari seem to come almost immediately after unfavorable marriage status rumors emerge, almost as a means of quality control. For example, just two days after TMZ reported trouble in paradise for the couple, Spears responded by posting a very touchy-feely video on her now-deleted Instagram of her and Asghari, both all smiles and even sharing a full-on makeout session. The video in question seemed a bit over-the-top with seemingly intimate acts that probably should have been kept private.
Britney Spears has made several cryptic Instagram posts possibly directed towards Sam Asghari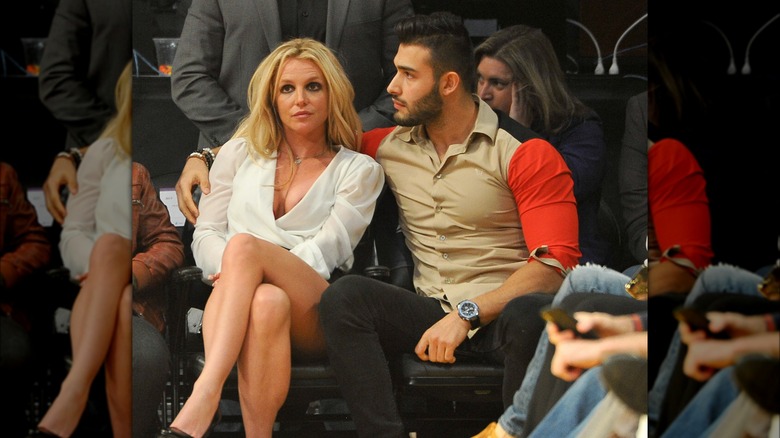 Allen Berezovsky/Getty Images
Britney Spears became very well known for her wild Instagram posts on her now-deleted account, including her dancing videos, intimate photos, and videos of herself topless — but the pop star also became known for using her Instagram platform to put out hidden and subliminal messages intentionally up for interpretation.
Many of Spears' posts have included cryptic messages hinting at wrongdoings done by someone else, with Sam Asghari being the first suspect to fans based on the context of said posts. For example, in May 2023, Spears shared an image of a quote reading: "In every relationship, there's the person who falls asleep instantly and the other person who lies awake wondering how that's even possible." However, her caption did not offer any reasoning behind the post and instead listed her daily routine. That same day, she followed up with another cryptic quote reading: "If you don't honour your needs, how could anyone else?" but did not include a caption.
Britney Spears has posted suggestive photos and videos on Instagram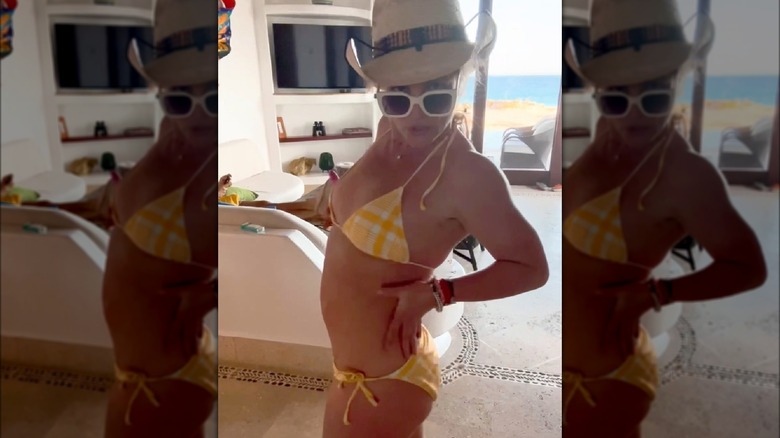 Instagram
In 2023, not only has Britney Spears posted cryptic quotes to suggest that there may be problems within her marriage, but she has also posted suggestive photos and videos with captions that make one question her motives and where she and Sam Asghari stand. Psychologist and relationship coach Paulette Sherman, Ph.D. explained to Muscle and Fitness magazine why women post thirst traps despite being in a relationship: "She might need attention and is flaunting her sexuality to get it (which may not be about you, but can still affect you)." Unfulfilled relationships can especially make one prone to seeking attention and validation elsewhere to fulfill those needs.
Although thirst traps seem to be more common these days, Spears' thirst trap posts seem to be a bit more risqué and out of context. For instance, in May 2023, Spears posted a photo of her chest, wearing a black lace bra revealing her cleavage. In a similar since-deleted post, Spears posted an identical image but with the caption: "I look younger when I don't wear push-up bras !!! Way younger. In all my shows I used to do I would have 3 layers of tights and the biggest padded bras ever ... I'm sure men appreciate huge boobs but when my boobs were huge when I was pregnant it was absolutely horrible ... I hated it !!! Psss I guess I'm part of the itty bitty t**ty committee!!!"