What Zooey Deschanel's Relationship With HGTV Star Jonathan Scott's Family Is Like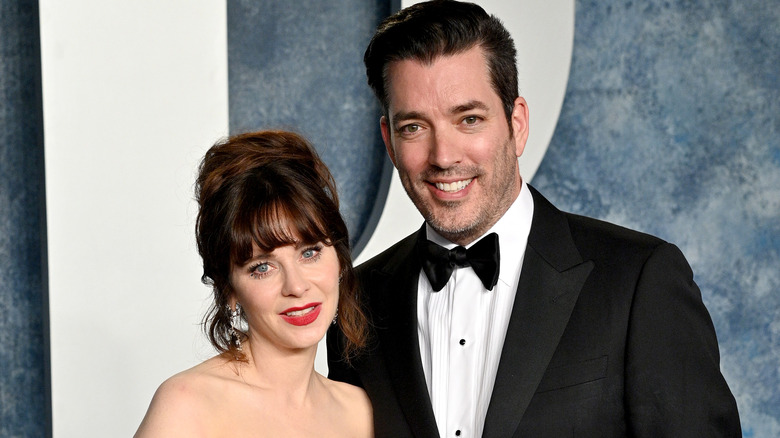 Lionel Hahn/Getty Images
The Property Brothers Jonathan and Drew Scott frequently let fans in on their personal lives, including milestone events like marriage and having children. Since the brothers' initial foray into reality television in 2011, their family has changed significantly. Drew married his wife Linda Phan in May 2018 and they had their first child in May 2022. Jonathan has been dating actor Zooey Deschanel since 2019. He popped the question in August 2023. Deschanel posted a photo of herself with Jonathan and the engagement ring on Instagram, captioning it "Forever starts now."
The twins often show their family values in their shows like "Celebrity IOU," "Brother vs. Brother," and "Property Brothers" as they help families create dream homes or help celebrities make home renovations for loved ones. Luckily, bringing Deschanel into the family went as smoothly as the home renovations for which the brothers are famous. Jonathan's family, including brother Drew, immediately welcomed the "New Girl" star to the Scott family, and have had a great relationship with her ever since.
Jonathan Scott and Zooey Deschanel hang out with Drew Scott and wife Linda Phan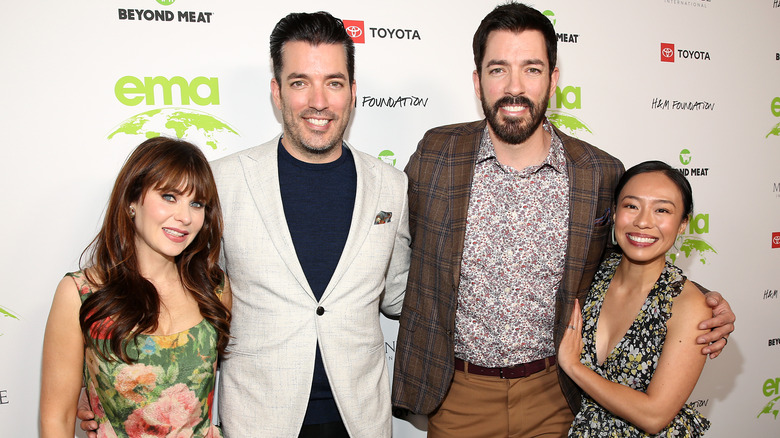 Jesse Grant/Getty Images
Jonathan Scott revealed to People that his family loves Zooey Deschanel. "It's very, very important for me that the person I'm in love with also gets the approval of my whole family. Absolutely everybody has clicked with Zooey." Drew Scott and wife Linda Phan chimed in, stating, "They're both amazing humans, and we love the idea of having her in our lives." The twins and their respective partners have been hanging out together for quite some time. In October 2019, Jonathan posted a photo on Instagram that included all four of them alongside some spooky characters for Halloween at Universal Studios. Jonathan also posted a video of them all baking cookies together for Christmas in 2020.
Jonathan's parents have gotten to spend time with the happy couple as well. When Jonathan and Deschanel collaborated on their own home renovations, Jonathan's parents stayed in their guest house. Jonathan explained to People that he enjoyed "having everyone so close" during the project. He also explained that the house was designed with Deschanel's kids, Elise and Charlie, in mind.
Zooey Deschanel's children call Jonathan Scott 'my Jonathan'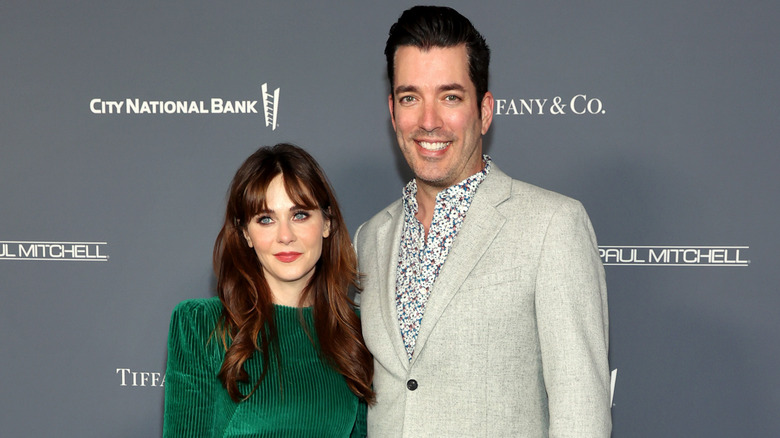 Amy Sussman/Getty Images
It seems that Jonathan Scott fits right in with Zooey Deschanel's family as well. Scott gets along with the "Elf" star's children and even her ex-husband Jacob Pechenik. "The kids' dad is a great dad . . . I love it when the kids draw photos. They draw Mommy and Daddy and Jonathan. It's really sweet," Jonathan told Entertainment Tonight. Jonathan's tips for a positive family life point back to communication. "Our communication keeps everything together."
Even with communication, creating a blended family can be tricky. The "Celebrity IOU" host explained in an interview on his and his brothers' website that he was not sure what Deschanel's children should call him. "They have their dad and they have a great relationship with him, so he's daddy." Papa was also nixed since their grandfather holds that name. Scott revealed that his future step-children call him "my Jonathan," which they came up with themselves. "So, whenever they tell a story they say, 'There's daddy, there's mommy, and he's my Jonathan,'" Scott explained.