HGTV's Jonathan Scott Was Instantly Obsessed With Zooey Deschanel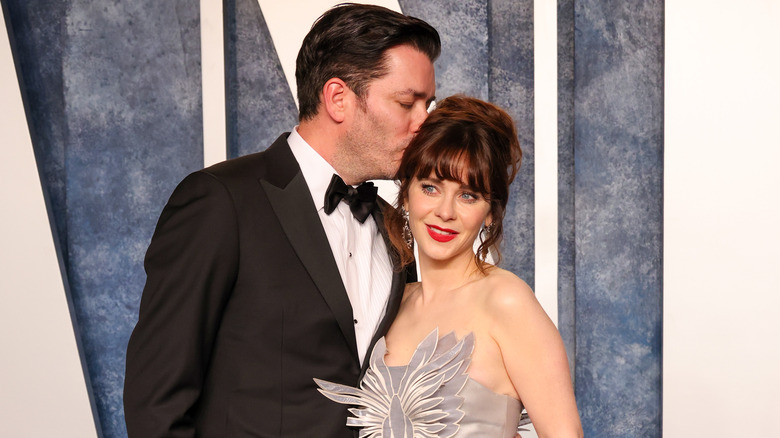 John Shearer/Getty Images
Mustering the courage to flirt with someone you like can already be nerve-wracking enough. Now, imagine a television crew watching, filming, and editing your attempt at shooting your shot. Such was the case for HGTV's Jonathan Scott when he appeared on James Corden's "Carpool Karaoke" with "New Girl" star Zooey Deschanel. 
The two lovebirds visited Jonathan Scott's brother- and sister-in-law's podcast "At Home with Linda and Drew Scott" to celebrate the Scott brothers' birthday, swap stories, and, of course, poke fun at Jonathan for his not-so-subtle schmoozing with actor Zooey Deschanel (who was still legally married but split from her ex, Jacob Pechenik, at the time). And while Jonathan might've thought he was subtle, it's clear that everyone on the show knew — Deschanel and the TV crew alike. 
"The producers said I was flirting so bad, so hard, that they had to cut a bunch of that out," Jonathan said. "Otherwise, you look like a creepy weirdo," twin brother Drew dug. "Carpool creepy-oke."
Zooey Deschanel said Jonathan Scott's flirting was obvious but gentlemanly
Zooey Deschanel and Jonathan Scott's relationship began under unique circumstances: They were singing karaoke in a car, hanging out with each other's siblings (Drew Scott and Emily Deschanel were along for the ride, too), and had cameras documenting the whole thing — not exactly the ideal environment for pulling a suave move or two. 
However, Zooey Deschanel insisted that Jonathan Scott was being "gentlemanly." "I actually asked my publicist, who is also one of my best friends, and I was like, 'Do you think he was flirting with me?' And she was like, 'oh, yes,'" the "Elf" actress recalled on At Home with Linda & Drew Scott. As for the romantic moves in question? According to Jonathan, they included dancing to Britney Spears, picking Zooey up for one photo op, and laying across Zooey, her sister Emily, and his brother Drew for another photo (yeah, subtle).
Luckily, Zooey Deschanel's relationship with Scott's family is positive, and the brother and sister duos seemed to have a great time on the show. So much so, that Jonathan wanted to keep the fun going by inviting Zooey to tour a home he had recently bought with Drew on HGTV's "Brother Vs. Brother," citing the actress' love of design and architecture. A great idea in theory, this follow-up hang ended up being one of Jonathan's most embarrassing moments with Zooey.
Jonathan Scott and Zooey Deschanel's first one-on-one hangout was hilariously awkward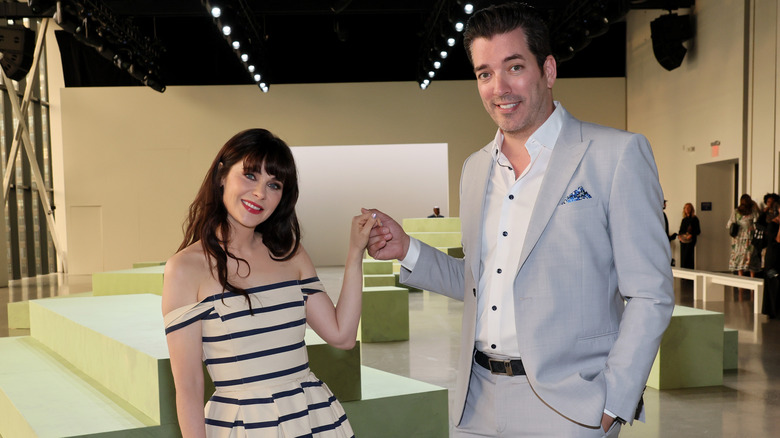 Dia Dipasupil/Getty Images
HGTV's Jonathan Scott's second laughably clumsy moment with Zooey Deschanel happened on the house tour, saying on his brother's podcast, "Later, I found out that in the back of her mind as we're going from room to room, and I'm showing her the features ... she's like, 'Oh, so he's actually just touring me through this house.'" Deschanel chimed in that she assumed Scott was trying to put the moves on her, and when he didn't, she thought maybe she had the wrong idea.
Nevertheless, one month after their August 2019 "Carpool Karaoke" appearance, Scott and Deschanel seemed to be going steady when they were spotted on a double date at a "Dancing With the Stars" taping, per Us Weekly. By November 2019, Scott publicly confirmed their relationship with People. Reactions to the couple's announcement were mixed. Jonathan Scott's fellow HGTV stars were all about it, but Zooey Deschanel's kids took some time to approve of Scott.
Clumsy first encounters and mixed reviews aside, it's evident that Scott and Deschanel are crazy for each other. "It's wild because it's not even just that I found love; I found perfection. I did not know what it was like to have someone who is as perfect a partner as Zooey is. We support each other; we make each other laugh. It's this symbiotic relationship that I've never experienced before," Scott gushed to Access Hollywood in 2021.