Emme Rylan Is Waiting For General Hospital To Bring Lulu Back To Life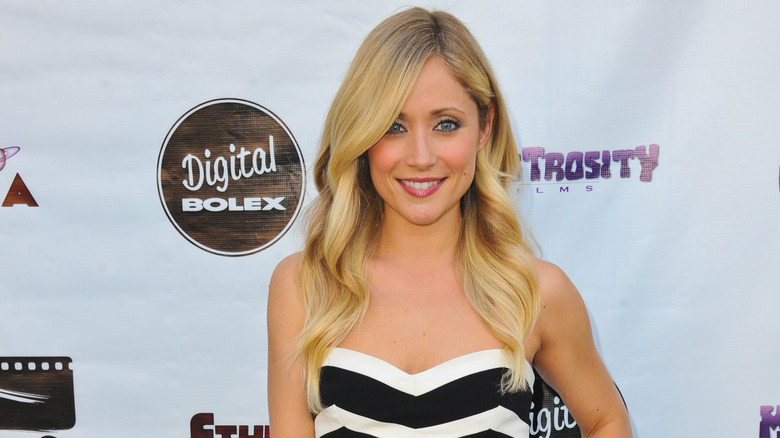 Albert L. Ortega/Getty Images
Emme Rylan played Lulu Spencer on "General Hospital" from 2013 to 2020, until Lulu's story came to a tragic halt after a bomb went off at the Floating Rib restaurant, landing her in a coma. Recently, her ex-husband, Dante Falconeri (Dominic Zamprogna), and her daughter, Charlotte Cassadine (Scarlett Fernandez), visited her at the long-term care center where she's been since the bombing, although we didn't see her face. After that episode aired, Soap Opera Network reported that Lulu would be returning to "GH" toward the end of the year.
On August 16, Soap Opera News reported on an Instagram story that has since disappeared, in which Rylan explained that she's received innumerable messages from fans asking if she'd be returning. She said, "I've been putting it off and putting it off and putting off talking. Because I'm getting so many messages! I don't know what to say!" She further stated, "I have made it very clear to 'GH' that I am always available to play Lulu should she ever want to wake up. It is my understanding that when they choose to wake her up, they would be calling me." She admitted they could recast the part, and further stated that this was all the information she had and she has been waiting for the show to reach out to her.
But her comments started a fervor online, and some soap news outlets have taken her words and misconstrued them.
Rylan cleared up the rumors of her return to General Hospital
Because Dante Falconeri had moved on with Sam McCall (Kelly Monaco) in 2022 on "General Hospital," fans thought that meant that Lulu Spencer's return was imminent. Sadly, they were mistaken, and Lulu remains off-screen. After articles exploded on the internet claiming that Rylan had confirmed her return to "GH" in her Instagram stories, the soap star returned there on August 16, posting videos to clarify what she had said. Shocked at all the articles that deliberately misinterpreted her words, she referred to them as "click bait," noting that a fan would read the article, "Only to get to the last line where she says, 'Uhm, yeah, you know ... I haven't heard from [the producers].' " reinforcing the fact that she's still awaiting a call from the show.
She further addressed the fans stating that she loves them and their support, and she understood why they were inquiring whether or not she'd be returning. She tried to clarify that she has not yet been contacted with any offers to reprise her role as Lulu. "I was trying to avoid articles circulating, uh, things that were not true," she stated, adding, "And I think I just fueled the fire," humbly noting that she would simply return to promoting her line of skin care products for now.