Details About Baywatch Star Donna D'Errico's Tumultuous Relationship With Nikki Sixx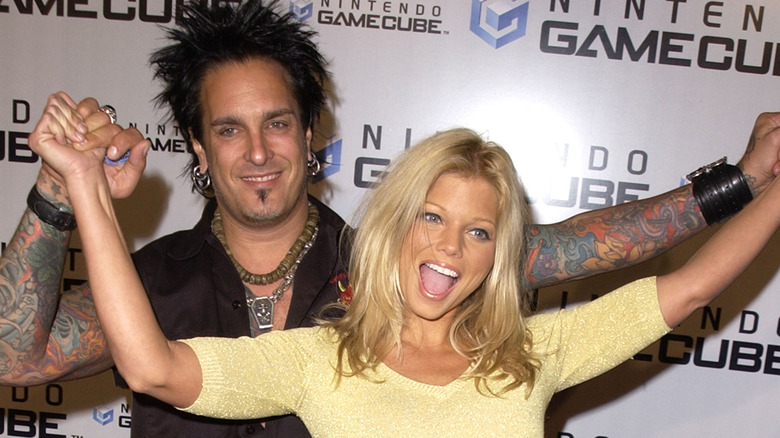 Steve Granitz/Getty Images
The band Mötley Crüe – initially comprised of Vince Neil, Nikki Sixx, Mick Mars, and Tommy Lee — rose to fame and infamy in the 1980s with hard rock hits and controversy. The controversy continues into the present day, often due to past high-profile relationships that still make headlines. As with many rock star marriages, that of Sixx and ex-wife Donna D'Errico was riddled with infidelity and substance use.
Sixx married D'Errico just one month after divorcing his first wife, Brandi Brandt, in 1996. D'Errico played Donna Marco on "Baywatch" and "Baywatch Nights." The former of the two ran from 1989 to 2001. D'Errico met the Mötley Crüe bassist through "Baywatch" castmate Pamela Anderson, who tied the knot with his bandmate Lee in 1995. While D'Errico and Sixx's relationship has not been chronicled through an Emmy-winning television series like Anderson and Lee's, D'Errico has opened up about what happened during their marriage and eventual divorce.
Nikki Sixx cheated on Donna D'Errico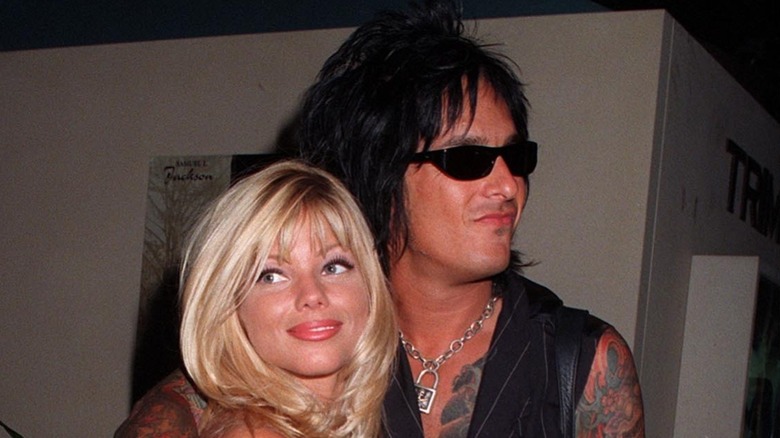 Featureflash Photo Agency/Shutterstock
Donna D'Errico appeared on the reality TV show "Million Dollar Matchmaker" in 2017, 11 years after divorcing Nikki Sixx. Their marriage lasted nine years but was unharmonious for most of that time. In a clip provided to People, D'Errico told "Million Dollar Matchmaker" host Patti Stanger that Sixx was unfaithful during their marriage. However, those around her were not shocked. "You know what I got was, 'Well, what does she expect? She married a rockstar. She should've gone in knowing this was going to happen,'" D'Errico explained. The former Playboy Playmate also revealed on the show that Sixx's infidelity occurred while she was pregnant with daughter Frankie-Jean.
Stanger was shocked by D'Errico's revelations but not by the infidelity. "I'm shocked their marriage lasted as long as it did. There are even books dedicated to [Sixx's] exploits," Stanger commented. Such exploits also included drug use. Sixx overdosed on heroin in 1987, and the near-fatal experience is included in Mötley Crüe's biography "The Dirt: Confessions of the World's Most Notorious Rock Band," which became a movie in 2019.
Donna D'Errico struggled to date again after divorcing Nikki Sixx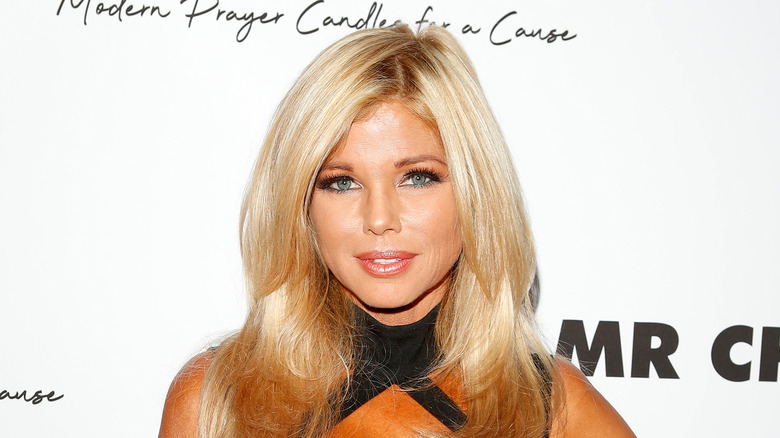 Kathy Hutchins/Shutterstock
Nikki Sixx went to rehab in 1988 and again in 2000 after separating, but not divorcing, from Donna D'Errico. The trip to rehab aided in the couple's reconciliation, but they officially called it quits in 2006. The "Baywatch" alum found the decision particularly difficult due to her Catholic upbringing. "The fact that I filed for divorce says a lot," she said on "Million Dollar Matchmaker."
Sixx then moved on with model Courtney Bingham, whom he married in 2014. D'Errico was slower to move on and went years without dating. D'Errico eventually started dating again and was in a relationship with billionaire Donald "DJ" Friese for two years before breaking up in 2019. That same year, D'Errico accused Sixx of not paying his fair share of child support for their daughter Frankie-Jean. Also in 2019, Sixx and Bingham welcomed their daughter, Ruby, making Sixx a dad again at age 60.