Pamela Anderson Is Still A Beach Babe Without Makeup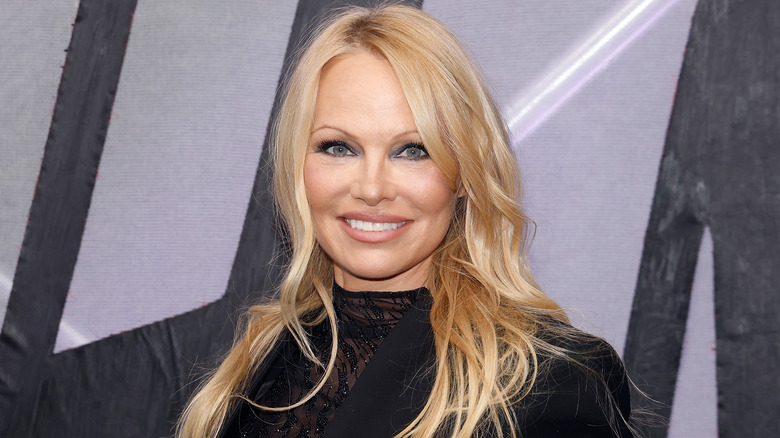 Taylor Hill/Getty Images
Well-known for her reign in the '90s and her famed stint on "Baywatch," Pamela Anderson is a certified icon. Fans were positively surprised by her cover for Women's Wear Daily's digital issue, as the actor went makeup-free. The model is well known for her sultry makeup, complete with smoky black eyes and perfectly tinted lips. But on the digital cover, Anderson shows off her natural freckles and glowing skin.
In her cover story, she admitted that going makeup-free look is her preferred look. "I really feel powerful right now when everything's very pared down," she told WWD. "I like to see my freckles. I like when my hair isn't done. I like just a really fresh face." Anderson has gone through a stunning transformation over the years but shows that she still has the beach babe look in her cover shots, wearing her signature blonde hair in a windswept style. This cover story came shortly after the release of her intimate documentary, "Pamela, A Love Story," which was released in 2023. Her memoir, "Love, Pamela" was published the same day as the documentary.
This pared-down look also coincides with Anderson's new mantra at this stage of her life. Anderson shared that she has been open to embracing simplicity and her natural beauty: "That's my look. And I feel like that is a power statement because I'm accepting myself a lot more these days, and it feels great."
Pamela Anderson has struggled to feel beautiful
Everyone has their struggles, and even for Pamela Anderson, insecurity is still something to be dealt with. In an interview with Parade, she revealed that even decades into her career, she had never considered herself beautiful. The seasoned actor recently landed a contract with Next Modeling, much to her own surprise: "That is funny. I've never felt pretty enough to be a model," she admitted.
Anderson starred in "Baywatch" for five seasons, from 1992-1997. Thanks to this now-iconic role, she has been stamped as a certified sex symbol. As a controversial figure, she felt that her sex appeal didn't necessarily translate to the traditional beauty demanded for modeling. This insecurity was fueled by her early sexualization as a young girl. "I always thought I was athletic and funny . . . I didn't like that I had any kind of qualities that were attracting the wrong kind of attention," she told People. 
But at a certain point in her career, Anderson realized that she could use her undeniable sex appeal to advocate for issues she actually cared about. The "Playboy" alum opened up about taking control of her controversial image in her 2023 memoir "Love, Pamela." She wrote about how she would be granted meetings with touchy world leaders — all men — and surprised them with her knowledge of humanitarian issues. Being underestimated has proven to be Anderson's secret weapon.
Pamela is turning a new leaf in her career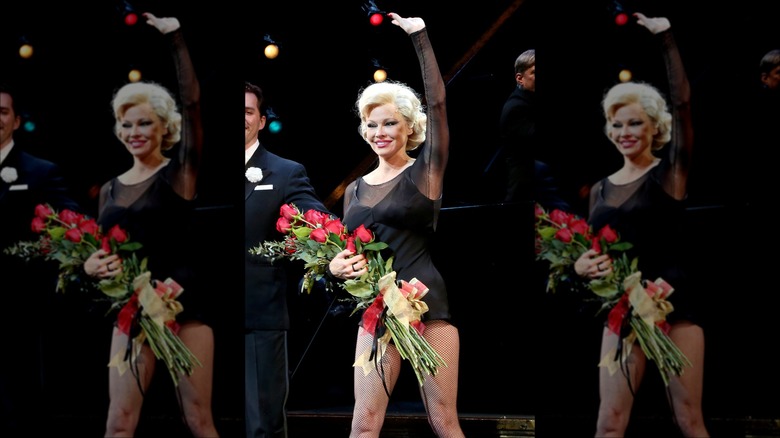 Bruce Glikas/Getty Images
From a leaked sex tape to racy photoshoots, Pamela Anderson aimed to spread her wings in a bold career change, pursuing philanthropy and a role on Broadway. She refused to let her past decisions or public image impact her future endeavors. The "Barb Wire" actor was discovered when she was just 22 years old and shared that the entertainment industry has molded her to fit their expectations. "I believe that I was defined before I could define myself," she explained to Parade. "I came here young and I think that people are getting to know me a little bit more now as time has progressed."
Later in her career, Anderson focused on new endeavors to further her impact. In 2014 she founded  "The Pamela Anderson Foundation," a nonprofit that fights for human, environmental, and animal rights alongside its famed partner, PETA. In addition to philanthropy, Anderson has also ventured into the world of theater. In 2022, she starred as Roxie in "Chicago" on Broadway. 
In stepping out of her comfort zone and into a new career, Anderson expressed that she is seeing a shift in her purpose. The Hollywood bombshell got candid about her life in her 2023 Netflix documentary "Pamela, A Love Story." She shared that completing the meaningful project gave her hope for leaving a legacy beyond "Baywatch" (per WWD).