Suri Cruise Was A Hillary Clinton Fan During The 2016 Presidential Election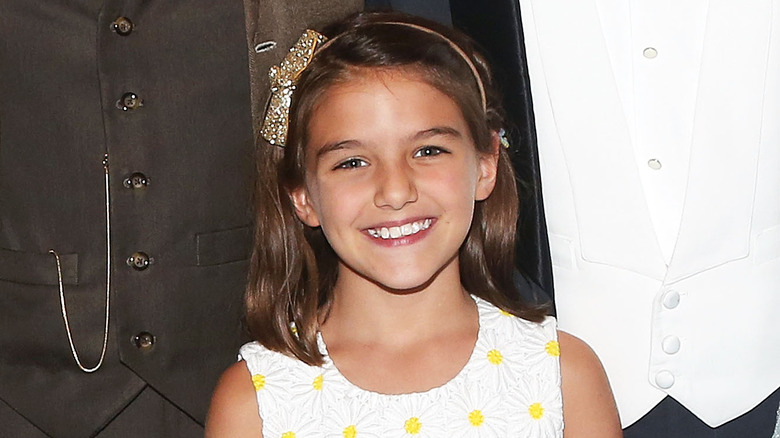 Bruce Glikas/Getty Images
Suri Cruise, the only daughter of former it-couple Tom Cruise and Katie Holmes, wasn't yet middle school-aged at the time of the 2016 Presidential election. Still, she had some pretty strong opinions about the outcome, opinions that were perhaps informed by her mother. In a 2017 interview with Jenna Bush Hager on SiriusXM, Katie Holmes spoke about the state of U.S. politics. "I thought Hillary was going to win this year, and it was such a — it just hurt so badly when she didn't," the "Dawson's Creek" star explained, adding, "I know that it hurt my child so much as a 10-year-old, and it really made me think, 'Oh we have a lot . . . a long way to go as women.'" Since her split from Tom Cruise in 2012, Katie Holmes has been outspoken about the importance of female independence.
"We have to raise our girls to be very strong, not just for themselves, but to open the doors for other people," she said. Especially in the wake of Donald Trump's 2016 Presidential win, she believed women needed to stick up for one another (and themselves). Four years later, in the midst of the Biden-Harris campaign, Holmes spoke up in support of the Democratic nominees by posting a confusing thirst trap on Instagram.
Suri Cruise connected with Hillary Clinton in person
In 2015, Suri Cruise and her mother, Katie Holmes, got the chance to connect with another famous mother-daughter duo: Hillary and Chelsea Clinton. Holmes posted a picture of the interaction on Instagram, captioning it, "Mothers and daughters #wearewithhillary." Chelsea, whose formative years were spent in The White House, can no doubt relate to the intense levels of scrutiny Suri faced as the daughter of two A-list celebrities. They were both protected by security teams, photographed by paparazzi, and berated in tabloid headlines. In the snapshot, Chelsea bends down to say hi to Cruise's stuffed animal, a simple gesture of kindness. 
In the fall of 2016, Suri and her mother made sure to watch all the presidential debates together. "It's wonderful to have my 10-year-old see a woman up there doing well and being very clear and thoughtful in her responses and in her passion for what she wants to do for our country," Holmes told People at the time, adding, "That's so powerful for a 10-year-old girl to see." After meeting the former Secretary of State and spending hours watching her lay out plans for the country in televised debates, it's no surprise that Katie Holmes and her daughter felt a special connection with the politician.
Tom Cruise's political views are still unclear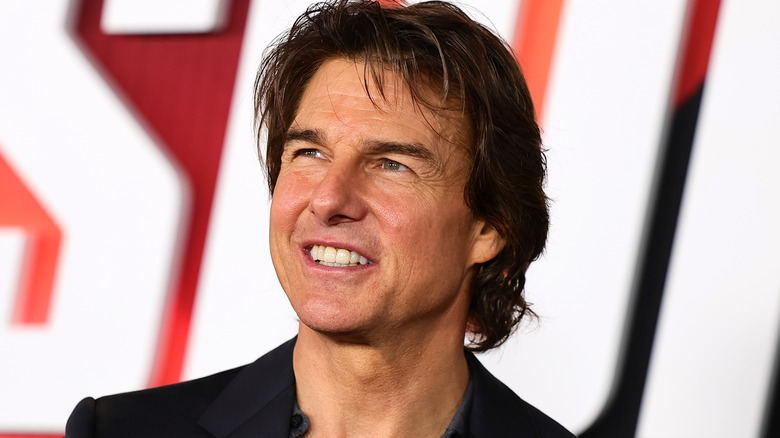 Theo Wargo/Getty Images
Suri Cruise isn't yet old enough to vote, but her political opinions are pretty clear thanks to her outspoken mother. Tom Cruise, on the other hand, has remained relatively apolitical for over a decade. Unlike his ex-wife, Cruise hasn't encouraged fans to get out and vote on his Instagram or promoted larger social movements like Black Lives Matter and the fight for climate reform. The Church of Scientology, of which the "Mission Impossible" star is famously a member, is known for operating quietly when it comes to politics. "The Church does not engage in election activities and cannot do so," Karin Pouw, a Scientology spokesperson, told The Los Angeles Times in 2017.
That being said, an anonymous member of the church offered some more clarity. "Scientologists are very conservative socially," and "[They] are very conservative in terms of economics and business. It really does make sense that it would be more aligned with the Republican Party." According to the source, many members of the church were first and foremost anti-Hillary during the 2016 election year. Still, it's unclear whether this is reflective of the A-list actor's own political leanings.
Regardless, Tom Cruise clearly has a complicated relationship with his daughter, Suri. Allegedly, he hasn't had much contact with her since Katie Holmes won sole custody in 2012. "He chooses not to [see Suri] because she is not a Scientologist," an insider told US Weekly in 2018.