Kyle Richards And Mauricio Umansky's Daughter Portia Is Spitting Image Of Her Dad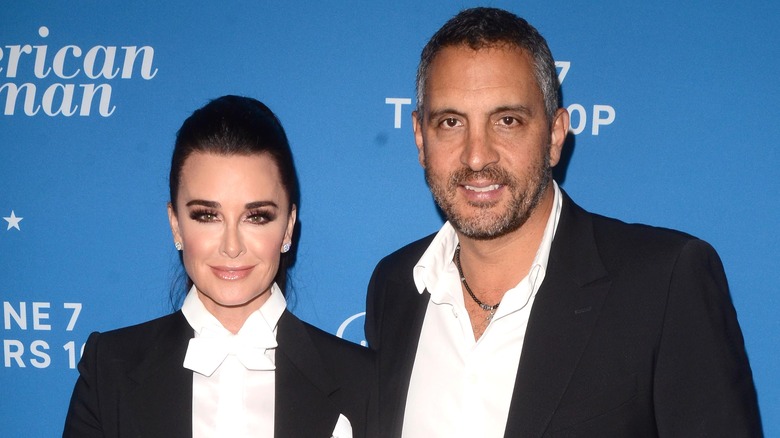 Kathy Hutchins/Shutterstock
Fans of "The Real Housewives of Beverly Hills" have watched Kyle Richards' daughters grow up over the years, but arguably the biggest transformation is that of her youngest daughter, Portia. When the reality show's first season kicked off, Portia was just a one-year-old in diapers. Flash forward to today, and the youngest member of Richards and husband Mauricio Umansky's brood has long outgrown her highchairs and baby onesies.
Portia is now a teenager, old enough to be learning to drive and prepping for college applications. And, unsurprisingly, she looks a lot older than she did during her early days on "The Real Housewives." In August 2023, Portia posted a rare photo on her Instagram, showing off a slicked-back ponytail and matching patchwork top and miniskirt. Fans commented on the snap, noting how mature the reality star looked.
In the few other pics sprinkled on Portia's Instagram story highlights, the teen can be seen posing with her family (she's already almost as tall as her mom and sisters), relaxing on a private jet, and taking mirror selfies with friends. Besides growing up right before our eyes, we also can't help but notice how much Portia resembles her dad.
Portia takes after her dad
While Kyle Richards may be one of the most recognizable faces from "The Real Housewives of Beverly Hills," her husband Mauricio Umansky — who also regularly appeared on the show — is the one whose features shine through in the couple's daughter Portia. According to Bravo, the real estate broker originally hails from Mexico, though his family lineage is rooted in Greece and Russia. This might explain his tall-dark-and-handsome features, which he's passed down to his youngest daughter.
The teenaged Portia is the spitting image of her dad, sharing his brown hair and dark eyes. They have a similar olive-tinged complexion, which the pair also share with Richards. Portia and Umansky even have similar facial profiles, including their nose — just compare this throwback photo of dad and this selfie of Portia for proof.
However, there's one trait the reality TV daughter might not take after her dad: her passion for beauty and makeup. In 2018, Richards revealed to People that Portia loved to experiment with makeup. "She's actually very good at it. At first I was like, 'Oh my gosh, what is she doing with the makeup?' But for her it really is like an art form," the "Real Housewife" explained.
Mauricio Umansky and Portia share a close bond
Besides sharing facial features, Mauricio Umansky and his daughter Portia also appear to share a special bond. Throughout the years, Umansky has posted numerous photos of his youngest daughter to social media and has never shied away from expressing his adoration. In a 2022 birthday post, the proud father captioned a carousel of photos, "Wishing my favorite person; my little love a very very Happy Birthday. I love you." Two years earlier, Umansky commemorated Portia's birthday with the message, "12 years ago you brought an extra ray of light, love and happiness to our family. Every day I cherish you. You're amazing, incredible, funny. Happy Birthday @portia_umansky I love you." He's also shouted out his daughter in other affectionate snaps, including a picture of Portia kissing her dad on the forehead and another celebrating his youngest at school graduation.
Umansky and Portia have also enjoyed some of the same activities over the years. In 2017, the "Real Housewives" husband shared a photo of him posing with Portia on a ski slope. And in 2018, Umansky had a blast at Portia's birthday party. "Funny enough, my husband Mauricio was also constantly on the trampolines and I think he enjoyed it more than anyone!" Kyle Richards told People after.
Umansky even embraces his daughter's passion for makeup and skincare. In a picture shared on Richards' Instagram, Portia can be seen giving her dad a beauty treatment in a sweet father-daughter moment.