Classic Soap Relationship Timeline: All My Children's Tad And Dixie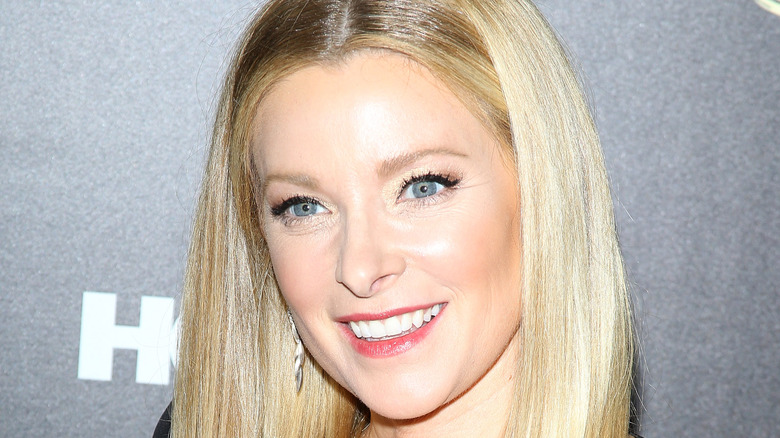 Michael Tran/Getty Images
Soap fans are generally familiar with the big four shows on air right now: "General Hospital," "The Young and the Restless," "The Bold and the Beautiful," and "Days of Our Lives." However, there are tons more soaps that have been lost to the past as the shows move into the modern age. "All My Children" has not been on-air since its cancellation in 2011, but fans fondly remember the drama and relationships from long ago.
One of the most popular couples on "All My Children" was that of Thaddeus James Martin, played by "General Hospital" star Michael E. Knight, and Dixie Cooney, played by "Days of Our Lives" actor Cady McClain. Tad started out in Pine Valley as a notorious ladies' man, earning himself the nickname Tad the Cad. However, throughout his time on the show and through his relationship with Dixie, Tad became one of the most respected characters on the soap. Between breaking up, making up, and dying more than a few times, Tad and Dixie certainly had a rollercoaster of a relationship.
Dixie and Tad had obstacles from the start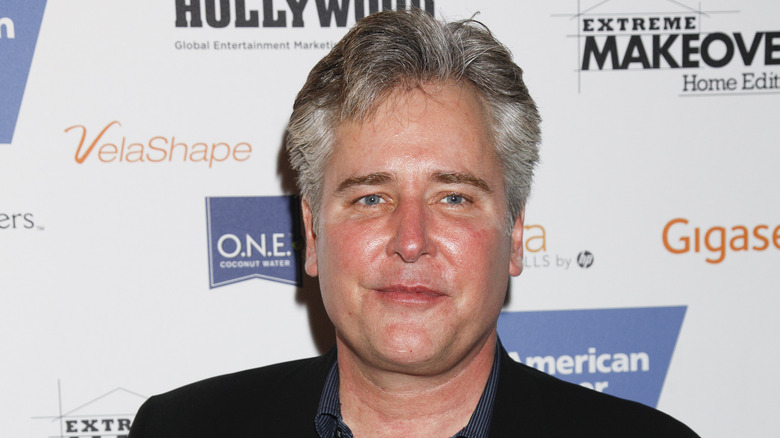 Imeh Akpanudosen/Getty Images
Tad Martin met Dixie Cooney when he rescued her from Adam Chandler (David Canary), who had seduced Dixie and gotten her pregnant in hopes of raising the baby with his wife, Brooke (Julia Barr). Once Tad revealed who the father of Dixie's child was, Brooke divorced Adam, who then married Dixie. Things took a turn for the worse when Adam convinced Dixie she was insane and tried to put her in a mental hospital. Eventually, Tad saved her, and they fell in love and got married. 
However, it wasn't smooth sailing from there. Dixie's family didn't approve of Tad, whom they thought was a cheating ladies' man. Her family members paid a woman to lie about sleeping with Tad. When Dixie heard that and believed it, she separated from Tad, craving distance. Heartbroken at the separation, Tad fell into bed with Brooke English, and when Dixie found out that he had actually cheated, they got divorced.
Their love was too strong to be pushed aside just yet, though. Tad and Dixie couldn't stay away from each other. Dixie was kidnapped by Billy Clyde Tuggle (Matthew Cowles) who intended to marry her. Tad rescued her once again, and they planned to remarry upon reuniting. But their happily-ever-after was not meant to be.
Tad and Dixie were drawn back to each other
On Tad Martin and Dixie Cooney's wedding day, Tad got into a fight with Billy Clyde Tuggle and they both fell off a bridge into a river. Even though Billy's body was the only one that was recovered, Tad was presumed dead. Dixie and Brooke English were both upset by Tad's death, as Brooke had just found out that she was pregnant with Tad's child.
After a while, Tad came back to Pine Valley alive, but with no memory of his life before. Brooke was able to jog his memory and Tad returned to his old self. After regaining his memories, he wanted to marry Dixie but married Brooke, since he wanted his child to be surrounded by a family. Their marriage didn't work out, and when Brooke and Tad divorced, Tad strayed back to Dixie; they reconciled and remarried.
They were happy until Dixie and Tad hit a road bump and Tad slept with Liza (Marcy Walker). When Dixie found out that he had cheated again, she divorced him, leaving town with their son and moving to Pigeon Hollow. After the explosion that killed Tad's new love interest, Dixie returned to town and became friends with Tad again. They left town on a trip to New York, and Tad and Dixie finally gave in to their feelings and kissed. Sadly, Tad was left heartbroken again after Dixie stood him up. Little did he know, but there was a very good reason as to why she didn't show.
Dixie's health problems kept her from Tad
While in New York, Dixie Cooney and Tad Martin had promised to meet up at the Statler Building if they both wanted to pursue their relationship again. Tad showed up on time, ready to make a fresh start, but Dixie never came. He was devastated at the prospect that she didn't want him anymore, but her absence was not voluntary. Dixie was sick with kidney failure and ended up in the hospital. She didn't tell Tad for fear of worrying him, but she soon got better. However, when her kidneys started healing, she was diagnosed with a heart condition.
She kept her health issues a secret so as not to burden Tad, and kept him believing that she just wasn't interested anymore. Eventually, Tad found out what Dixie had been keeping from him, and he took her on another romantic trip to New York. He proposed, and she said yes. 
Dixie soon got pregnant and despite the risks to her health, she kept the baby. Tad begrudgingly accepted her decision, but Dixie miscarried soon after. Their relationship got even more complicated when Tad became jealous of Dixie's flirtation with her boss, David Hayward (Vincent Irizarry). David developed feelings for Dixie and plotted to break up Dixie and Tad.
David's plan to break up Tad and Dixie worked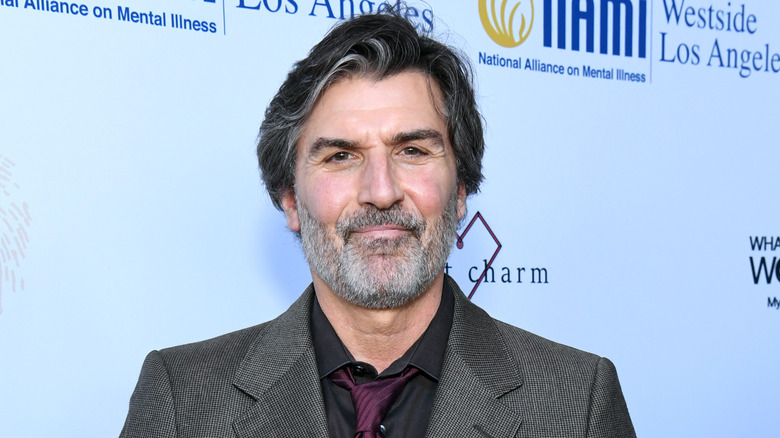 Jon Kopaloff/Getty Images
David Hayward schemed to drive a wedge between the happy couple, and he started by asking Leslie Coulson (Colleen Dion) to drug and sleep with Tad Martin. When Dixie Cooney found out what David had done to break up her and Tad, she broke it off with him. Upon finding out David's plan, Tad tried to rope Leslie into his plan to get revenge on David. Involving Leslie backfired, though; instead of getting back at David, she attempted to kill Tad. Dixie was furious that Tad had involved Leslie in his plan and flew to the Caribbean where she quickly divorced Tad. However, she couldn't cut ties that easily; Dixie found out she was pregnant with Tad's child and flew to Switzerland to be monitored closely due to her health risks.
After she arrived safely and made it through most of her pregnancy unscathed, Dixie called Tad and told him that she was pregnant and planned to return to Pine Valley. However, before they could reunite, Tad received news that Dixie had died in a car accident, even though her body had not been found. Tad began dating "Dixie" when she returned to Pine Valley alive, but it was actually Di Henry (Kelly Giddish) in disguise. When Tad found out that Dixie was alive and Di had known, he broke it off. Dixie did return to town, but Tad was upset that she had given up their daughter for adoption.
All My Children came to an end, along with Tad and Dixie's story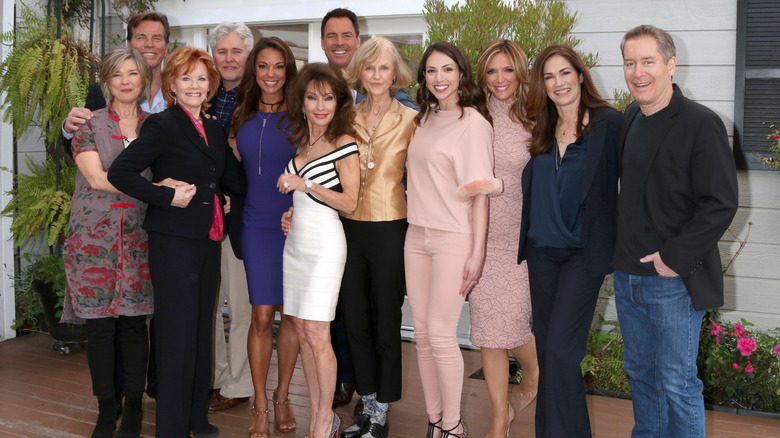 Kathy Hutchins/Shutterstock
Tad Martin and Dixie Cooney became tentative friends until Dixie "died" after eating poisoned pancakes. Years later, she was found alive in a mental institution, with no memory or ability to speak. Dixie was able to escape and she found Tad, whom she remembered from her old life.
At the time, Tad had married Cara Castillo (Lindsay Hartley), but Tad informed Dixie that their marriage was fake in order for Cara to get a green card. Dixie agreed to wait for him, and when he was able to divorce Cara, Dixie and Tad professed their love again and got engaged. On the last episode of "All My Children," Tad and Dixie were seen celebrating life, love, and their family at a party as a shot rang out and the fans were left wondering what happened.
The series continued as "Prospect Park," an online version of the show where Tad and Dixie were growing apart as a couple. She was working at the hospital as a counselor, and Tad was out of town constantly. The distance was putting a strain on their relationship, as Dixie was having a hard time contacting him. The last fans saw of their beloved Dixie, she was wishing that Tad would return to Pine Valley and come back to her. In the end, it was a rollercoaster of a ride (and an ambiguous ending) for one of the most famous soap couples ever.