Who Did General Hospital's Michael E. Knight Play On The Young And The Restless?
Actor Michael E. Knight became a soap opera idol when he played Tad "The Cad" Martin on ABC's "All My Children." More recently, he's become hugely popular as Martin Grey on "General Hospital," who just happens to be the long-lost brother of the legendary Laura Spencer Collins (Genie Francis). 
In between those two shows, Knight got an offer to play the character Dr. Simon Neville on "The Young and the Restless," in 2015. He told Soap Central that daytime television is "one of the few sources of steady work that really exists." Thinking the acting jobs were scarce, when he got the call from the "Y&R" casting director, he stated, "I was thrilled." He counted himself among other lucky "AMC" actors who moved on to other soaps after the show was canceled in 2011.
Knight told TV Insider that his first day at "Y&R" was like the first day at a new school. He said, "Let's face it, I haven't worked a lot since 'AMC' went down. My last job was as a body on a slab for three scenes on 'NCIS.' I got killed before the credits rolled." He described his "Y&R" character, Simon, as "very cool, kind of eccentric, and a rule breaker. And hilarious, though he doesn't mean to be. He makes no apologies for being brilliant and always thinks he has the highest IQ in the room."
It turns out that Simon Neville was summoned to Genoa City for unorthodox reasons.
Simon Neville arrives in town to treat Hilary Hamilton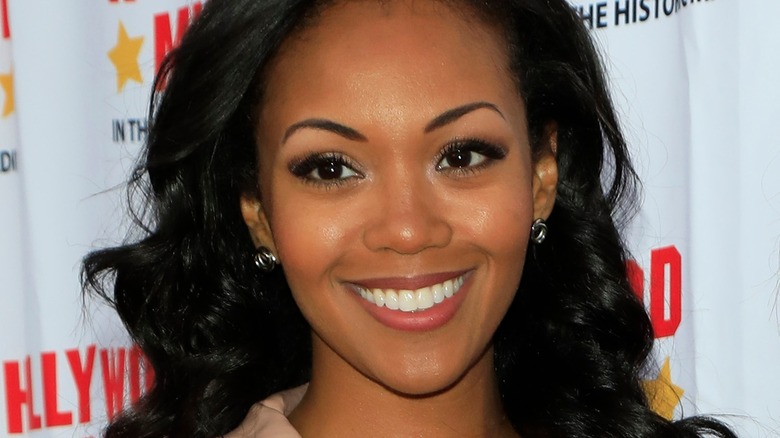 Kathy Hutchins/Shutterstock
Sisters Gwen (Nadine Nicole) and Emma Randall (Alice Greczyn) discovered that neurologist Dr. Simon Neville had lost his medical license and was fired from the hospital where he worked for using unconventional methods, per Soaps. At the time, Neil Winters (Kristoff St. John) had been keeping his comatose ex-wife, Hilary Hamilton (Mishael Morgan), in his boathouse. Gwen contacted Simon, asking him to use one of his experimental drugs to help Hilary. He did so, and while monitoring her care, he fell asleep. Hilary awoke from her coma, fleeing the boathouse. Simon eventually located her, and after knocking her out with drugs, he and Gwen secretly brought Hilary to a hospital, leaving her in a random bed.
Later, Simon snuck into the hospital disguised as a flower delivery guy to check out Hilary's medical charts. He then handed Gwen some meds, instructing her to give them to Hilary. Finding a delirious Hilary wandering about later, Dylan McAvoy (Steve Burton) figured out Simon's medicine was dangerous. He went to her hotel room, where Simon jumped him, knocked him out, and escaped (via Soap Central).
Then, Ashley Abbott (Eileen Davidson) wanted to sell the cure that Simon had used on Hilary. She set him up with a laboratory, and Devon Hamilton (Bryton James) financed the project. As they got closer, Simon realized Ashley was ailing, and she confessed to having had an aneurysm and brain tumor. Simon was determined to cure her. 
Simon gets close to Ashley Abbott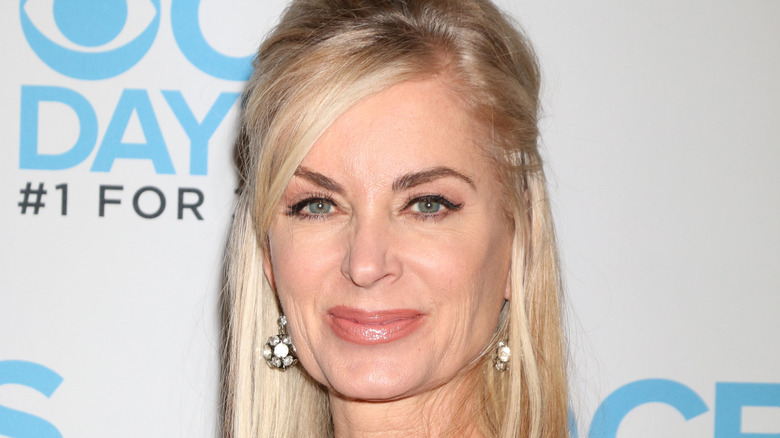 Kathy Hutchins/Shutterstock
Jill Abbott (Jess Walton) found out what Simon could accomplish and recruited him to help her son Billy Abbott (Jason Thompson), who was comatose due to an accident. Although the doctors wouldn't listen to Simon's recommendations, Billy eventually woke up after being deemed brain-dead for a short time, according to TV Fanatic. When Hilary learned that Ashley was using Simon's unapproved medications, she threatened to let her family know that she was sick unless Ashley gave Hilary her job. A sick Ashley gave in, despite Simon's protests that she shouldn't run away (via Soap Central).
However, Hilary was dead set on getting approval for Simon's drug as soon as possible and took shortcuts in development. Consequently, test patients suffered worse health issues, and Simon felt Hilary could be slipping back into a coma. When Dylan and Paul Williams (Doug Davidson) figured out Hilary had test results falsified to speed up the approval process, she blamed Simon. Ashley warned Simon, who chose not to fight Hilary, and instead revealed that Neil was the one who had initially kidnapped the comatose Hilary, per Soaps in Depth.
As Hilary's condition worsened, Simon created new medication for her that worked at first, but she ultimately relapsed. People accused him of purposely making Hilary worse, but Ashley believed he was innocent. When Simon attempted to help Hilary again, she rejected it, and he left town dejected. But not before kissing Ashley goodbye.