What We Know So Far About The Chrisley Family's Reality TV Comeback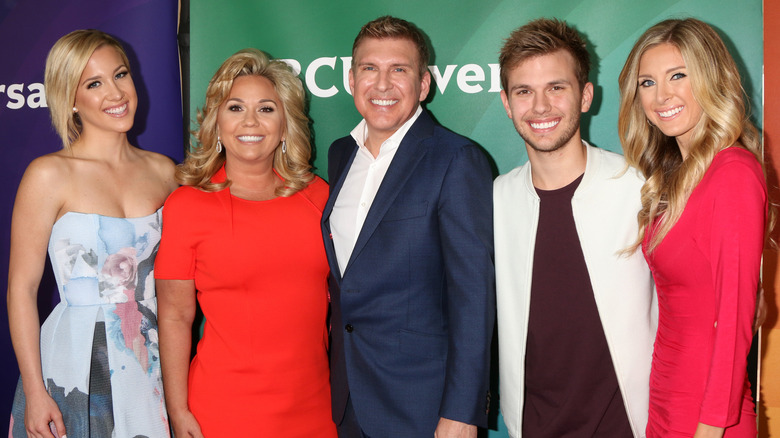 Kathy Hutchins/Shutterstock
"Never say never" could be the unofficial motto of reality TV. The Busby family of "OutDaughtered" opted to pause their show in 2021 due to the difficulties of filming during COVID, but they brought the show back in summer 2023 once they were able to film without restrictions. The troubled life of "Mama June" Shannon threatened to bring "From Not to Hot" to a halt; instead, TLC producers tweaked the series to focus on her recovery from addiction and her attempts to reconnect with her family. Even "19 Kids & Counting" managed to survive with the "Counting On" spinoff for several years until the Duggar family's issues with son Josh made it impossible to portray them as just another nice, wholesome, churchgoing household.
It should come as no surprise, then, that a little jail time won't stop the popular "Chrisley Knows Best" series. Parents Todd and Julie Chrisley are currently serving time in prison on numerous charges of bank fraud and tax evasion. Julie was given seven years in the federal pen, while Todd got 12 for being more deeply involved in the alleged fraud. To make things even more difficult, the couples' prisons are in two separate states, hundreds of miles apart. But as they say, the show must go on. The Chrisleys' production company, Scout Productions, announced on August 14 the show will return — without Julie and Todd. Per the Los Angeles Times, the focus of "Chrisley" will turn to the rest of the family instead.
Todd Chrisley is happy his family's show will continue
Knowing her parents will be out of the picture for the foreseeable future, Savannah Chrisley has taken over as guardian to her teen brother, Grayson, and her niece, Chloe. (Chloe is Todd and Julie's granddaughter by his son Kyle; the couple adopted her in 2016.) The new Chrisley family project is being touted as "the next chapter" in their life, so we can expect to see Savannah's struggles and triumphs in this new role. Her older brother Chase will be back for the new series, along with fan-favorite "Nanny" Faye, Todd's mother. (It's not yet known whether Lindsie and Kyle, Todd's children from a previous marriage, will participate.)
In a statement to Entertainment Tonight, Savannah explained, "The time was right to share our story," and she praised her new production company for its "authentic storytelling." Chase is also excited about bringing the family back to TV — and he says their dad is, too. On his "Cut to the Chase" podcast, the Chrisley son revealed he had discussed the new show with Todd during one of his prison visits. "He was, like, 'Run it through the roof,'" Chase claimed. He added this revamp will be less of a sitcom format and more of a grittier look at a family torn apart. "It's definitely going to be different," he said. "It's going to be real, raw — the good, the bad and the ugly. So, we'll see how it goes."